Chapter 4 – Innistrad Crimson Vow Guide to Blood Tokens
Table of Contents – Ultimate Guide to Innistrad Crimson Vow Limited and Prerelease
Chapter 1 - Top Commons for Limited and Prerelease
Chapter 2 - Top Uncommons for Limited and Prerelease
Chapter 3 - Guide to Combat Tricks and Removal Cards by Colour
Chapter 4 – Guide to Blood Tokens
Chapter 5 – Limited Deck Archetypes
Welcome all to the Ultimate Guide to Innistrad Crimson Vow Limited and Prerelease. It's time for the Guide to Blood Tokens. Before I get into the power of Blood Tokens, let us have a look at what a Blood Token is.
Blood Token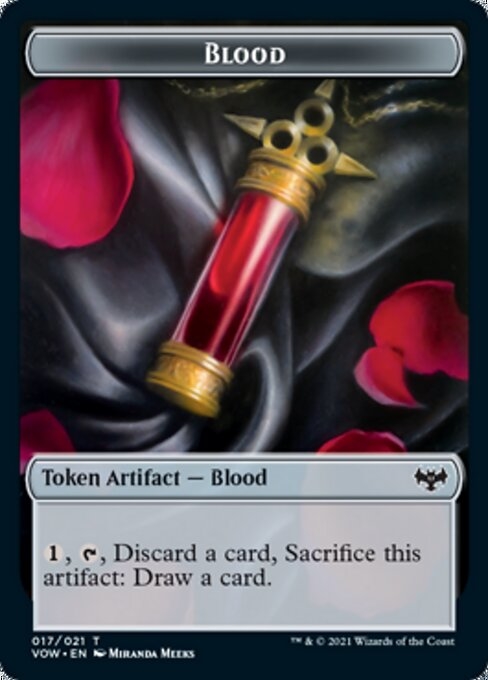 Blood Tokens are a crucial part of Crimson Vow and can be created with mostly Black and Red spells alongside a handful of cards from other colours and artifacts. In its base state, a Blood Token can be used to improve your card selection. For one mana you can discard a card, sacrifice the Blood Token itself and draw a card. Although it isn't straight card advantage, it will help improve the quality of the cards in your hand. That isn't the only use for Blood Tokens though. Certain cards can sacrifice the Blood Tokens themselves for certain abilities.
To make it easier, I've broken down the Blood Token cards by colour. In each colour I'll talk about which cards can make Blood Tokens, which cards can use Blood Tokens and some cards that can do both.
Black Cards
Black has a total of nine cards that can create Blood Tokens and seven cards that can use Blood Tokens in ways other than their intended ability.
Cards that Only Create Blood Tokens
Blood Fountain can create an early Blood Token on turn one. It will then stay on the battlefield until later in the game when it gains value by returning two creature cards from your graveyard to your hand. Bloodvial Purveyor is a little bit tricky in that it creates Blood Tokens for your opponent. You can use those Blood Tokens to your advantage every time Bloodvial Purveyor attacks. Pointed Discussion is designed like a classic Black draw card spell with the bonus of giving you a Blood Token to use. Vampire's Kiss is a card that could be playable for the fact that it will drain some life from your opponent but more importantly create two Blood Tokens.
Cards that Only Use Blood Tokens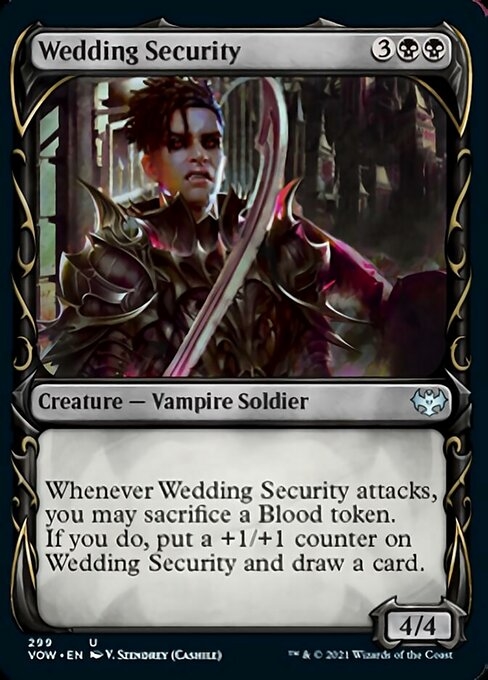 Wedding Security wants to use the Blood Tokens you've created to their advantage to grow larger and help draw you cards. It's a fantastic way to gain card advantage instead of card selection with your Blood Tokens.
Cards that Both Create and Use Blood Tokens
These cards are where you start to see more value in Blood Tokens. You can turn Bloodcrazed Socialite into a 5/5 creature with menace by sacrificing a Blood Token when it attacks. Falkenrath Forebear creates Blood Tokens whenever it deals combat damage to your opponent. Once it dies you can then sacrifice two Blood Tokens you've created earlier in the game to return it directly to the battlefield from your graveyard. Gluttonous Guest provides you value every time you sacrifice a Blood Token in the form of 1 life for each sacrifice. Restless Bloodseeker // Bloodsoaked Reveler can create Blood tokens when you gain life, which can then be used to transform it into a life-draining Vampire. One of the best creatures that use Blood Tokens is Voldaren Bloodcaster // Bloodbat Summoner. It creates Blood Tokens when your nontoken creatures die, uses those tokens to transform, and then turns those tokens into attacking 2/2 Bat creatures.
Red Cards
Red has a total of eight cards that can create Blood Tokens but only two cards that can take advantage of having Blood Tokens on the battlefield.
Cards that Only Create Blood Tokens
Thanks to having trample Belligerent Guest has a better chance to deal combat damage to your opponent and create a Blood Token. Once you're done attacking with Blood Petal Celebrant you can use it to trade during combat and get a Blood token as a reward. Bloody Betrayal is the steal a creature card for the set that immediately also creates a Blood Token. Falkenrath Celebrants has both evasion in the form of menace and good stats as a 4/4. The two Blood Tokens it creates when it enters the battlefield is some excellent value from a card at the common slot.
If you really want to create a ton of Blood Tokens, look no further than Olivia's Attendants. This creature is hard to block thanks to having menace and one unblocked attack will net you six Blood Tokens. It can also deal damage for three mana to create a Blood Token. Vampires' Vengeance is a wonderful way for Vampires to deal with some pesky blockers while also creating a Blood Token. Finally, you have Voldaren Epicure, a nice aggressive creature that deals damage to your opponent and creates a Blood Token on turn one.
Cards that Only Use Blood Tokens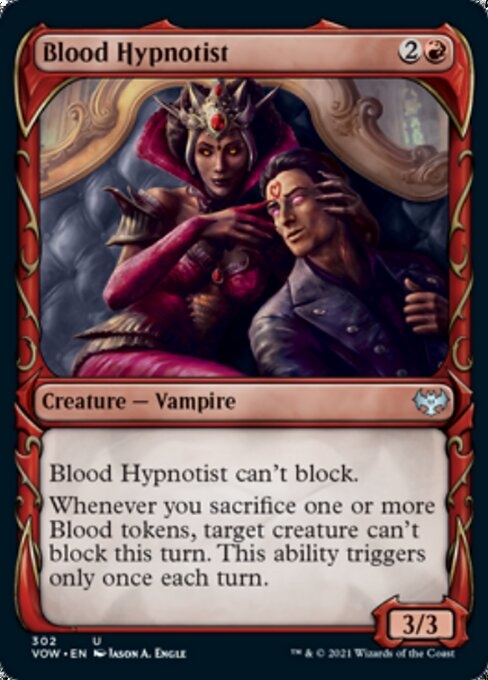 Blood Hypnotist can sacrifice Blood Tokens to make a creature unable to block. This can allow all your creatures to have better attacks and combat scenarios.
Cards that Both Create and Use Blood Tokens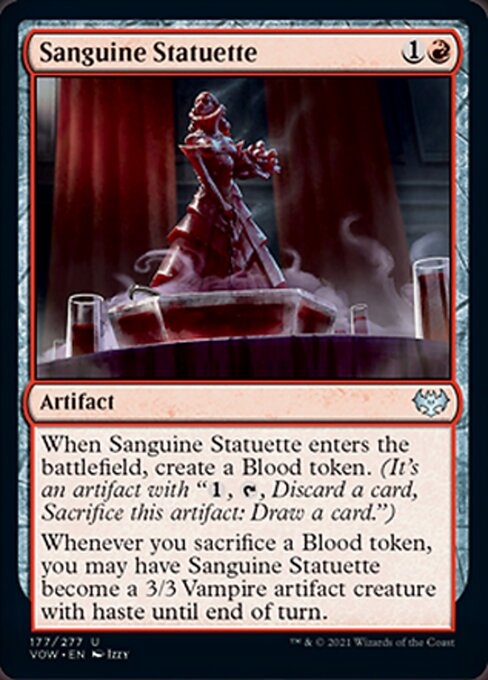 Amazingly there is only one Red card that both creates and uses Blood Tokens and that is Sanguine Statuette. Sanguine Statuette turns into a 3/3 Vampire with haste allowing you to cast and attack with this artifact on turn three for three damage if you wanted to.
Multicolour, Artifact, Land, White and Blue Cards
Cards that Only Create Blood Tokens
White only has one card that can create a Blood Token with Sigarda's Imprisonment. To get that Blood token though you need to spend a total of eight mana.
Blue also only has one card that can create a Blood Token. This is achieved when you counter a creature or planeswalker spell with Syphon Essence.
Odric, Blood-Cursed has the possibility of creating twelve, that's right, twelve Blood Tokens when it enters the battlefield. You will usually create one-three Blood Tokens with its ability but still a terrific way to build up your Blood Tokens. On the other end Old Rustein only creates a Blood Token if a noncreature, nonland card is milled using its ability.
Blood Servitor can be played in any deck to help you create a Blood Token. Ceremonial Knife is great for any deck to have a repeatable way to create Blood Tokens while increasing the damage of the creature you are attacking with.
The last card that can be used in any deck to make Blood Tokens is the land Voldaren Estate, although it'll be best used in a deck with a few Vampires you can cast with it.
Cards that Both Create and Use Blood Tokens
Anje, Maid of Dishonor is one of the best creatures in the set when it comes to both creating and using Blood Tokens. It creates a Blood Token when itself or another Vampire enters the battlefield (once per turn) and can then sacrifice those Blood Tokens to drain your opponent of two life. Bloodtithe Harvester will create one Blood Token for you but can then looks at how many Blood Tokens you have and sacrifices itself to kill a creature.
As you can see there are plenty of cards that can be used to create Blood Tokens and chances are you will see them in every game of Crimson Vow Limited that you play. Hopefully, this guide will help you prepare yourself in a game for what those Blood Tokens can be used for. Thanks again for reading Chapter 4 of the Ultimate Guide to Innistrad Crimson Vow Limited and Prerelease. Next up is Chapter 5 and the Limited Deck Archetypes for the set. If you've missed any of the other chapters for this guide, click below to check them out.
Table of Contents – Ultimate Guide to Innistrad Crimson Vow Limited and Prerelease
Chapter 1 - Top Commons for Limited and Prerelease
Chapter 2 - Top Uncommons for Limited and Prerelease
Chapter 3 - Guide to Combat Tricks and Removal Cards by Colour
Chapter 4 – Guide to Blood Tokens
Chapter 5 – Limited Deck Archetypes