Battling for Zendikar in Commander
With a new set spoiled and a release event behind us, the eyes of Commander players turn longingly toward new additions to their favourite decks. We won't be doing any price valuations here (let it be said that the expeditions will make great trade bait though!) but rather seeing which cards could fit into existing shells and perhaps impact our groups longer-term. Battle for Zendikar (BFZ) comes with a few new mechanics that might spice up your Commander games including Awaken, which turns your lands into 0/0 creatures with varying numbers of +1/+1 counters, Devoid, which makes your spells colorless, Ingest, which exiles cards from the top of your opponent's library and Converge, a new take on Sunburst. Allies also come back through the Rally mechanic, making for what is likely to be a spicy limited environment. Oh, did we forget Landfall? It's back with a variety of new iterations that are sure to cause headaches at your kitchen tables.
Ratings will be as follows: A = should find room in an existing archetype, B = good card, but competes with others for similar function and C = maybe over time, but by no means a must-include in any of your decks. We will examine these by colour and, if nothing else, perhaps this article's valuations will explain why I'm so poor at Limited and choosing cards there.
We'll begin by examining the legendary creatures in the set and comment briefly, then move on to the meatier aspects of Battle for Zendikar.
Legendary Creatures: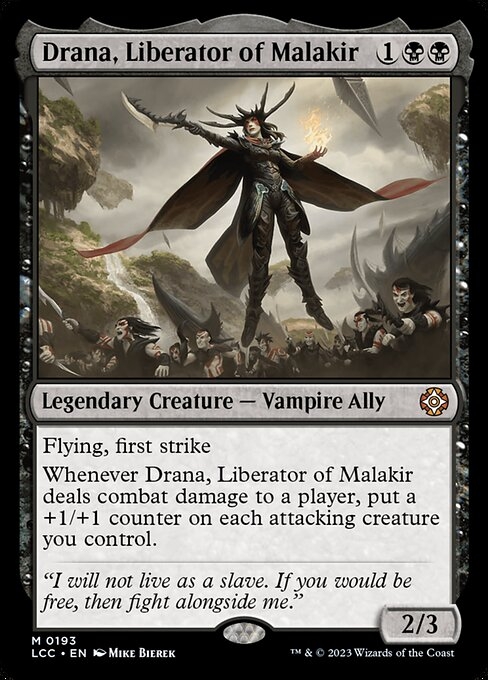 Drana, Liberator of Malakir: Super aggressively costed at a 2/3, Flying, First Strike for three mana (1BB), Drana now pumps the entire team with a +1/+1 counter whenever she connects with an opponent. This isn't an incredibly hard thing to do and she should definitely see play in more aggressive black shells. Nice flavour here too, as Drana helped put down a few Eldrazi in her time. (A)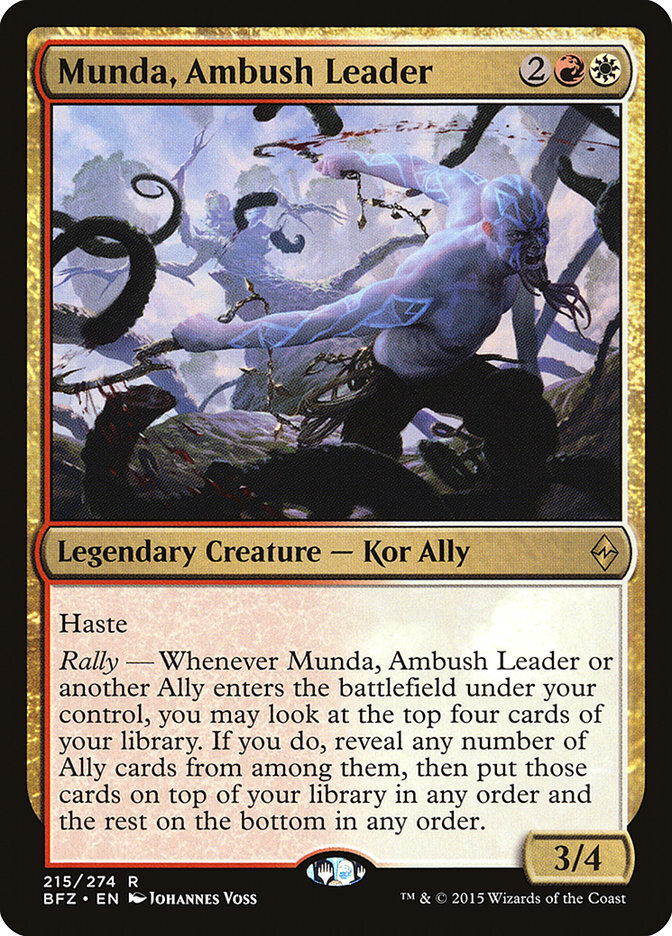 Munda, Ambush Leader: Holding steadfast in the tradition of Boros legendaries being underwhelming (Is Anax and Cymede the best at the moment?), we have a 3/4 Haste for four that lets you look at the top four and filter for Ally cards, putting the rest on the bottom. The positives? It will trigger off himself as he's a Kor Ally. The negatives? There isn't a draw effect tied to the revelation and the other allies all have much stronger effects in gameplay. (C)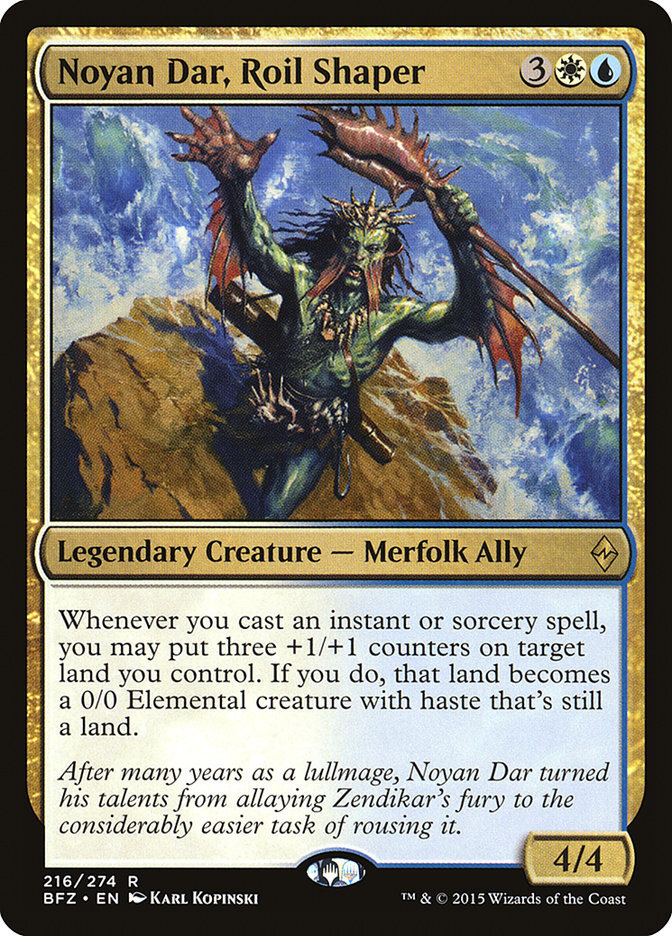 Noyan Dar, Roil Shaper: A respectable 4/4 for five in Azorious colours can certainly get there in commander damage. Be mindful though, as he has no evasion so you'll need to equip him with a sword or two or send him through a Rogue's Passage. Still, it's his ability to create a bevy of 3/3 creatures from your lands whenever you cast an instant or sorcery that whets the appetite. You could go the "cantrip" route and create an army or just get a blocker when you counterspell something. You'll probably want Terra Eternal or some such so that your lands are indestructible as well. (B)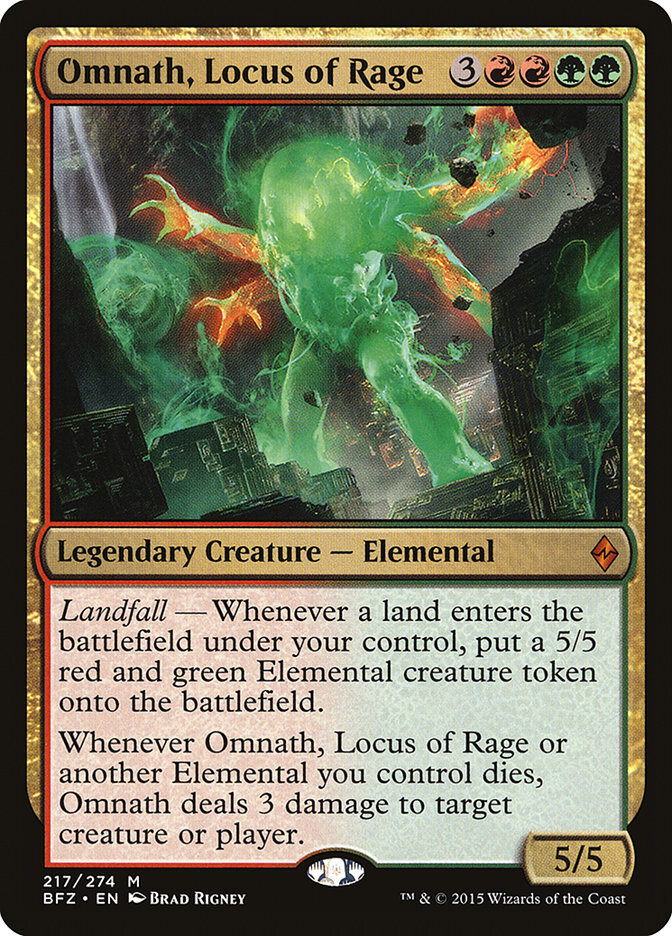 Omnath, Locus of Rage: Prog-rock erudite Robert McEachern has abundantly covered this in his own article, but the threat is real folks. Omnath is back, he's mad and he's making lands drops produce tons of gas. Be ready, as he's being built by a bevy of local players. (A)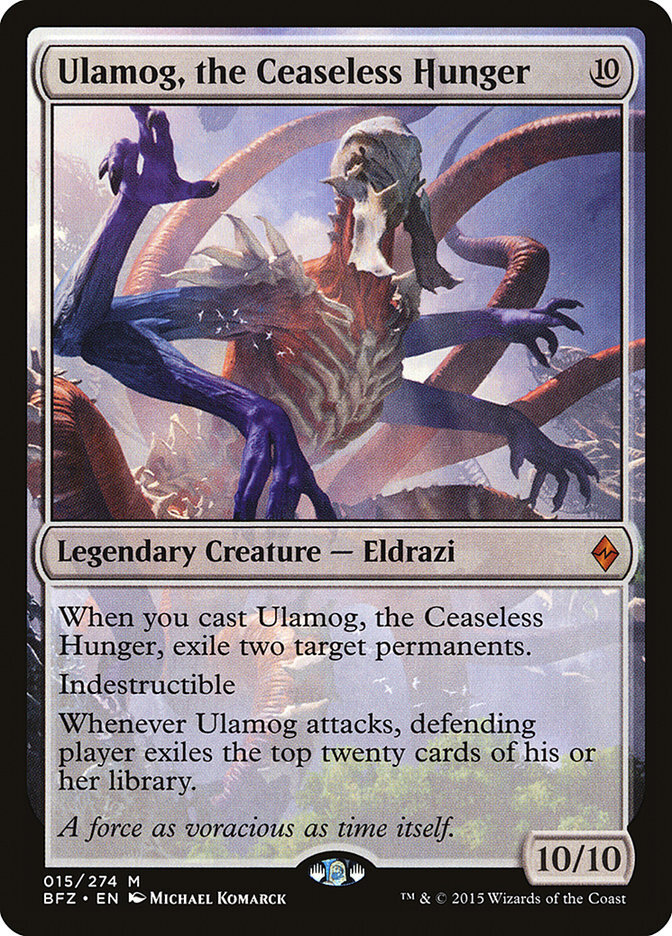 Ulamog, the Ceaseless Hunger: A 10/10 Indestructible for 10 that exiles two target permanents when played and then exiles your top 20 when attacked. The exile ability is already better than current Ulamog's destroy ability and while the exile may not be as back-breaking on the field as Annihilator was, you're still losing one fifth of your library, or more if you use Strionic Resonator and Rings of Brighthearth. (A)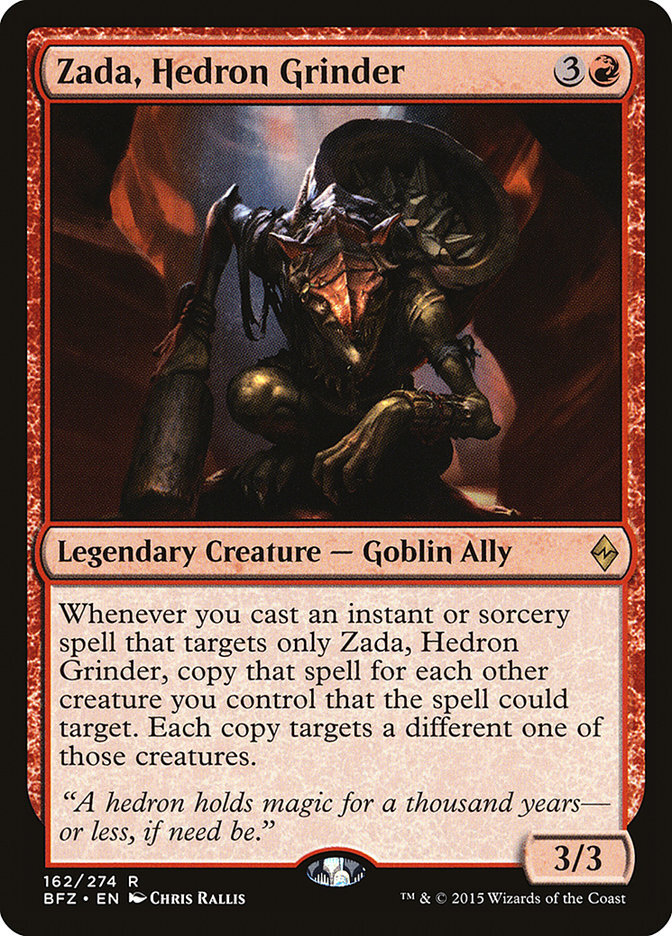 Zada, Hedron Grinder: A Hill Giant for all intents of purposes, Zada will copy any spell targeting her onto every creature you control. Given that, like Drana, she's also an Ally, there are some creature-type shenanigans to be had and some tomfoolery as well. Defensively, you can kill her (and your entire board!) in response to a Living Death or something as innocuous as a Stonewood Invocation can turn into a huge blowout. (C)
Colorless and Artifacts:
Here we have the menacing, plane-destroying Eldrazi coming back with a vengeance. The Ingest ability (exiling cards from an opponent's library) is interesting but uneventful unless of a scale greater than three (as Sensei's Divining Top and Sylvan Library, to name a few, will set up an acceptable exile) while the Processors are slightly more interesting in that they feed off small mana enablers to fuel much larger plays down the road. Still, a few Eldrazi are truly eye-catching, especially the previously mentioned Ulamog.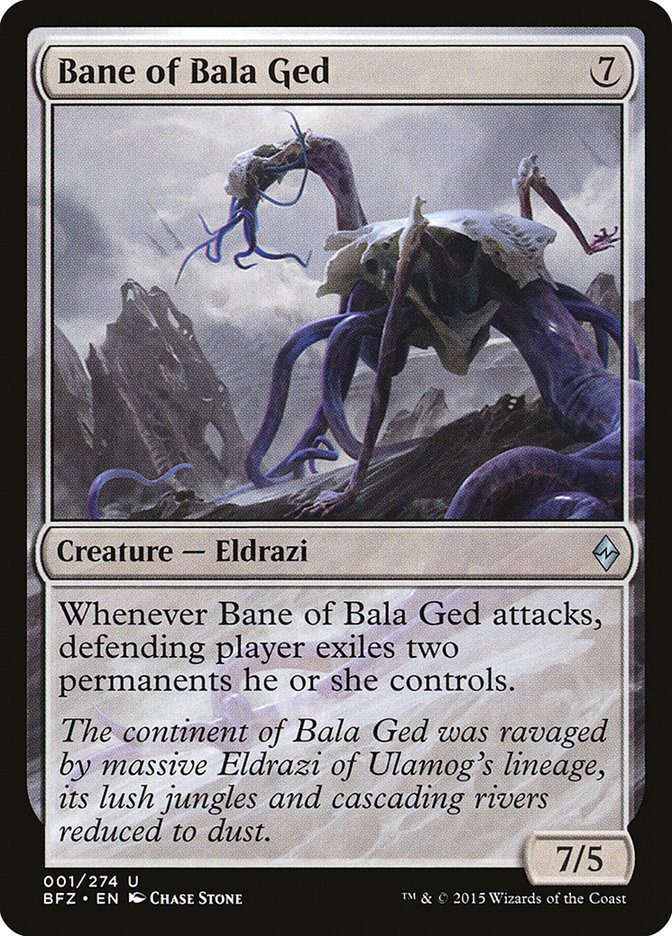 Bane of Bala Ged: Another "exile-on-a-stick" Eldrazi, this one clocks in at a decent 7/5 for 7 mana and exiles two target permanents each attack. It seems fairly decent, especially if you can get a quick equip with Lightning Greaves or Swiftfoot Boots but there is something here I find underwhelming. Maybe it's the lack of protection, or the mana cost that is already competing with [/mtg_card]Spine of Ish Sah[/mtg_card], Tooth and Nail, Avenger of Zendikar and so many other game-ending goodies that is putting me off. I am sure I will eat my words on this one but I'm rating this one a close (B).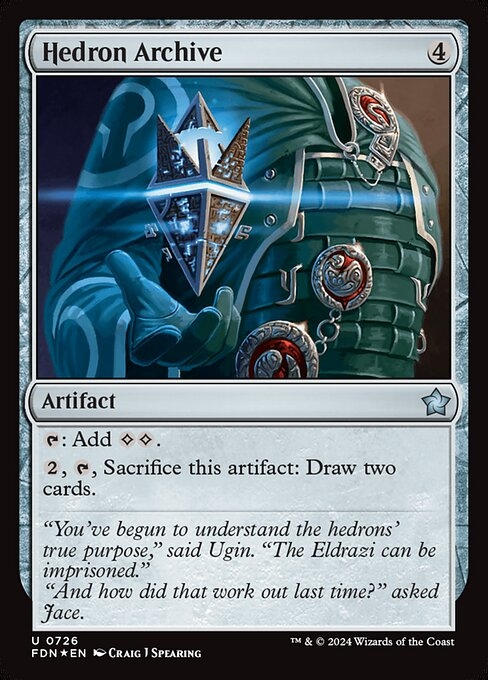 Hedron Archive: Great mid-game mana rock here. Four colorless to produce two colorless and the ability to sacrifice to draw two cards is a fantastic deal. Mind Stone sees frequent play, Dreamstone Hedron sees infrequent play, this should see plenty of play. (A)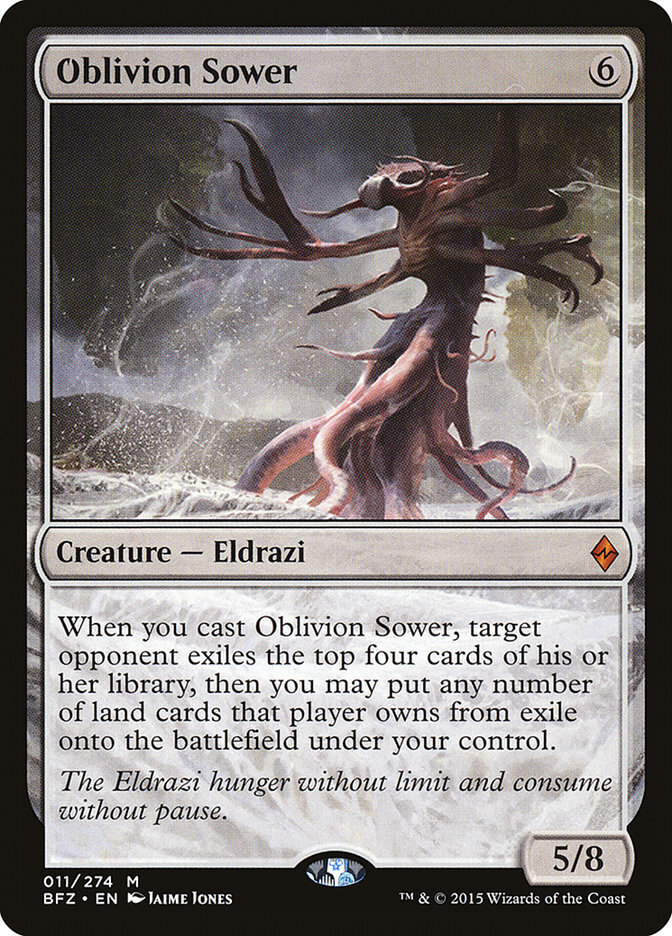 Oblivion Sower: We have already seen some of these kicking around thanks to the duel decks, but the results have been fairly underwhelming. That said, with all the Landfall around, you might see this around. If anything, it lets you ramp a bit and remove a small amount of resources from your opponents. Stick tap to Jia Long who used Crumbling Sanctuary to obtain 30+ lands off my Sasaya deck. Sadface. ☹. (C)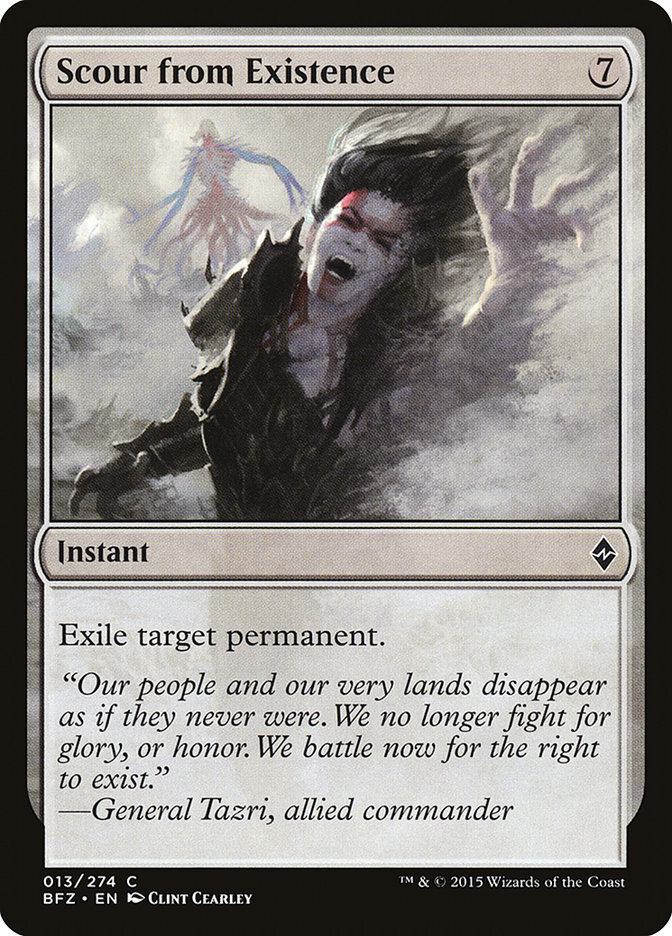 Scour from Existence: A seven-mana Instant that exiles any permanent? This looks great at first blush but again, as with several other cards in this set, there are so many game-ending bombs in the seven slot that one exile may not be worth it. Consider that there are one mana exile answers to creatures, three mana pseudo-exile answers, four mana answers to enchantments and artifacts, the list goes on. I might add one to Sasaya, Orochi Ascendant as an out to Iona, but it feels on the weak side. (C)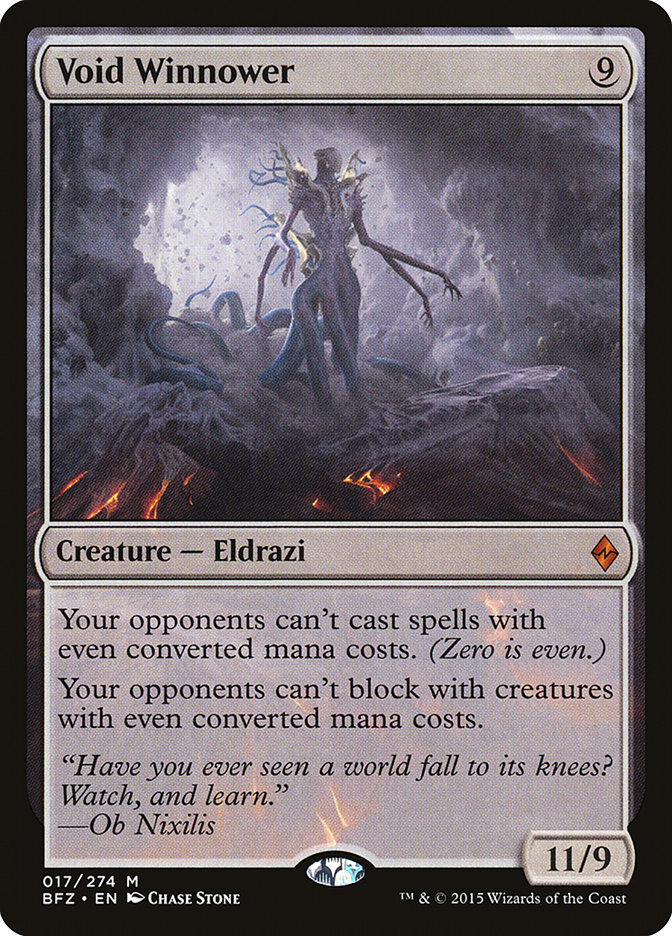 Void Winnower: This Eldrazi seems have a typically "white" ability in that it imposes rules on gameplay. Clocking in at a decent 11/9 for 9, he could get out of hand in a hurry. Consider that cards such as Wrath of God, Mana Drain, Mana Crypt, Solemn Simulacrum, Consecrated Sphinx will be shut out, and perhaps your commander as well, and we're getting a little worried. Only a little as there will still be answers like Swords to Plowshares and Path to Exile to resolve the issue Void Winnower's second ability is also fairly interesting, if only because it cannot be blocked by the Eldrazi Scion tokens that will be littering our tables. (B)
White:
I will not be doing an exhaustive overview of the Ally cards and their quality in this piece, but fellow commander enthusiast (and splendid jacket-wearer) Robert McEachern has said he is brewing an Ally deck, so we'll leave it up to his iteration.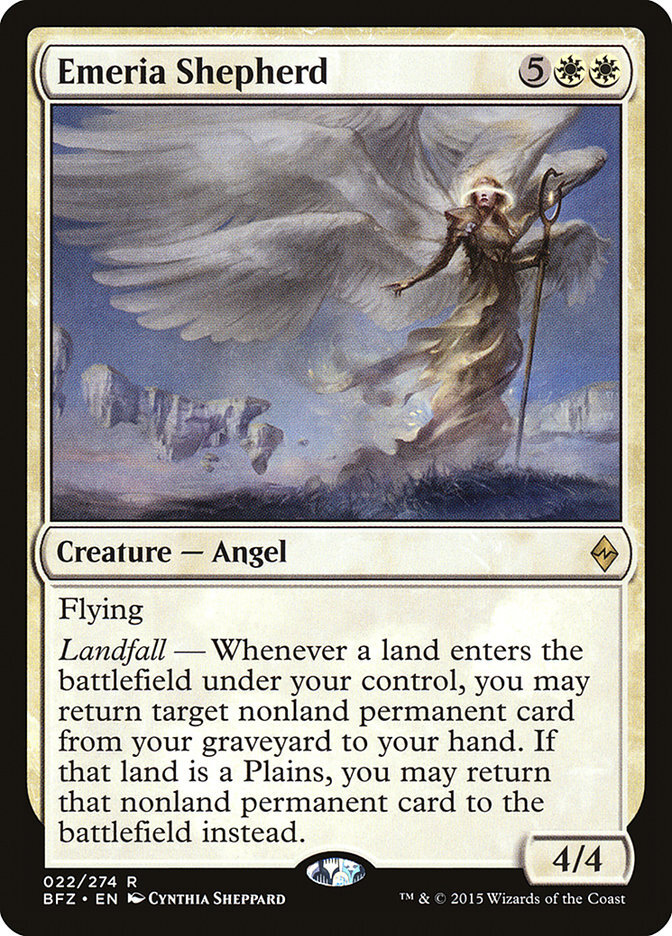 Emeria Shepherd: Is the Timmy in me ever going into overdrive on this one. An underwhelming 4/4 Flying for 5WW, its ability to return non-land permanents (or perhaps multiple non-land permanents if a Plains triggers your Landfall) will indubitably lead to massive shenanigans. Just on the "friendly" side, you can return a just-used planeswalker into a fresh copy, or resurrect a utility creature, or...It isn't Reveillark/Karmic Guide but it is useful enough, if a little on the expensive side. (B)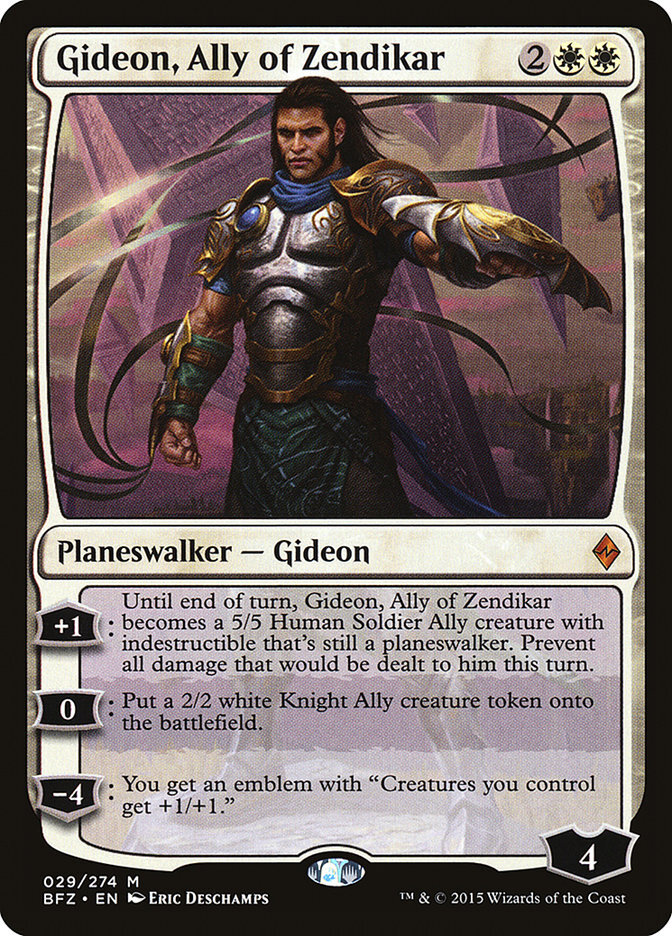 Gideon, Ally of Zendikar: Our new Gideon isn't bad. A four mana. four loyalty 'walker that becomes a 5/5 Indestructible for +1, makes a token 2/2 defender for 0 and turns into a Glorious Anthem for -4, this doesn't jump out as being a must-include in any commander piles. I still prefer Elspeth, Knight-Errant at that mana cost though. (C)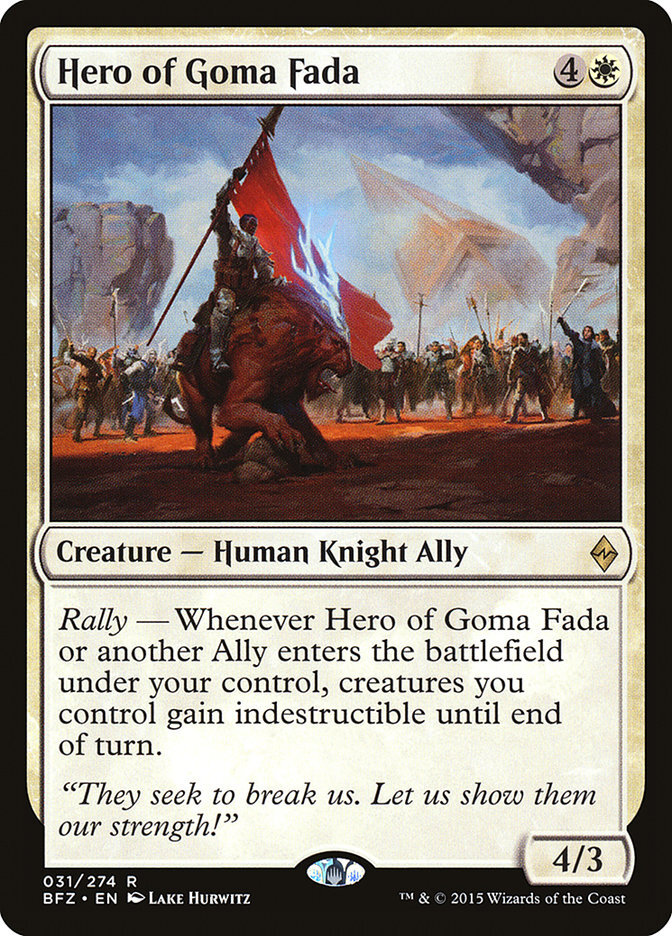 Hero of Goma Fada: Hero of Gonna Fightya, as I like to call him, is a very fun and cost-efficient addition to your Ally deck. A 4/3 for five is acceptable and giving all your friends Indestructible until end of turn at the very least makes things more interesting in the combat step. If you can flash in your allies, this will get silly in a real hurry. (B)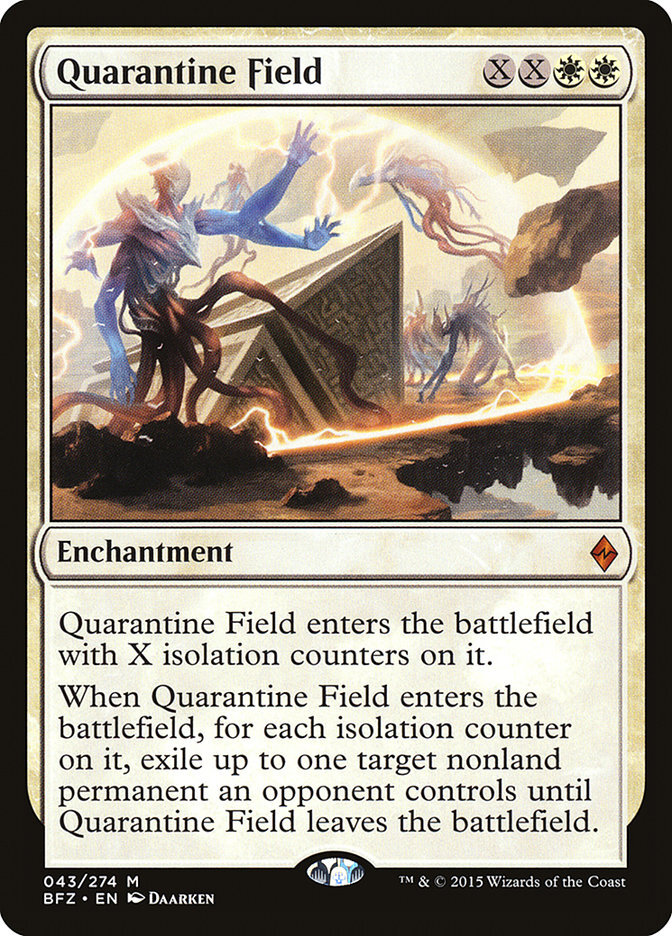 Quarantine Field: For this card to be efficient, it will cost at least fourteen mana (WW + XX x 6 = 12 WW) to exile six permanents. Let's be real here commshizzles, we're going to be overloading a Cyclonic Rift or just casting Obliterate or something that actually wins the damned game instead of a multi O-Ring that might not even get you there. Damn Wizards, just print a wrath variant with exile and give it Zendikari flavour. (C, and a VERY GENEROUS C at that.)
Blue
Blue gives us our first insight into Converge, a re-titled Sunburst ability last seen in Mirrodin Block. Essentially, for every coloured mana you put into a spell, you get increased effects. Unfortunately, very few of the cards are game-ending so we might not see them as much as we saw Etched Oracle or even Clearwater Goblet in some builds. Blue also has some interesting Landfall trigger, one enchantment in particular sending off mild alarm bells in my mind.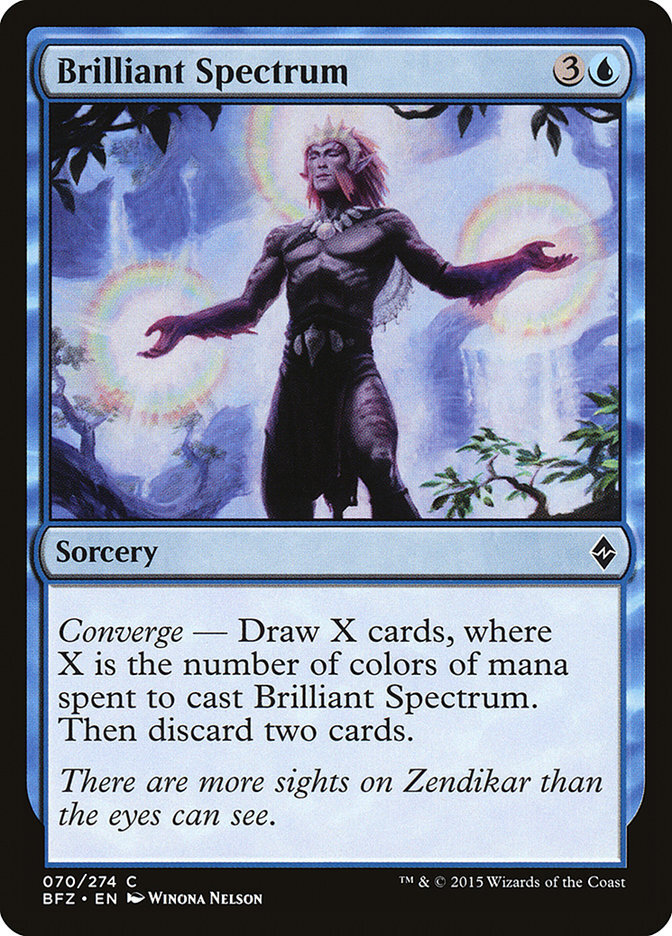 Brilliant Spectrum: Our first peek into Converge sees a four-mana draw spell, at sorcery speed. You must discard two cards as well, so the best-case is paying four colours, drawing four deep and then getting two in your hand. This is strictly worse than Fact or Fiction, Thirst for Knowledge, or even Careful Consideration . Sadly for Brilliant Spectrum, five-colour decks will have much better card-draw outlets. (C)
Exert Influence: Here's the Converge Control Magic variant. It's not looking good folks. At five mana this is strictly worse than the original, much worse than Gilded Drake or Sower of Temptation and its only real benefit is that is a spell. Its downside, limited to power equal the amount of colours input, makes it a dud. (C)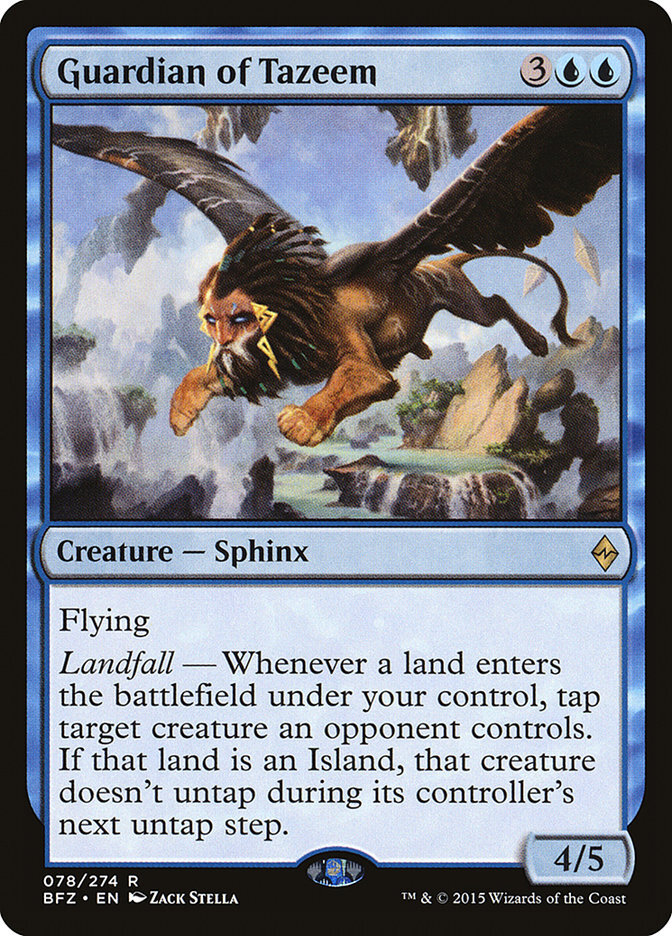 Guardian of Tazeem: A 4/5 Flyer for five mana that slowly locks down opponent's creatures when you play Islands isn't exactly a showstopper, but if your shell is a slow, grindy one this might be the sphinx you're looking for. At absolute worst you're locking down the most obnoxious threat on the board for a few turns. (B)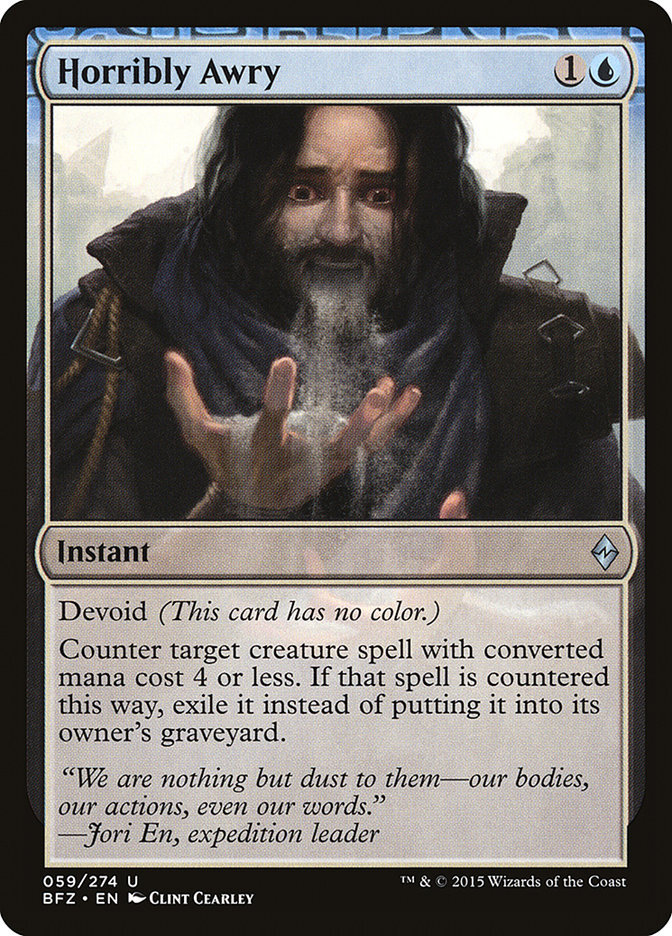 Horribly Awry: Devoid. The nominal "anti-Siege Rhino" for this set could find a spot in a few Commander decks. Most efficient creatures are four mana and under, and if you are using Remove Soul then you must consider this as it also exiles. At least worth a short test run. (B)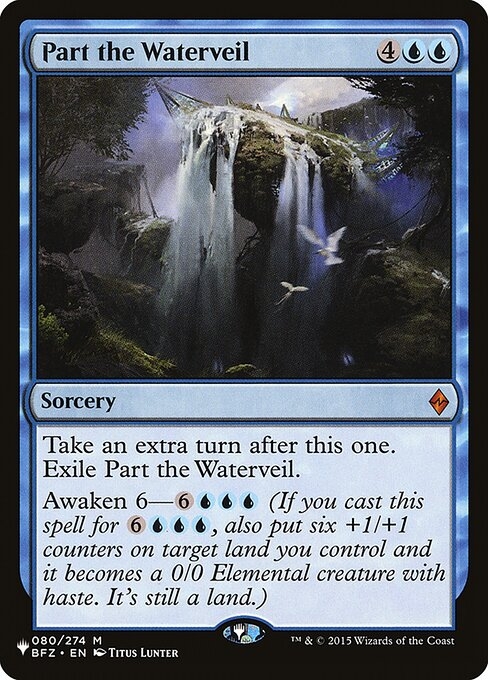 Part the Waterveil: This set's Time Warp that exiles itself comes with a hefty Awaken cost. If you pay nine mana (including three blue mana) instead of six, you get a 6/6 land creature on top of your extra turn. I keep thinking more than five is too much for an extra turn and I keep being wrong, especially with Narset, Enlightened Master still causing havoc out there. Likely won't see much play though given the multiple cheaper options. (C)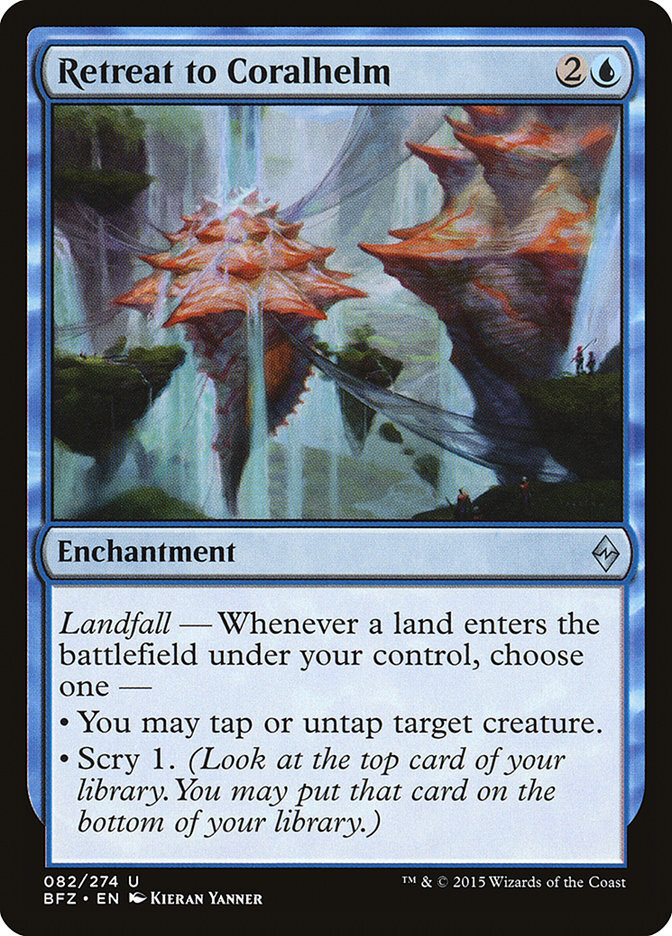 Retreat to Coralhelm: The previously mentioned enchantment that is making me all agog. Three mana gives you the ability to Scry 1 whenever you landfall, which is already fairly solid. You'll get into situations where you play a fetch, Scry 1 and decide to wait a bit to crack if your next draw is good, or you bin it, shuffle and then Scry 1 again with your next land drop. In any Simic deck this could get out of hand in a real hurry. Oh, the second mode isn't bad either, allowing you to Twiddle any creature on the battlefield. Making your Knight of the Reliquary arbitrarily huge could happen. Untapping Arcum Dagsson to get Mycosynth Lattice and Darksteel Forge on the same turn off a fetchland could well be a thing. Maybe you just tap down something you don't like though. Lots of utility here. (A)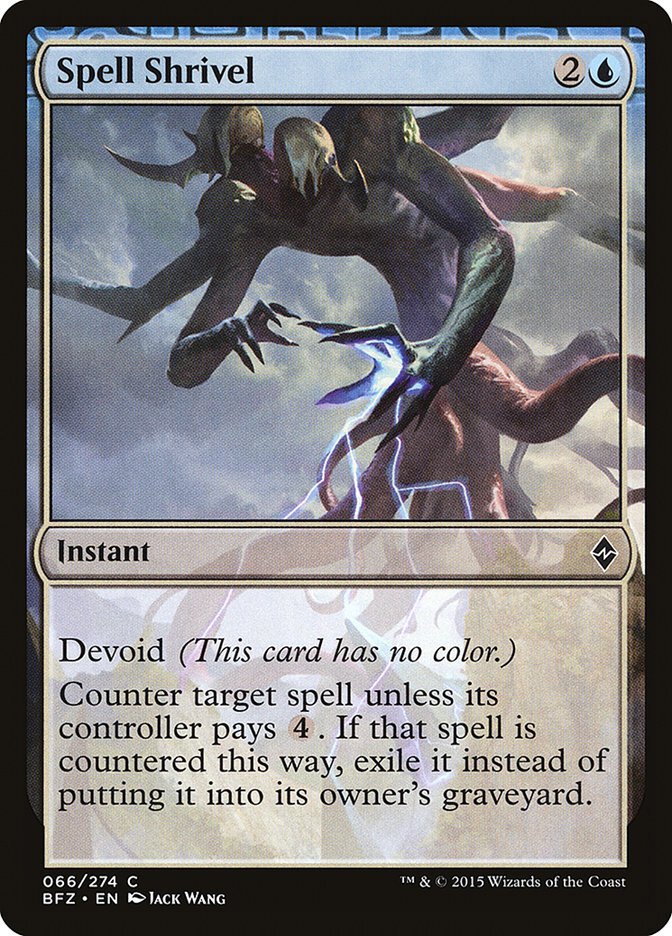 Spell Shrivel: Devoid. Another nice counterspell option, this one teeters on replacing Dissipate. Yes, it is conditional but it will do some work in the early game where everyone is tapping out to ramp or play early bombs. Later on it still forces them to tap their Sol Ring or Mana Vault and a land or two to get that spell through. Worth a second look, the single blue in its mana cost makes it quite enticing. (B)
Ugin's Insight: A five mana sorcery to draw you three isn't great. Letting you Scry X, where X is your highest converted mana cost among permanents you control means, on average, you will look at your top four or five and then draw. That's fairly decent. If you have an Eldrazi out, it becomes Scry 7-10 and then draw three, which is getting a little silly. Not an all-star, but a good support player. (C)
Black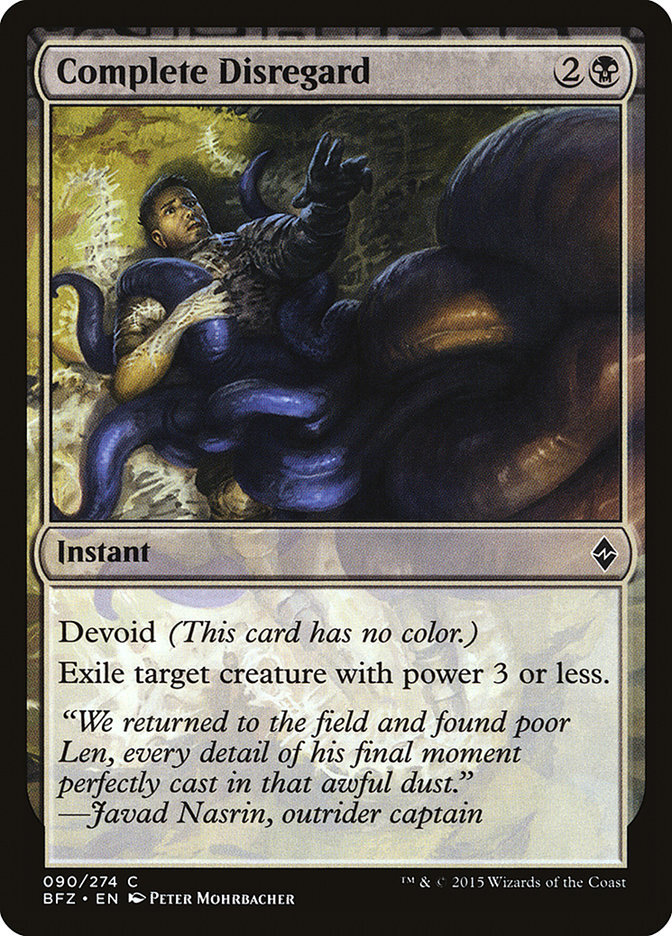 Complete Disregard: Devoid., Three mana to exile any creature with power three or less seems a little too limiting for Commander. Yes, it will hit a ton of stuff but Black already has so many options to either make you sacrifice or destroy that this may get overlooked early on. Its saving grace is that white has most of the exile effects, but this still fights with Hero's Downfall and a multitude of less conditional removal. (C)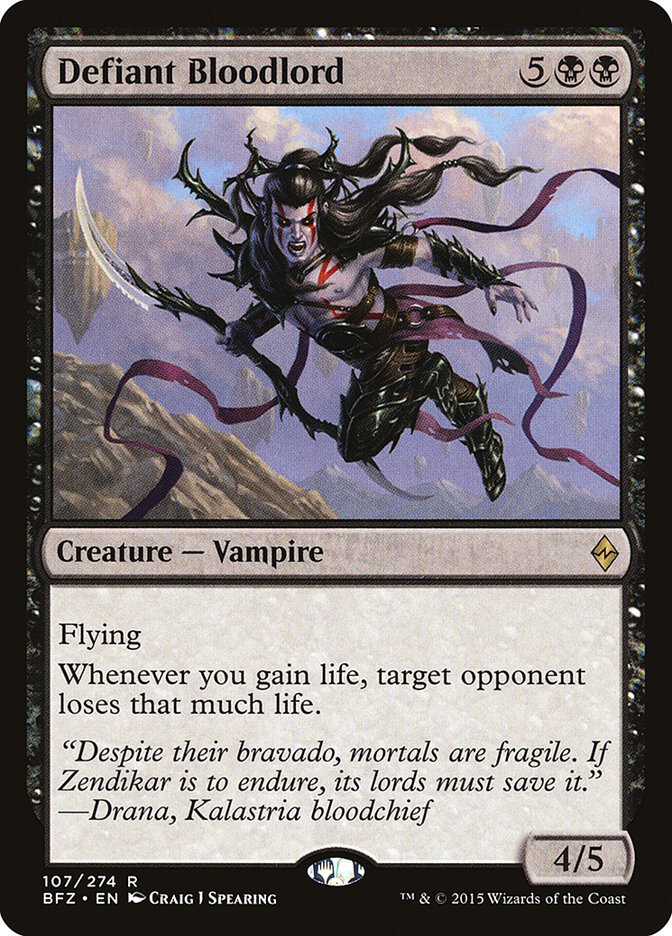 Defiant Bloodlord: A 4/5, Flying Sanguine Bond Sanguine Bond for seven mana will make a nice addition to someone's Oloro, Ageless Ascetic deck. Creatures being generally easier to get into play, expect this to pop up now and then with accompanying equipment shenanigans. (B)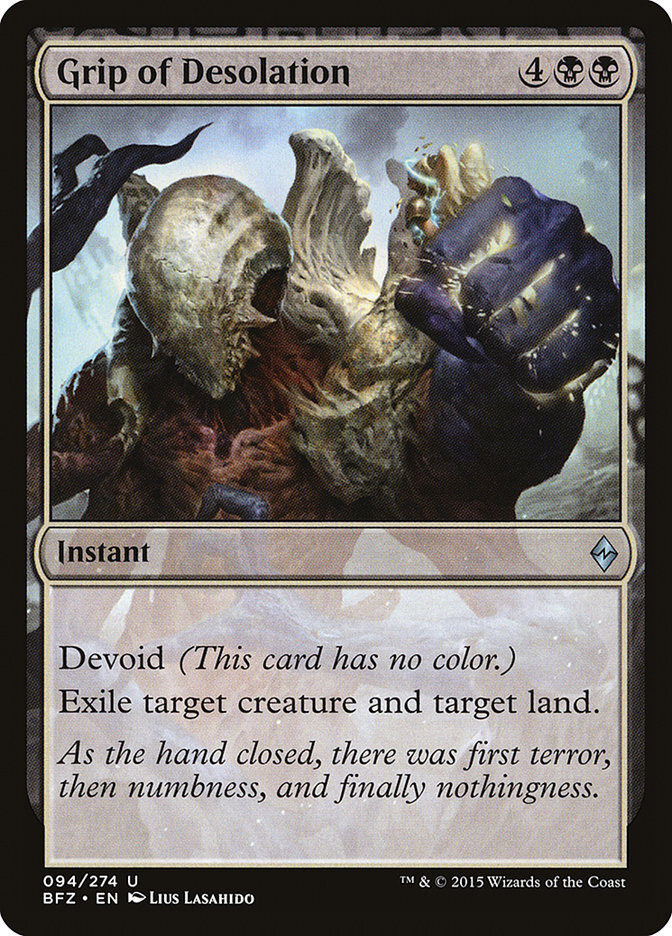 Grip of Desolation: Devoid. Six mana at instant speed to exile a creature or land. For one more you can hit any permanent, but again both seem a little high for more aggressive, competitive play. The issue here remains that graveyard removal is plentiful in Commander, so just stripping a land or killing a creature might be enough if backed by a Relic of Progenitus or some such. A little underwhelmed with this, but will give it a try. Six mana is a turn three to four play in Commander, after all. (C)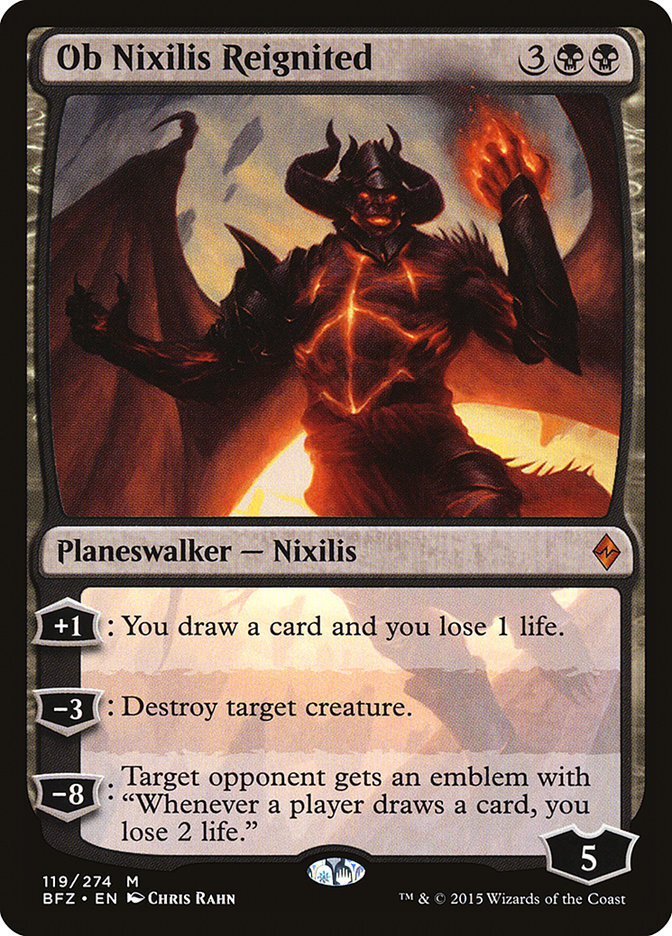 Ob Nixilis Reignited: Five loyalty for five mana, the ability to draw a card for +1, off an creature for -2 and cripple an opponent with its ultimate for -8. Said ultimate gives target opponent an emblem reading: "Whenever a player draws a card, you lose 2 life." Note that this doesn't say "When you draw a card" but whenever anyone draws a card, so in multiplayer you are dead meat. Fun stuff here. (B)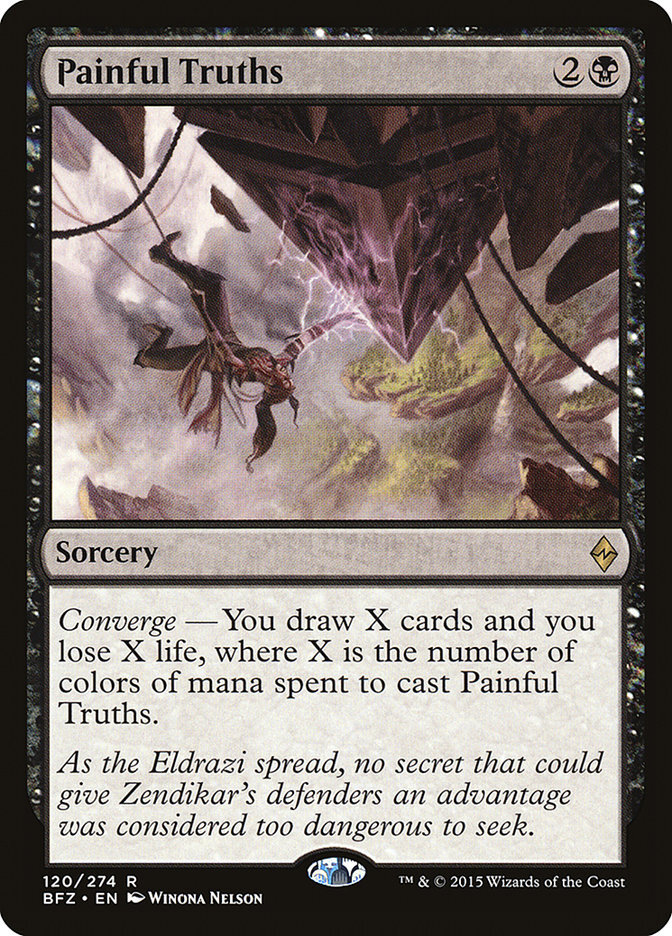 Painful Truths: Three mana to play, potentially three cards to draw and three life to lose dependent on the amount of colours poured into it. Read the Bones already sees play, justifiably so because of the Scry 2, but this is just great gas if you're in three colours and is okay in two colours. Never use in mono-black, obviously. (A)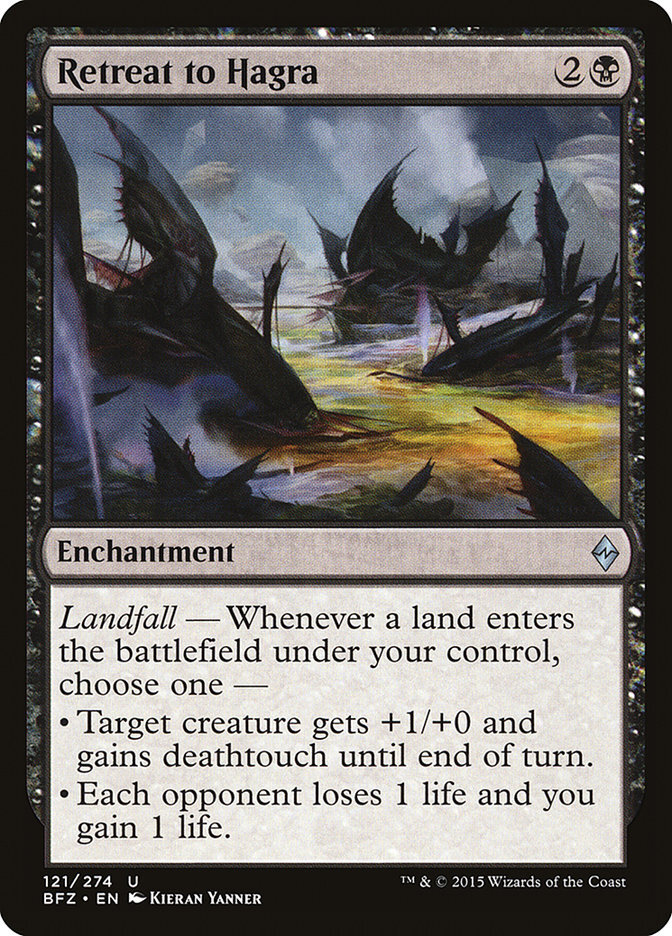 Retreat to Hagra: Such a juicy card for multiplayer! The first option, giving a creature +1/+0 and Deathtouch until end of turn, could swing other player's attacks. The second, draining each player for one and adding that to your life total, is pure gravy. So I drain for three and then draw three more off Necropotence? Ok boss!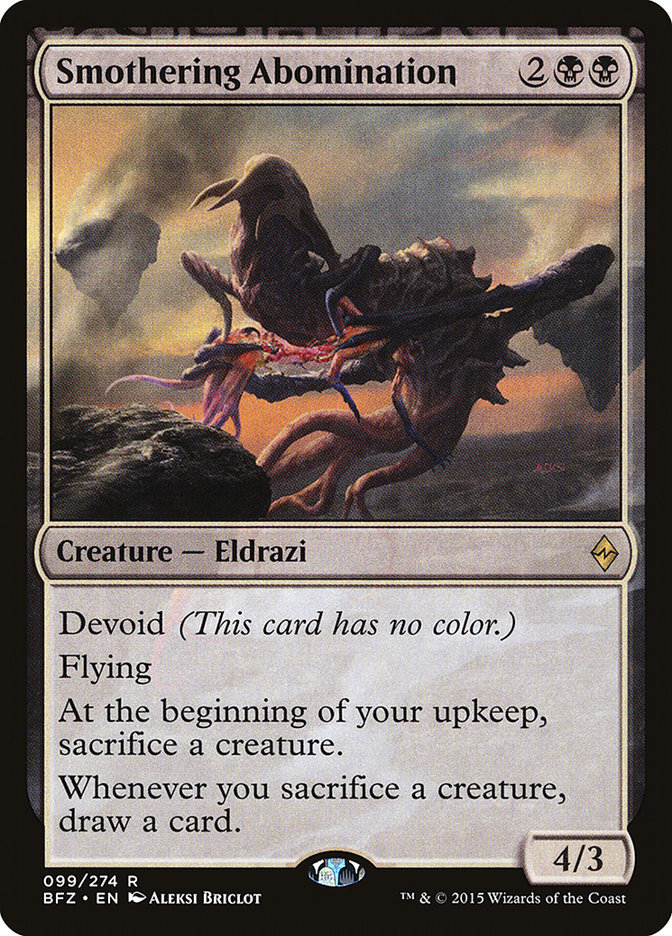 Smothering Abomination: Devoid. A quite solid 4/3 flying body at four mana, with the caveat that you must sacrifice a creature on your upkeep. However, you draw a card for each creature you sacrifice. So Attrition and Vampiric Rites are now much better? I'll just leave this right here... (B)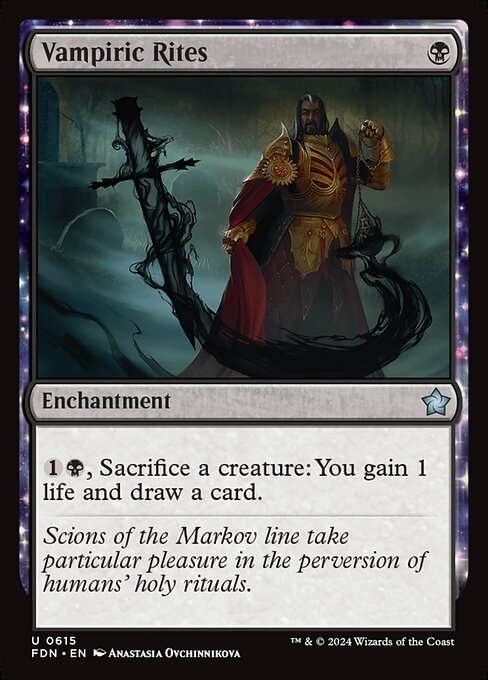 Vampiric Rites: One mana enchantment that asks to pay 1B to sacrifice a creature, gain a life and draw a card? So a 2/2 with Skullclamp will draw you three cards and a one point life boost. Or you can throw your faerie tokens from Bitterblossom to the vampires for a little fuel. Very solid, would play in Commander. (A)
Red:
Red is pretty underwhelming for Commander this time around. It has its usual amount of burn spells that will shine in Limited or other normative formats, and we've already covered its legendary creature contribution. We're left with some fragile creatures that could be fun in the right deck and a bunch of decent Ally contributors. Still, even an ugly, red-headed stepchild is still a stepchild, so here we go.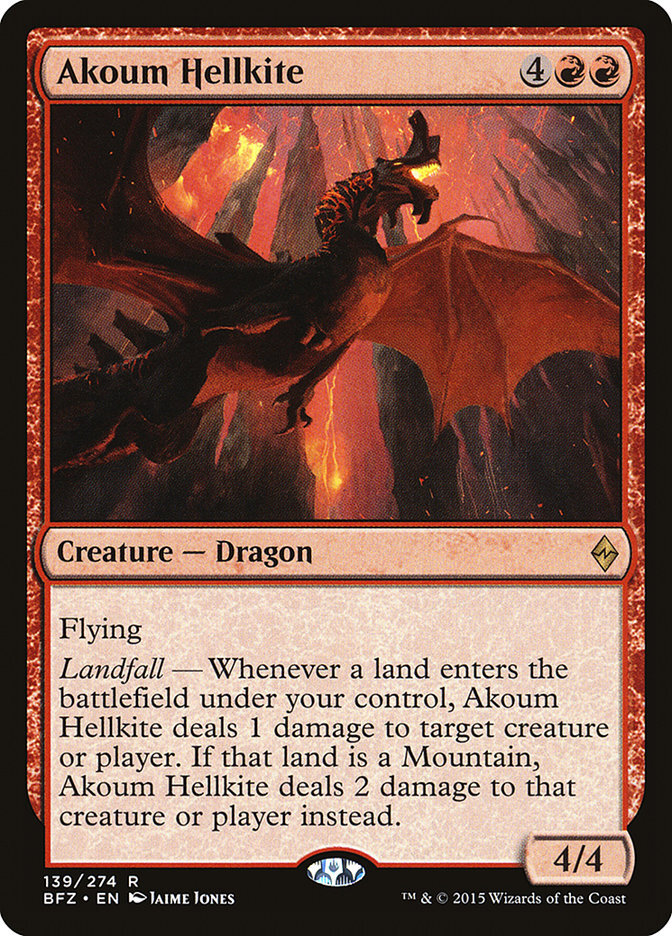 Akoum Hellkite: An underwhelming 4/4 flyer for six mana that will ping a target creature or player for 1 on Landfall, or 2 if the land is a mountain. I could see this in a Gruul mix with extra land drops, but just overall underwhelming. (C)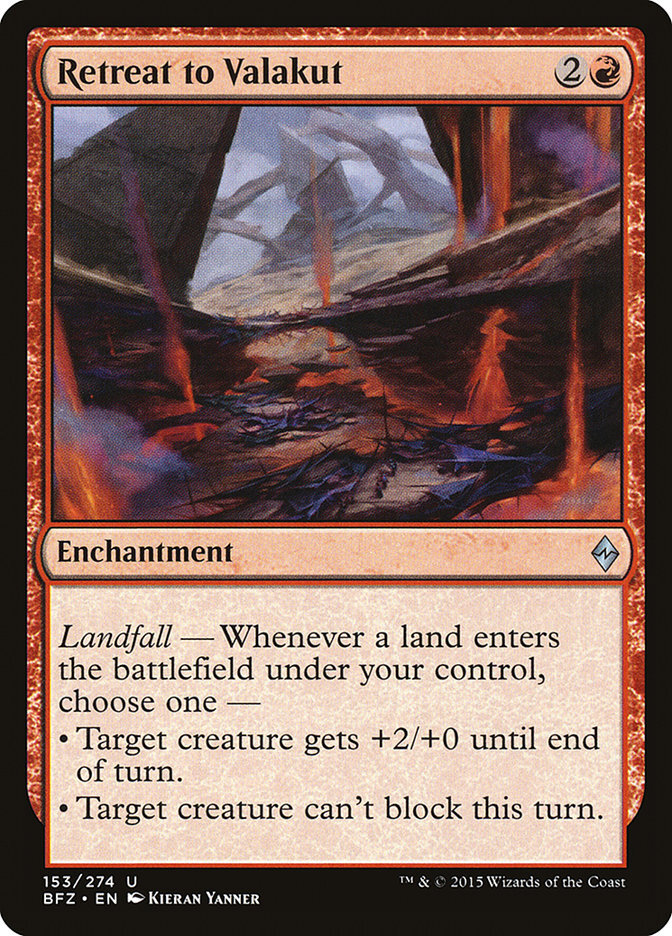 Retreat to Valakut: This could be an interesting combat enabler. Or it could be a complete blowout if you Boundless Realms after your Hazezon Tamar produces a bunch of tokens to overkill your opponents. (B)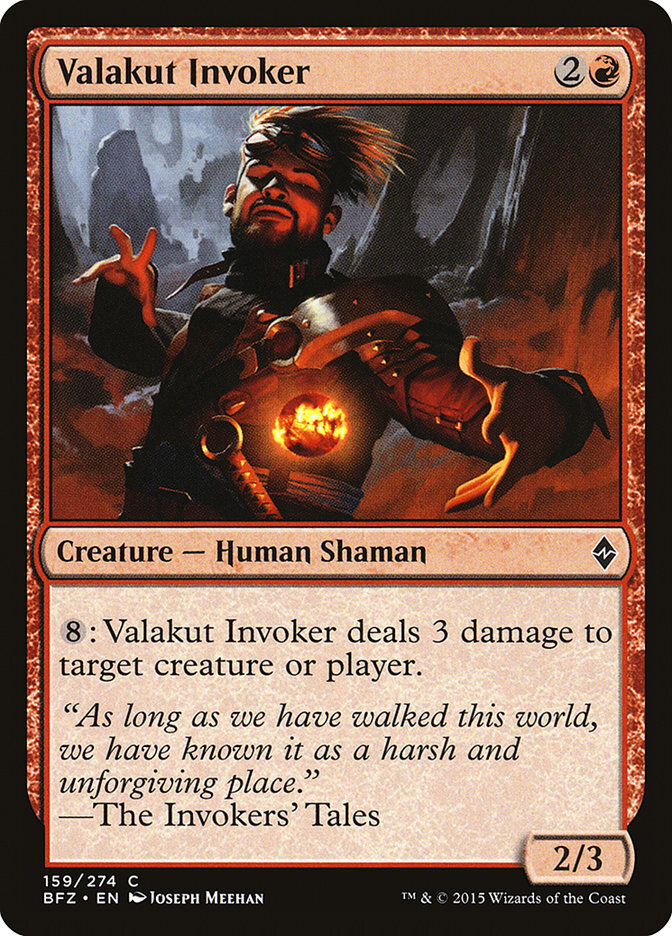 Valakut Invoker: Who are we kidding? Just run the Molten Pinnacle and move on. Onto Green. (C minus minus minus)
Green:
Green has some interesting tools for us. A welcome reprint of Sylvan Scrying for those of us that don't have a foil version and some nice ramp/creature utility but not much in the way of must-plays. Nissa's Renewal, for example, is simply worse than Boundless Realms and if you want the 7 life point boost, Primal Command does that and more. Let's take a look though.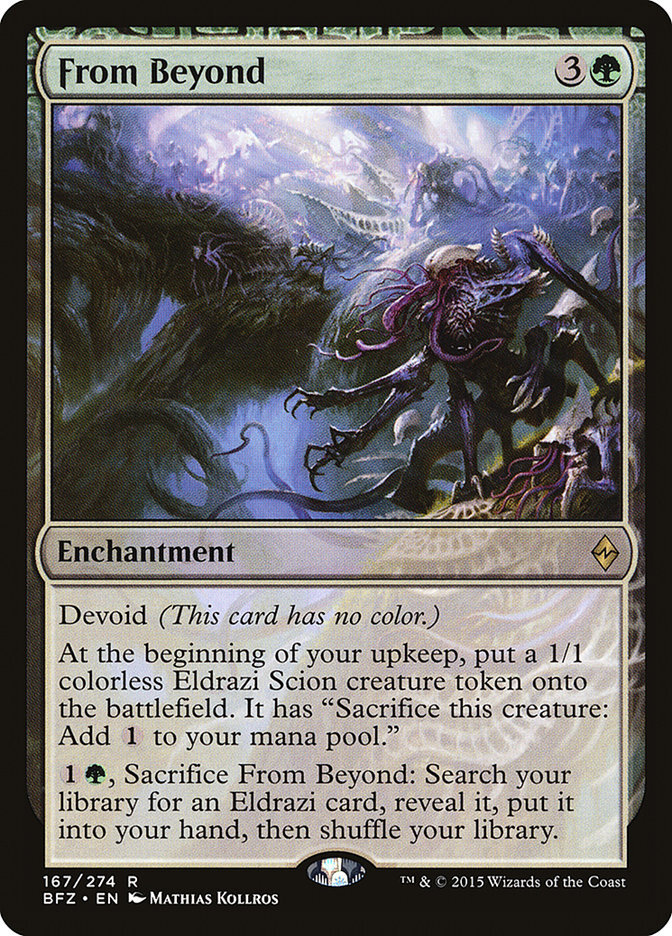 From Beyond: Awakening Zone is a decent card, and this version puts a 1/1 into play instead of a 0/1 for one more mana. Additionally, you can sacrifice it to search your library for an Eldrazi card and put it into your hand. That's a great option if you need to get Kozilek, Butcher of Truth for some extra gas or just "Newlamog" to punch through an opponent's library. And hey, direct reference to H.P. Lovecraft short story makes it cool. (B)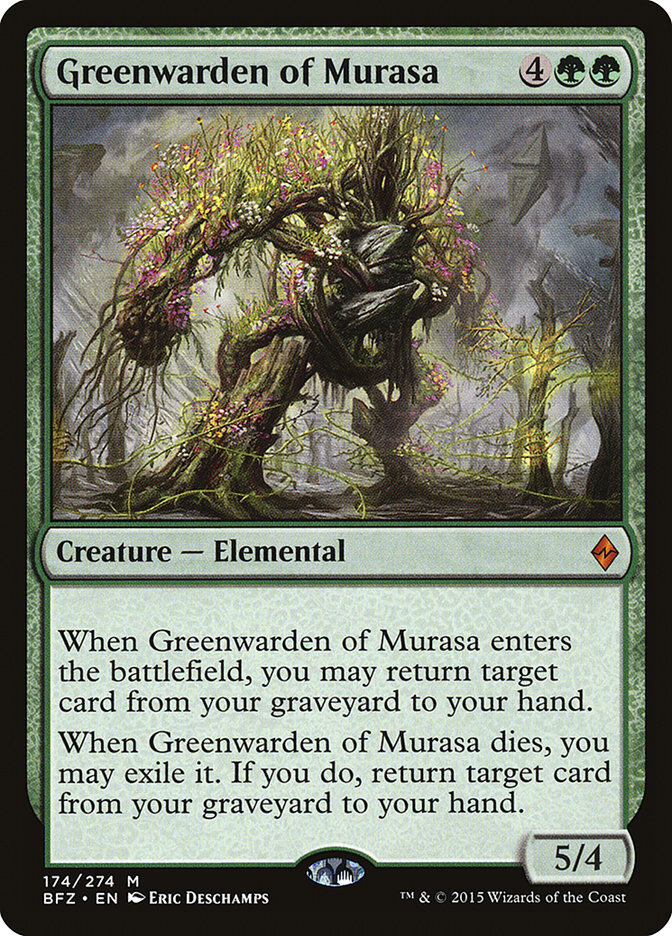 Greenwarden of Murasa: Eternal Witness is a star player in Commander. The same card and function on a bigger body adds some redundancy and the extra trigger, sadly tied to self-exile, is quite nice. A 4/5 for six is only barely useful, though. (B)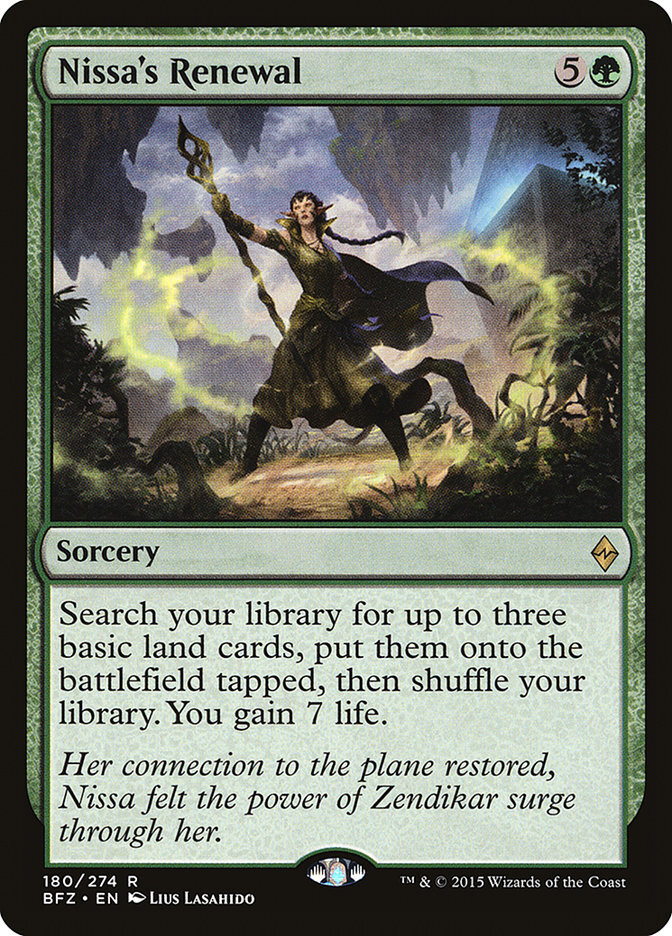 Nissa's Renewal: We've already talked about this, but there are simpler much better ramp options in green. In a format that has Exploration, Explosive Vegetation, Ranger's Path and so many other options, this one sadly falls short. (C)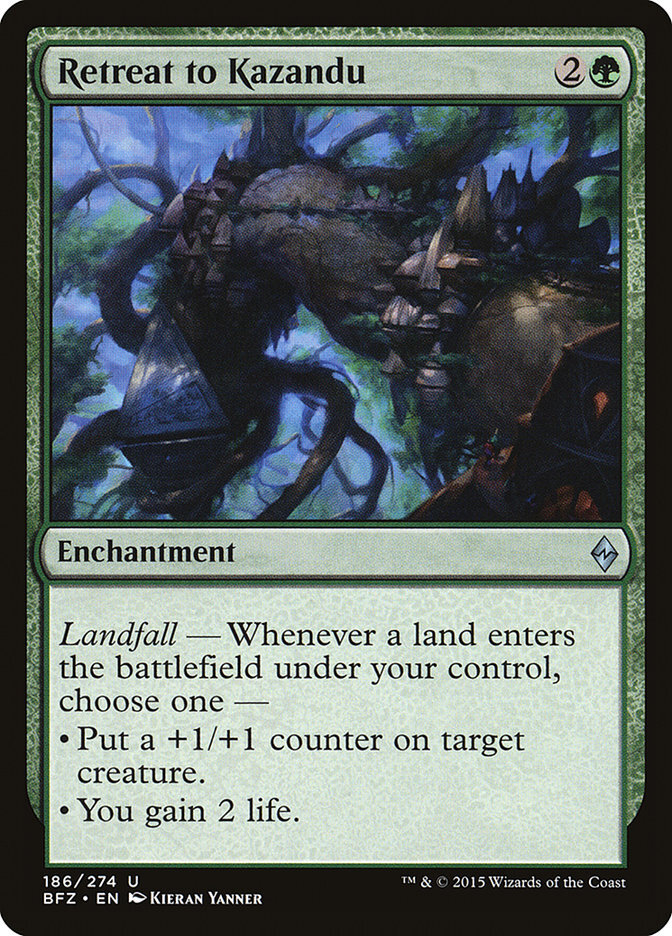 Retreat to Kazandu: Decently costed at three mana, this could easily get you 12-20 life over a game, on top of making your Spike Weaver delay your opponents for much, much longer than it should. (B)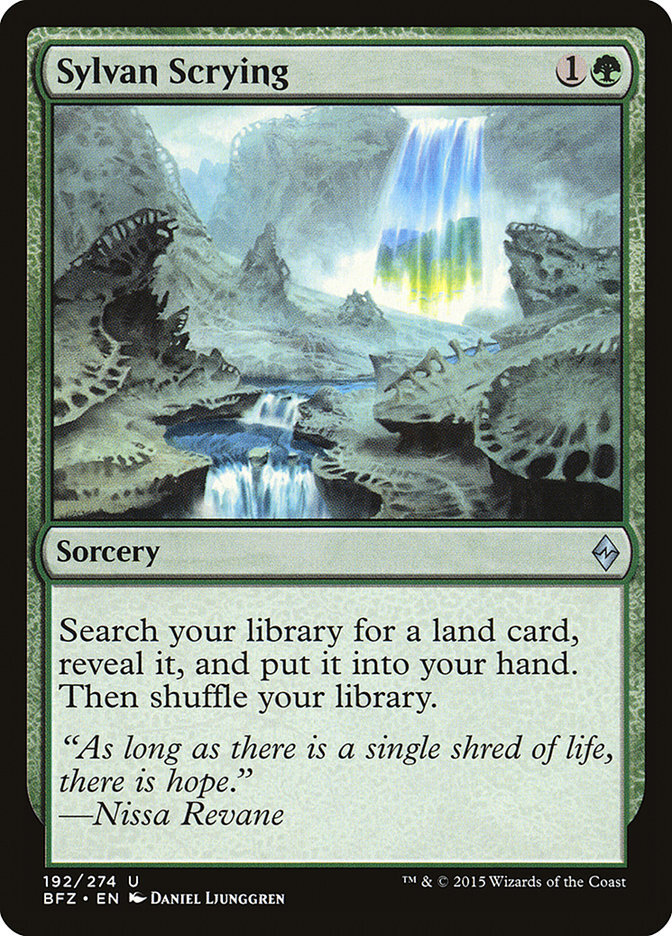 Sylvan Scrying: A nice reprint that will put few more foils in circulation and super, super good in that it gets any land into your hand. I'll be looking for a few of these for my own decks. (A)
Multicolor
We have already covered our legendary friends earlier on, but there are still a few multicolor cards that add interesting value to our decks. With their mana costs being very respectable (few double coloured mana tying you down), let's take a quick look at our new toys: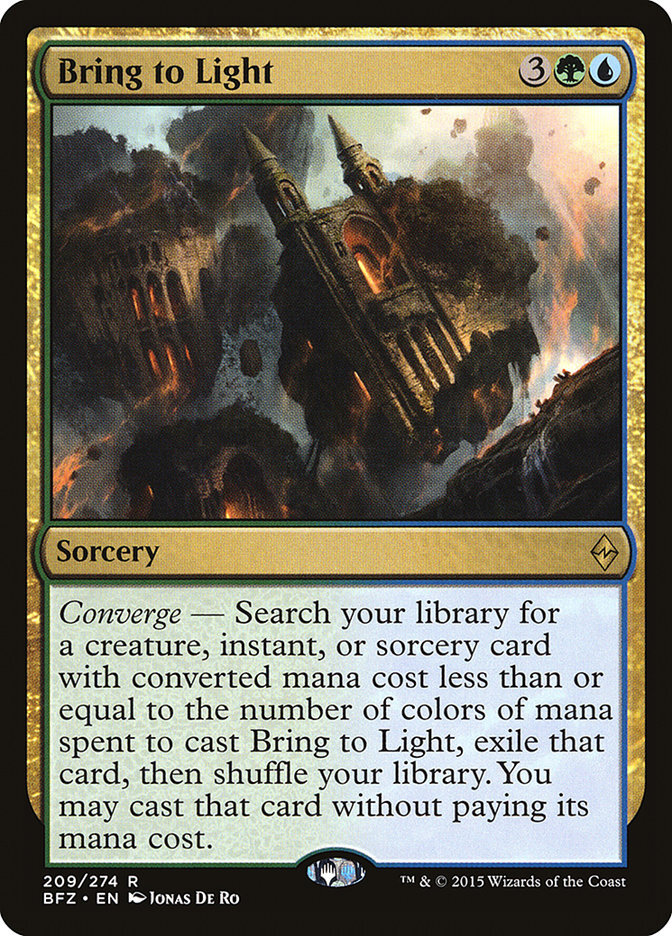 Bring to Light Five mana sorcery that can play a creature, sorcery or instant of cost five or less for free, dependant on the colours spent. So at base, you spend 3UG to get a Demonic Tutor or a Sakura-tribe Elder but if you go all the way? Sliver Queen, Prophet of Kruphix or even Ad Nauseam for funs and giggles. (A)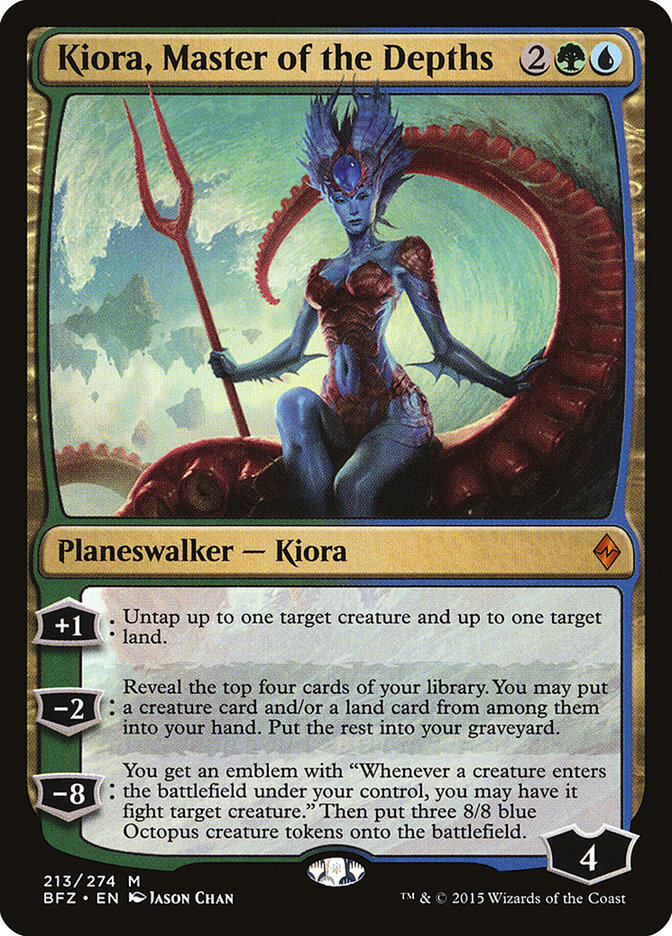 Kiora, Master of the Depths: Simic players will love this multipurpose deck thinner and trickster. Four loyalty for four mana, a +1 that untaps up to one target creature and land (notice up to can be zero...), a -2 that lets you reveal your top four and take a land and creature and the ultimate? You get an emblem with: "When a creature enters the battlefleld under your control, you may have it fight target creature." Then put three 8/8 blue Octopus creature tokens onto the battlefield. Oooookay then. Note that you basically four for one with the ultimate. Also note that it does not read "When you play a creature spell", so Deadeye Navigator shenanigans will make a lot of octopi. (A)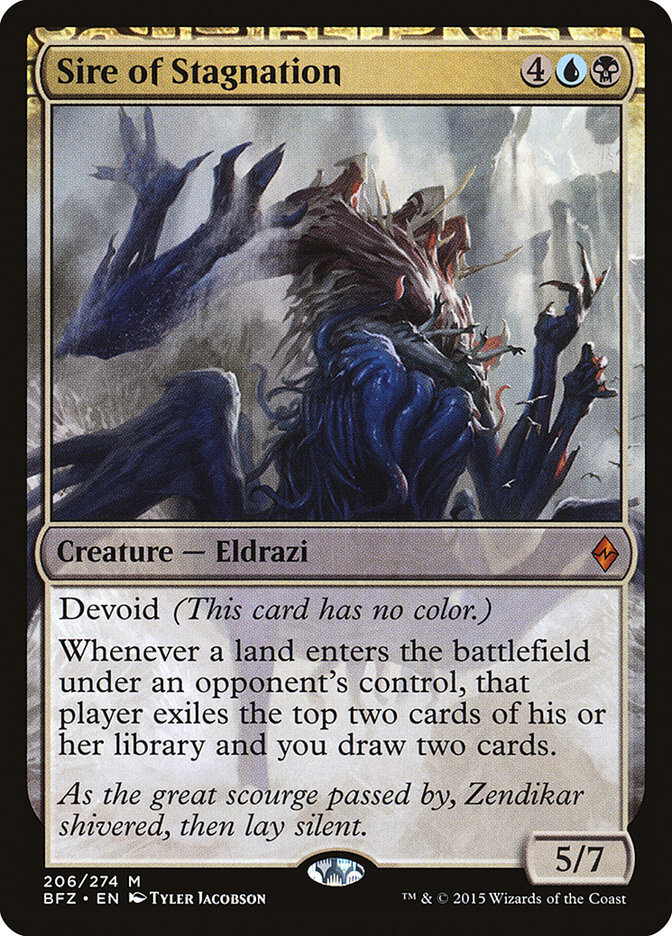 Sire of Stagnation: Let's start out by saying this isn't Consecrated Sphinx but dear lord is this thing going to be a pain in the ass. At a very reasonable 5/7 for 4UB, at very worst it will immediately eat a removal spell before an opponent plays a land. It may well do much better though, drawing you several cards and exiling many cards off the top of an opponent's library. Consider that a played and cracked fetchland exiles four cards and that green ramps like no one's business and the Sire will grind down the game something fierce. (A)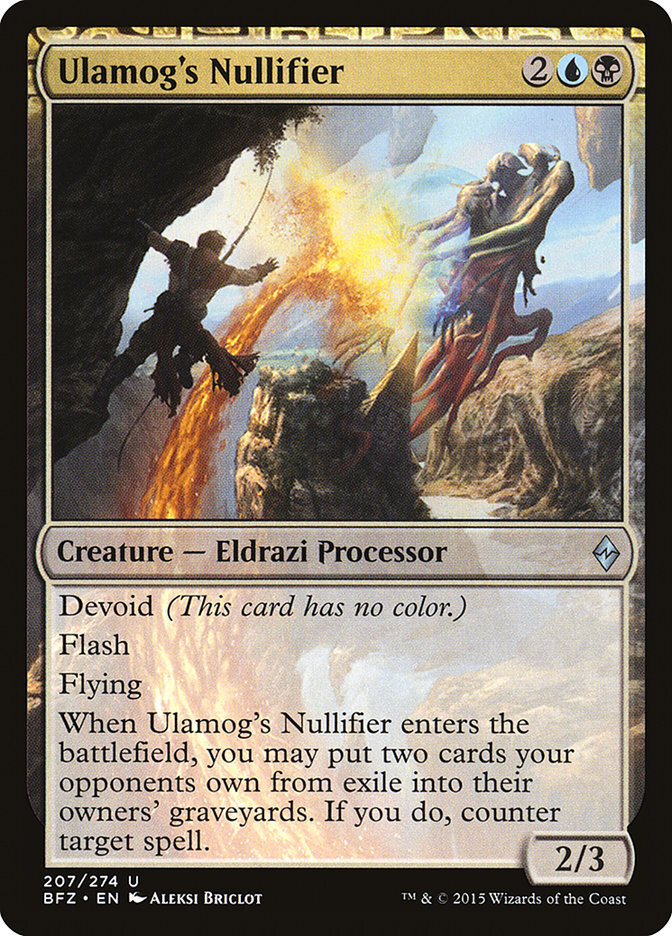 Ulamog's Nullifier: We already have a Mystic Snake to pair with Deadeye Navigator. The Nullifier does fly though, and has a bigger backend as a 2/3 as well. You will need to return two cards from exile to an opponent's graveyard for the counterspell ability to happen, however. Not that that's a difficult task in Commander with all those Scavenging Ooze and Relic of Progenitus floating around. (C)
Lands:
Obviously the big deal here is the expedition content, foil, alternate art reprints of fetchlands, shocklands and the set's "Duo Lands" (credit to Ricardo Evangelho for the creative name) in absolutely gorgeous renditions. That said the set's new lands are quite playable.
Duo Lands: These are allied-coloured duals that count as their respective basic land types, but can only enter untapped (typically) on the third turn or later. For example. Cinder Glade taps for G or R, counts as a Mountain and Forest but enters tapped unless you control two other basic lands. They are still quite fetchable though, so an end of turn tapped pseudo-dual will still serve on your next turn. (A)
Blighted Lands: Tied to each colour, each of these lands enters the battlefield untapped and taps for 1 colorless mana off the hop. Additionally, a late-game effect is tacked on for anywhere from four to six converted mana and the land's sacrifice. For example, Blighted Cataract will sacrifice itself for U5 to draw two cards, an excellent ability if you need some late gas. Blighted Gorge, sadly, underwhelms as it is a Shock for five mana. In a world where Barbarian Ring sees fringe play, this isn't happening. Blighted Woodland seems nifty with its double Rampant Growth for four mana and Blighted Fen is still cheaper than a "flashbacked" Chainer's Edict. The last one, the white one, the oh so vanilla one, Blighted Steppe, is a self-only Benevolent Offering for the lifegain portion, which is fine. (C)
"Critter-lands": We have two of these in BFZ. Lumbering Falls enters the battlefield tapped, taps for U or G and becomes a 3/3 blue and green Elemental with Hexproof or 2UG until end of turn. Quite solid and great uncounterable damage. Shambling Vent also enters the battlefield tapped, taps for B or W and becomes a 2/3 white and black Elemental creature with Lifelink for 1BW until end of turn. Again, solid but not a must-include. (B)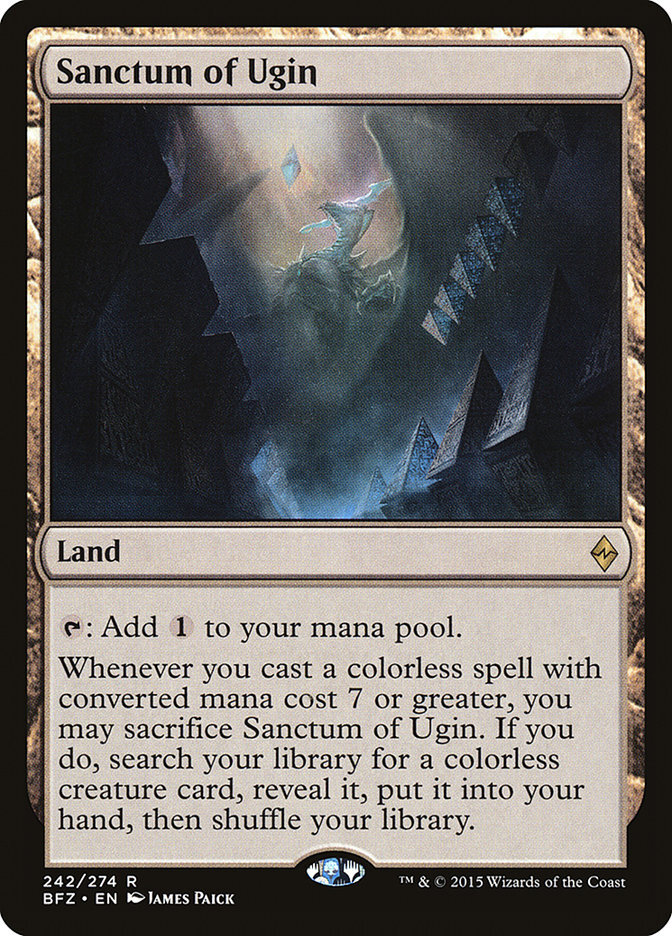 Sanctum of Ugin: Keeping in theme with the "colorless matters" aspect of BFZ, this Rare taps for a colorless with a rider: "Whenever you cast a colorless spell with converted mana cost 7 or greater, you may sacrifice Eye of Ugin. If you do, search your library for a colorless creature card, reveal it, put it in your hand then shuffle your library. So basically, you cast All is Dust or Mishra's War Machine and you can get an Eldrazi, a Masticore or...any creature you might need to solve the stalemate or win. Very solid (A)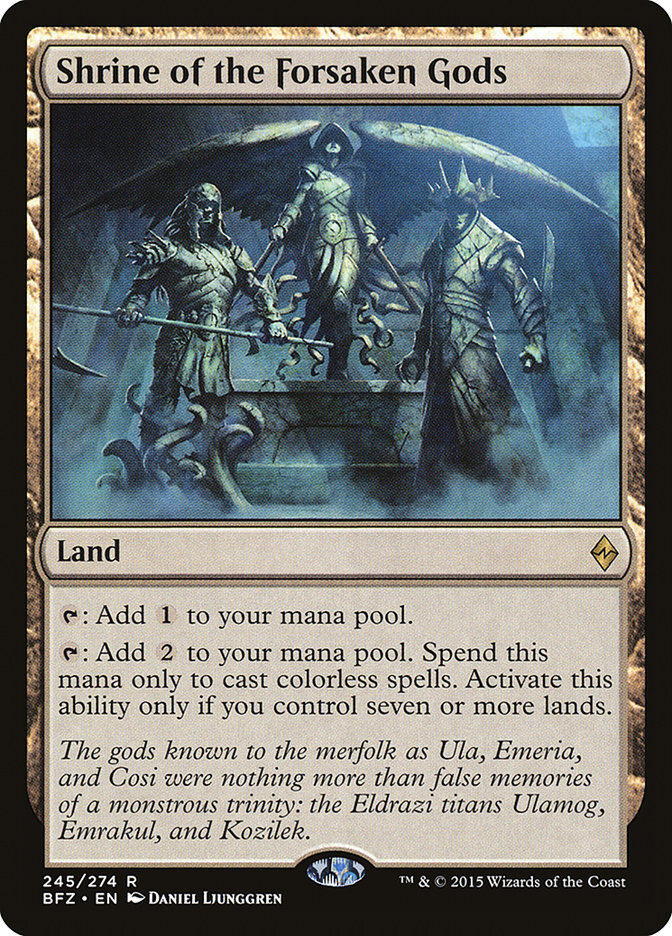 Shrine of the Forsaken Gods: Another rare that is marginally better than a previous uncommon in Temple of the False God. Although it's dripping with flavour, sad trombone is all I hear when I see the "needs seven lands" to tap for 2 colorless which only works on colorless spells. Just...no. (C)
So there's our BFZ review for Commander. The set hasn't made a huge dent at our tables recently, mostly because we haven't had time to grab everything we need. We'll see more in the coming weeks though, I'm sure!
Good luck, and may you never go into the combat step hedron first.