Chapter 1 – Innistrad Crimson Vow Top Commons for Limited and Prerelease
Table of Contents – Ultimate Guide to Innistrad Crimson Vow Limited and Prerelease
Chapter 1 - Top Commons for Limited and Prerelease
Chapter 2 - Top Uncommons for Limited and Prerelease
Chapter 3 - Guide to Combat Tricks and Removal Cards by Colour
Chapter 4 – Guide to Blood Tokens
Chapter 5 – Limited Deck Archetypes
Welcome all to Chapter 1 of the Ultimate Guide to Innistrad Crimson Vow Limited and Prerelease. I'm going to be starting off this Ultimate Guide by talking about the most plentiful cards in a draft pack of Magic: the commons. These are cards that are often overlooked when it comes to constructed decks but are key to a successful Limited deck. Crimson Vow has done a nice job of putting a lot of synergistic cards in the common slot that play well with the archetypes laid out for the set. The common cards you use allow you to grow upon the stronger cards you open in the rare and uncommon slot.
Here are some of the best commons from Crimson Vow from each colour followed by some of the best Double-Faced commons in the set.
White
Fierce Retribution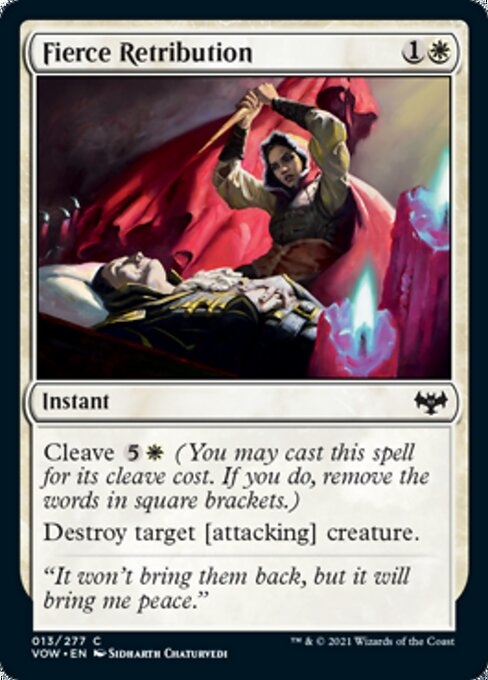 Fierce Retribution – This is a cheap two mana removal spell against attacking creatures which later in the game can be expanded to be used against any creature.
Sigarda's Imprisonment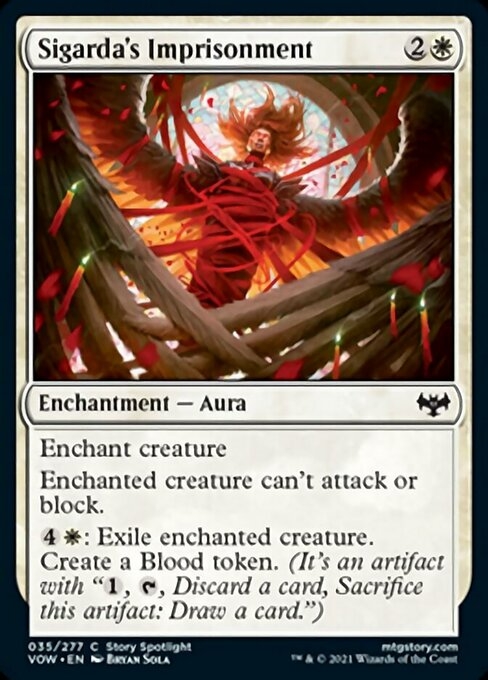 Sigarda's Imprisonment – Another Pacifism-like enchantment is printed and as usual it doesn't disappoint. These types of cards are always playable, and this one can provide extra value later in the game in the form of a Blood Token.
Blue
Alchemist's Retrieval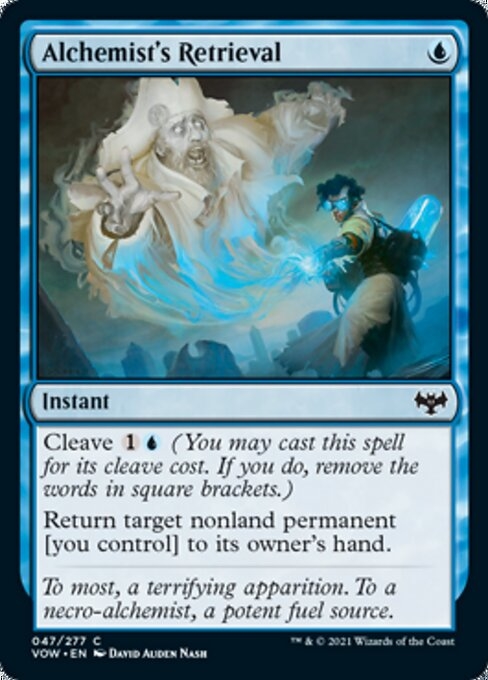 Alchemist's Retrieval – This acts as a nice bounce spell against a permanent but can also be cast for only one mana to save one of your own permanents from a removal spell.
Cradle of Safety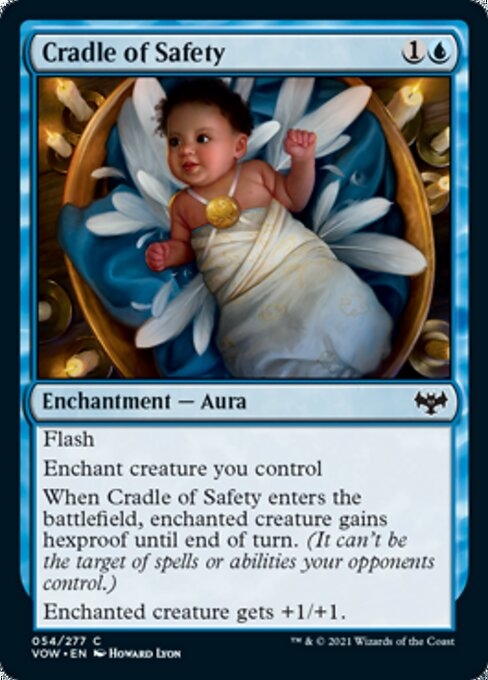 Cradle of Safety – This enchantment counters a removal spell from your opponent and can also function as a small combat trick at the same time.
Repository Skaab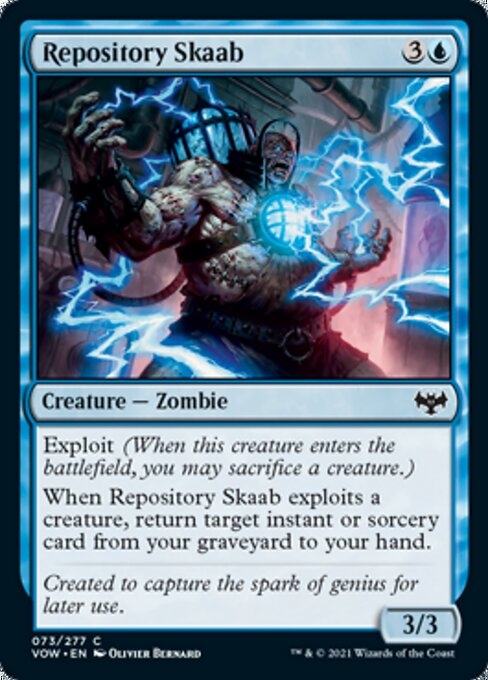 Repository Skaab – I'm a big fan of Regrowth-type cards that are built into creatures. It provides some extra value to a creature on top of its ability to attack or block. Repository Skaab can exploit a creature and get back the best instant or sorcery from your graveyard to your hand.
Black
Bleed Dry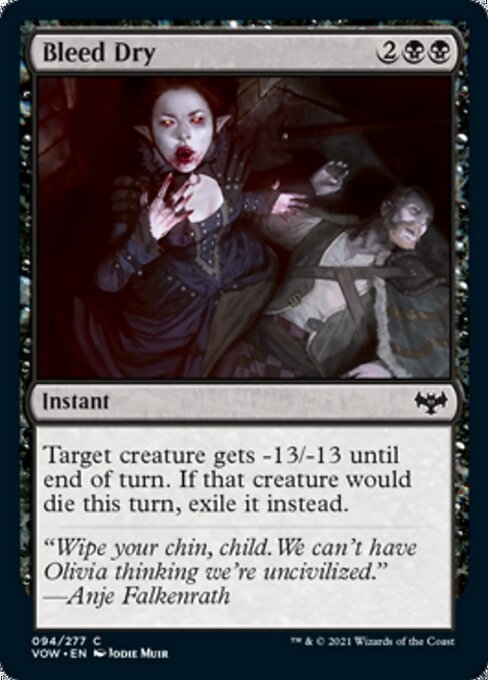 Bleed Dry – An instant speed removal spell at common for only four mana that can exile any creature in the set is a must-play card. It even gets around some of the combat tricks that can provide indestructibility.
Gift of Fangs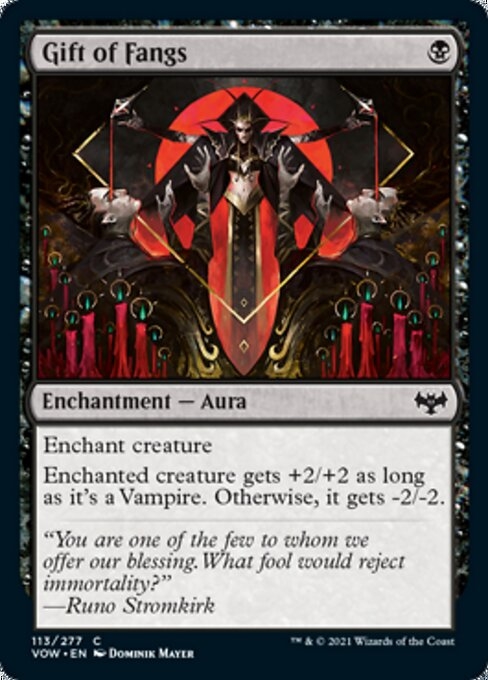 Gift of Fangs – This acts as two spells for the price of one. It can pump up a Vampire to give it a permanent stat bonus or you can use it as a one mana removal spell against a two-toughness creature.
Persistent Specimen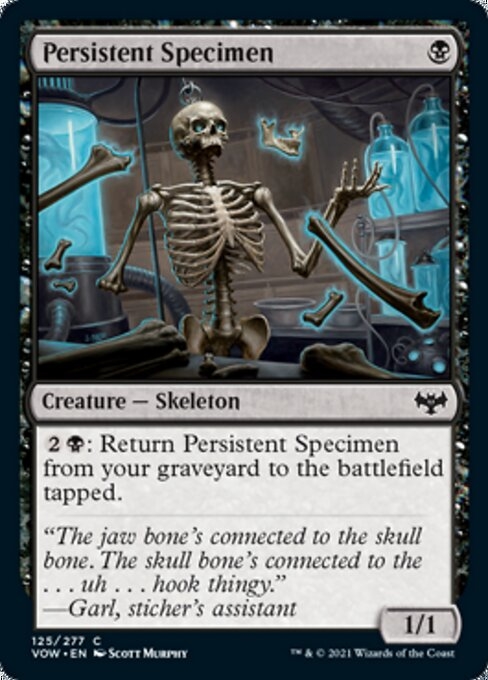 Persistent Specimen – This is a great creature to sacrifice with any of the creatures with the returning Exploit mechanic. It can be brought back onto the battlefield later in the game, ready to be exploited again.
Red
Abrade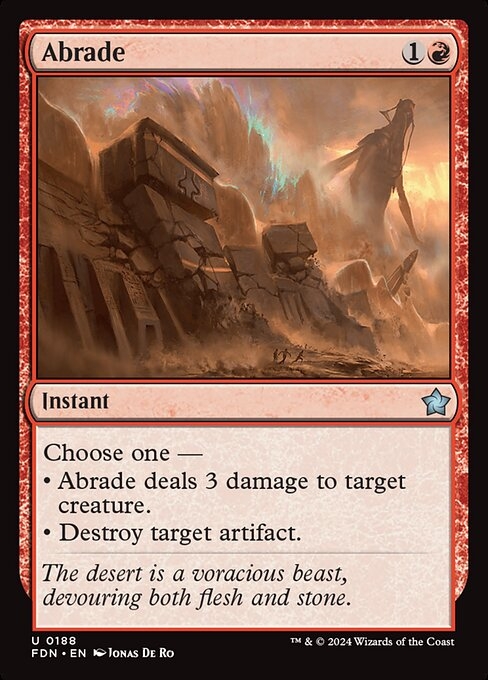 Abrade – This versatile two mana instant speed removal spell got downgraded from uncommon to common. Although there are only nine artifact targets for this spell (other than Blood Tokens), it can still deal three damage to any creature.
Flame-Blessed Bolt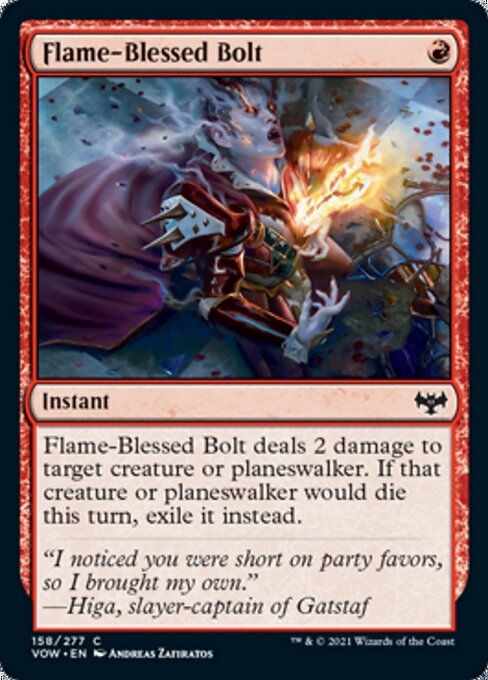 Flame-Blessed Bolt – One mana creature removal is always strong in any Limited format. With all the Disturb creatures running around Crimson Vow, it's nice to be able to exile a creature.
Hungry Ridgewolf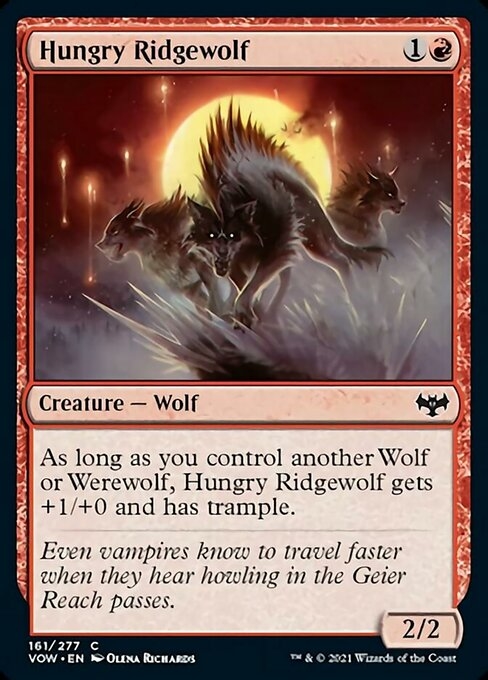 Hungry Ridgewolf – It shouldn't be too hard to get another Wolf or Werewolf on the battlefield to make this a 3/2 trample creature for only two mana.
Green
Mulch
Mulch – This is a great card to draw one or possibly two cards and add some fuel to your graveyard to help some self-mill strategies.
Spore Crawler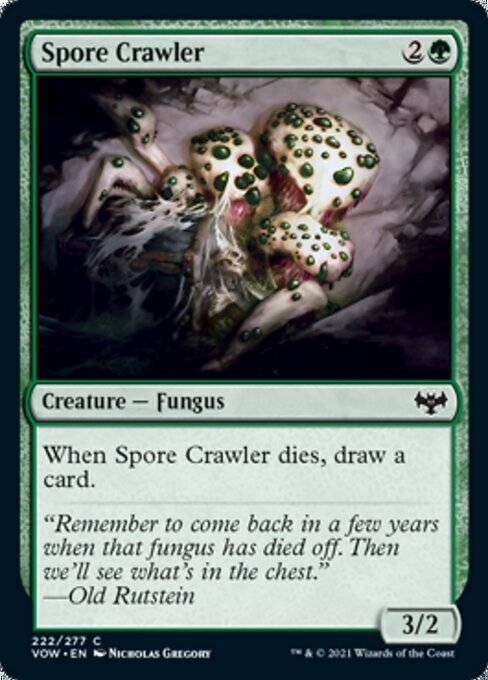 Spore Crawler – A three mana three power creature that can replace itself when it dies is some great value from a card at the common slot.
Colourless
Honored Heirloom
Honored Heirloom – Not only does this artifact help you ramp and fix your mana, but it can be used to exile annoying cards from the graveyard.
Double-Faced Cards
Drogskol Infantry // Drogskol Armaments
Drogskol Infantry // Drogskol Armaments – This 2/2 bear is great at common as it can trade early in the game and provide a combat boost in the form of an aura later in the game.
Lantern Bearer // Lanterns' Lift
Lantern Bearer // Lanterns' Lift – This one drop creature will get in for a couple points of damage early in the game. Later in the game, it can provide a stat bonus and evasion to a larger creature.
Weaver of Blossoms // Blossom-Clad Werewolf
Weaver of Blossoms // Blossom-Clad Werewolf – A solid creature at common that can help you ramp and colour fix at the same time. It's even better when cast or transformed on its Nightbound side.
I hope that this list of common cards can help you build upon your remaining card pool and improve your deck choices for Prerelease and Limited play. Remember that the best cards for your deck are not just the rares and mythics you open in your packs. Thanks again for reading Chapter 1 of the Ultimate Guide to Crimson Vow Limited and Prerelease. Read on to the next chapter in the Guide to see the top uncommons for Limited and Prerelease. If you've missed any of the other chapters for this guide, click below to check them out.
Table of Contents – Ultimate Guide to Innistrad Crimson Vow Limited and Prerelease
Chapter 1 - Top Commons for Limited and Prerelease
Chapter 2 - Top Uncommons for Limited and Prerelease
Chapter 3 - Guide to Combat Tricks and Removal Cards by Colour
Chapter 4 – Guide to Blood Tokens
Chapter 5 – Limited Deck Archetypes