Musings of the Madman: Top Commander Picks from Shadow Over Innistrad
Welcome back all! Shadows Over Innistrad is finally among us and it's time to take a look at the set's offerings for Commander. As usual, we'll start with a look at legendary creatures than move on to a few picks from each colour. We've already explored the mechanics, so let's move to the fun stuff!
Here's how the grading system works:
Grade A: something you should expect to see at your tables
Grade B: maybe will see play
Grade C: unlikely to be an extra addition to your Commander decks.
Legendary Creatures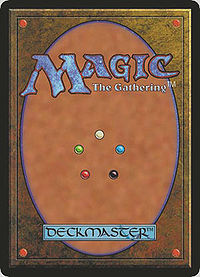 She doesn't have the oppressive nature of the "all indestructible" version, but at six mana (two white and four colourless) you can flash her in, she has flying and vigilance and she protects your entire team for a turn. She transforms into a much beefier version, Avacyn, the Purifier a 6/5 flyer that deals three to every other creature and opponent once a non-Angel creature dies. Unfortunately, there are better options for damage and for Avacyn, but she's still interesting to have around.
Grade: B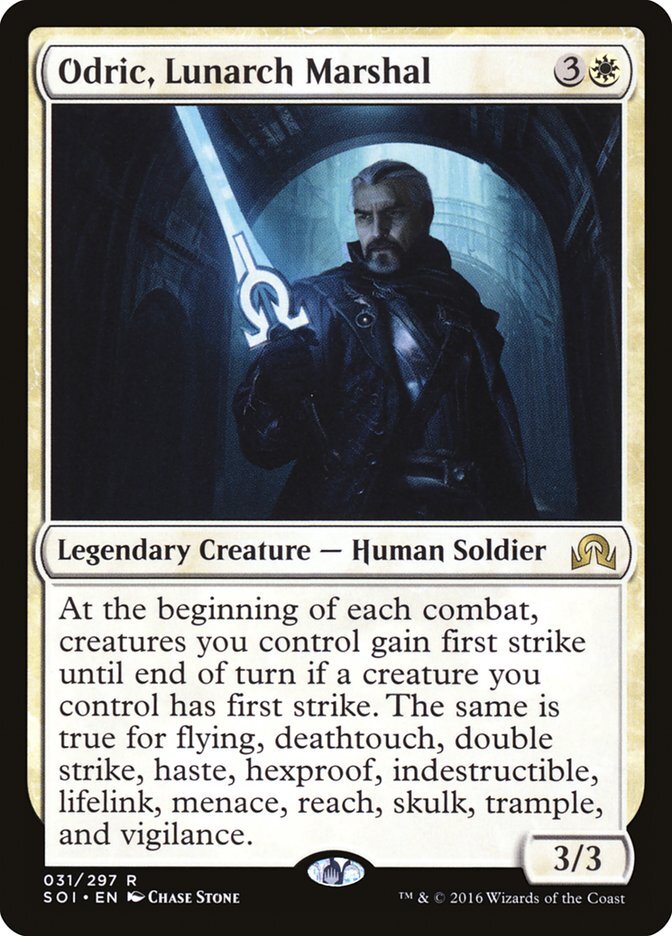 A very average 3/3 for four that shares keyword abilities at the start of combat. For example, if you have vigilance, everyone gets it. The same goes for flying, deathtouch, double strike, haste, hexrpoof, indestructible, lifelink, menace, skulk and trample! Unfortunately, in our world of utility creatures and quick game resolutions, this simply isn't enough. Will doubtlessly find a taker in some casual builds though.
Grade: C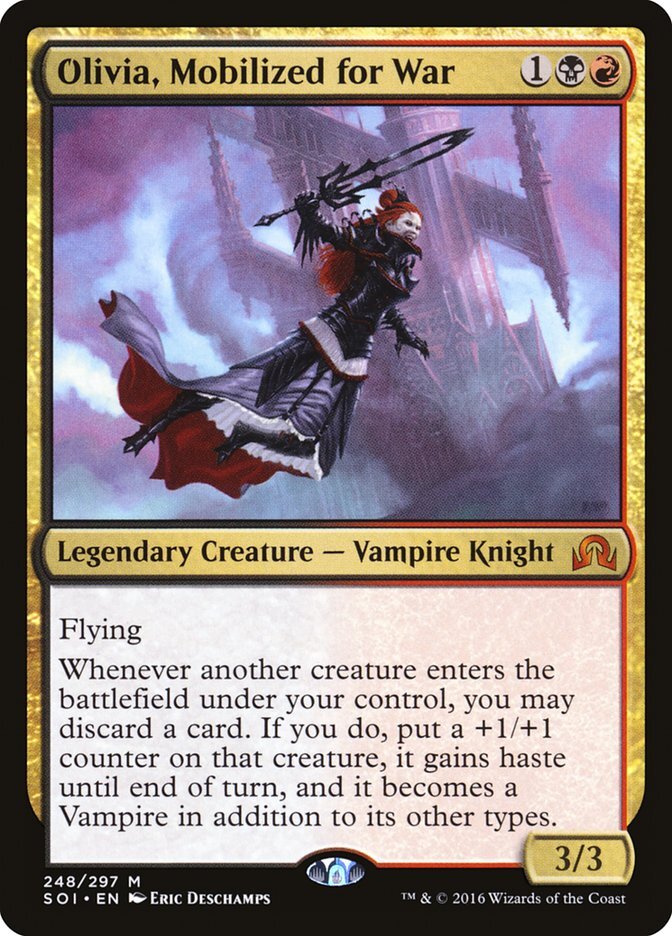 A very respectable 3/3 flying body for three mana, Olivia probably doesn't have the same utility as her predecessor. She grants Unleash (and turns into a Vampire!) any creature that enters the battlefield under your control, provided you discard a card. This shouldn't be an issue if you have Skullclamp in your deck, and may help set up a reanimation suite.
Grade: B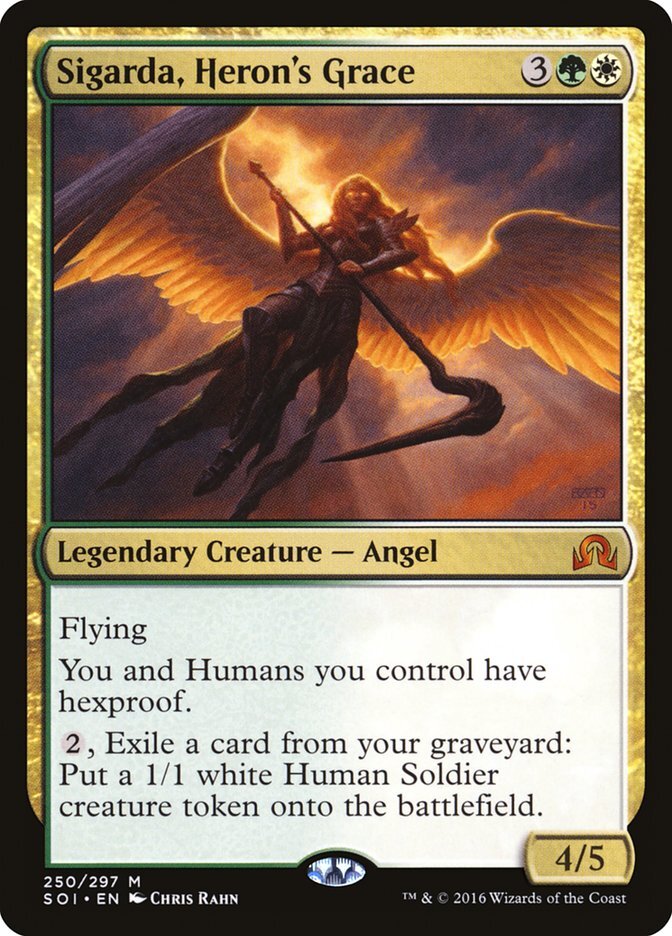 A little less beefy at a 4/5 for five this time around, she retains flying, loses personal hexproof to grant it to you and any humans you control. Additionally, you can pay two generic mana and exile any card in your graveyard to put a 1/1 white Human Soldier onto the battlefield, conferring a kind of inevitability to your gameplan. Quite solid.
Grade: B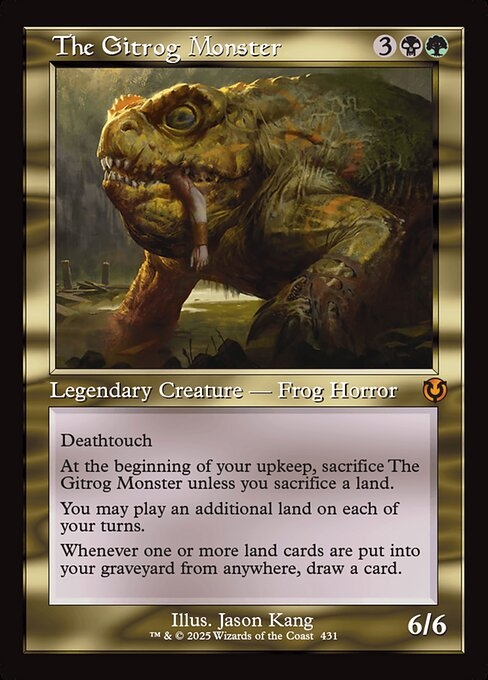 If there's a buzz creator right now, it's the "Git Gud Frog", as named by Robert McEachern. A 6/6 deathtouch for five mana in Golgari colours is already pretty good, but add the bonus of having Exploration tied to its body and its being a card draw engine as well, and you have a winner. Essentially, whenever a land goes into your graveyard from anywhere, you draw a card. It already asks you to sacrifice a land each turn for its services, so you'll be drawing at least one. Throw in a Nantuko Cultivator and you get double the draw! Simply too fun.
Grade: A
White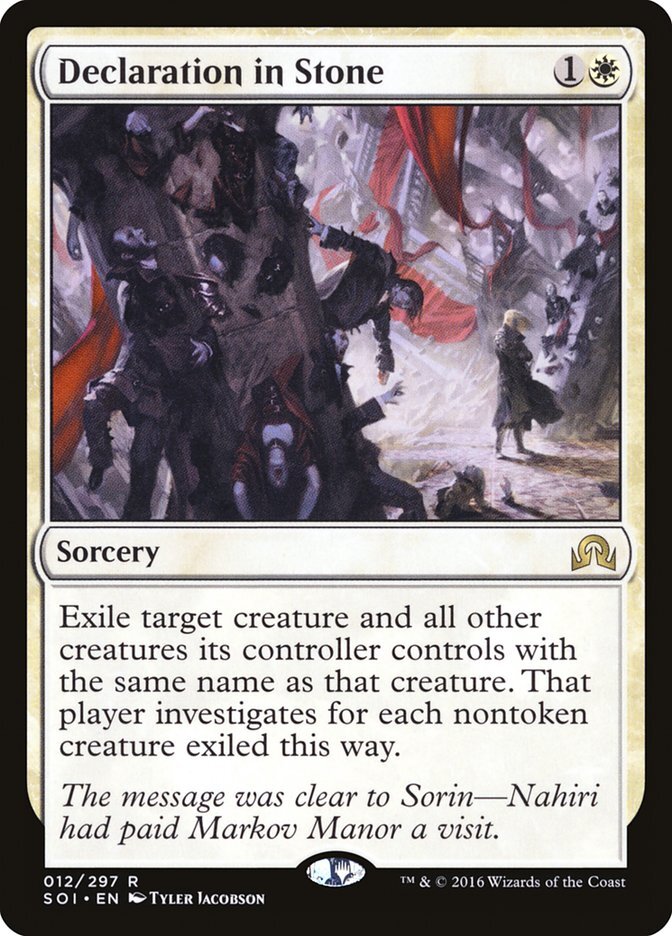 Bursting with flavour as Nahiri, the Harbinger petrifies a host of vampires, we have a narrow removal spells. It will never get multiple copies of something unless your opponent has cast a Rite of Replication or has had a Progenitor Mimic out, or has a ton of tokens. And in each of those cases a wrath effect or Terminus would be better.
Grade: C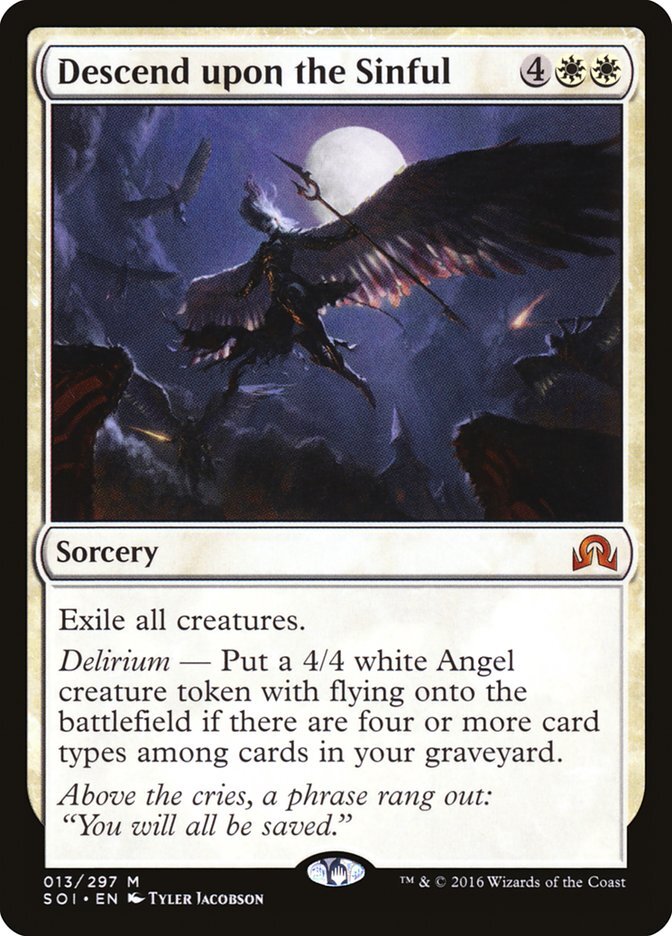 Kirtar's Wrath is a Wrath of God variant that never sees play, will this be a better Final Judgment? It gives you a nice 4/4 Angel if you have Delirium, which isn't insignificant. Exiling is always relevant in Commander as well and at six mana this is playable.
Grade: B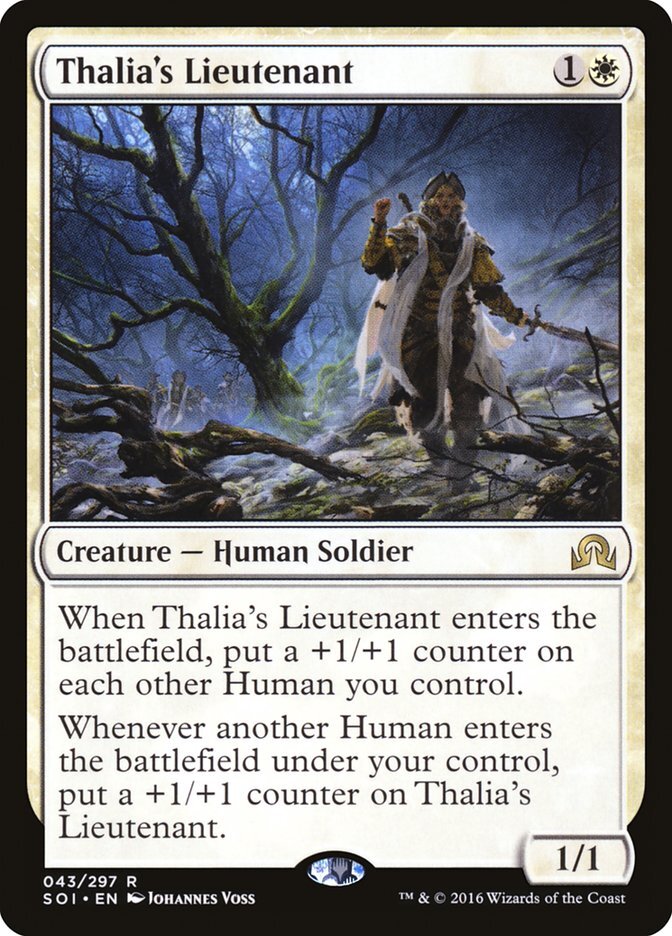 What's one of white's biggest problems in Commander? Many of its best creatures are small, requiring pump effects like Glorious Anthem to push through 40 or more life. This LT may help the process. It gives a +1/+1 counter to every other Human when it enters the battlefield, receiving the same benefit from other humans doing same. Speeds up your clock and while not extraordinary at a 1/1 for two, it'll make inroads.
Grade: B
Blue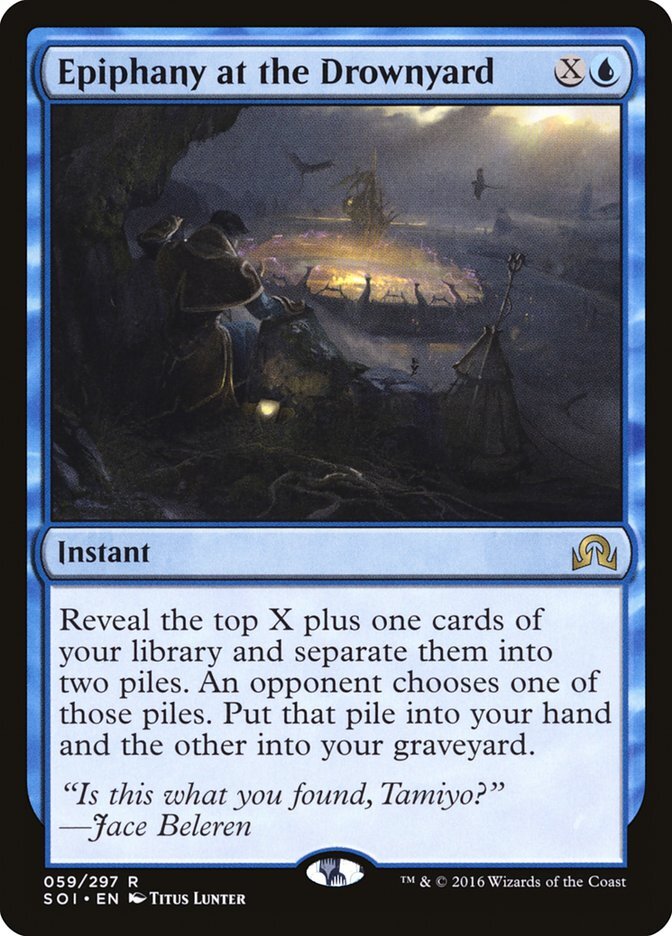 Is it a better Steam Augury? Is it a different Read the Runes? Is it just a great way to fill up your graveyard prior to a mass reanimation spell? At one blue and X and instant speed, we'll find out soon enough!
Grade: B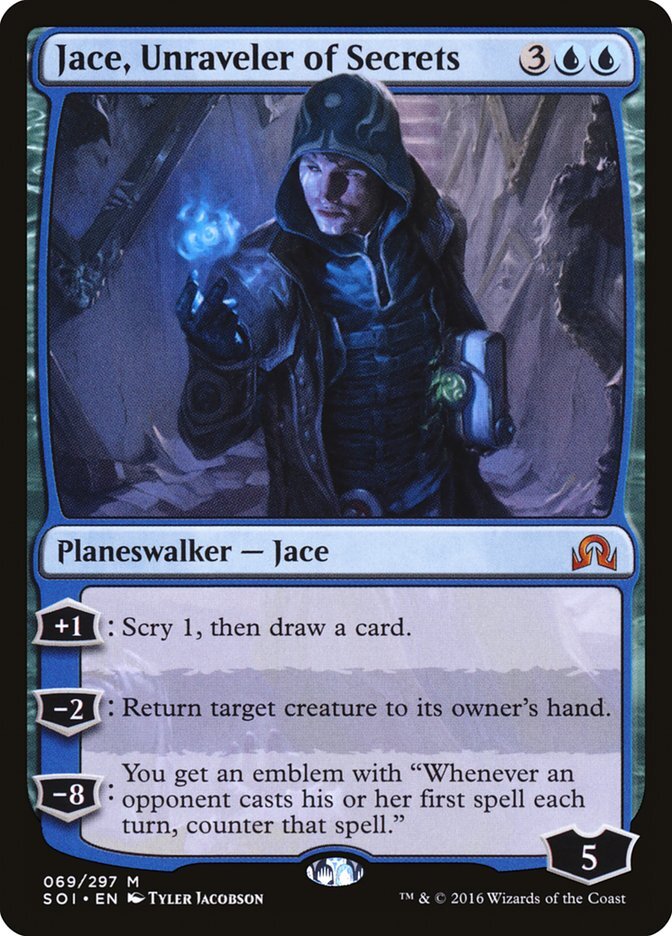 : No version of him can ever match up to the broken one, but he might find a niche in a slower control shell. For five mana, you get a beefy five loyalty, the ability to Scry 1 and draw a card, unsummon a creature and an ultimate that turns you into an Erayo, Soratami Ascendant. Not bad overall!
Grade: B
Black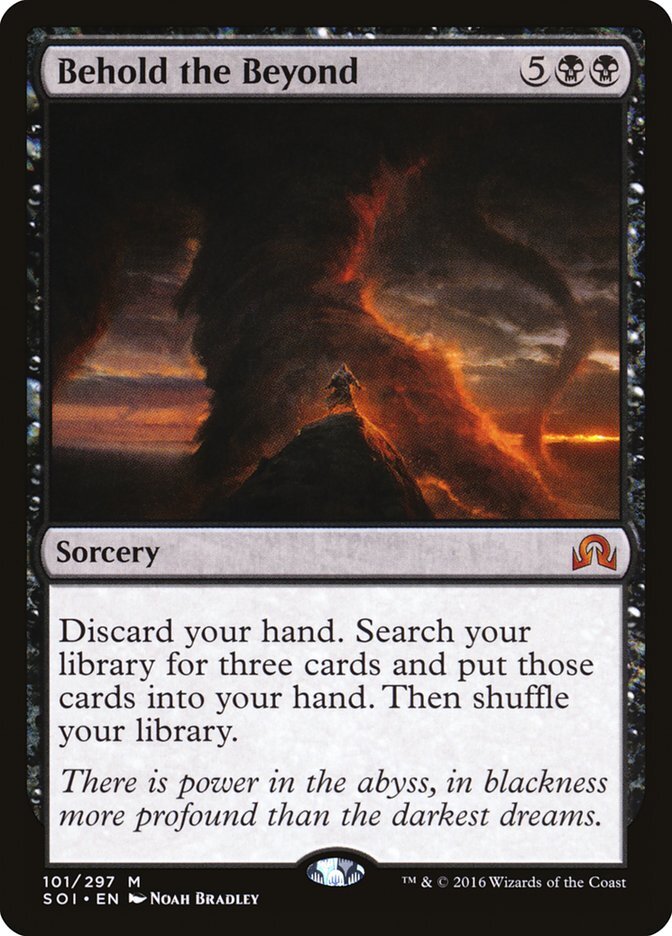 I was very put off by this card's mana cost of seven and its requirement of discarding your hand, but Gilles Labelle wisely pointed out that the three cards you obtain afterward may well include a Yawgmoth's Will, or that you can use a Lion's Eye Diamond in response to the spell and just do more silliness. It's a three card tutor that's arguably as well costed as other multi-tutors. I want one for Sedris, the Traitor King.
Grade: A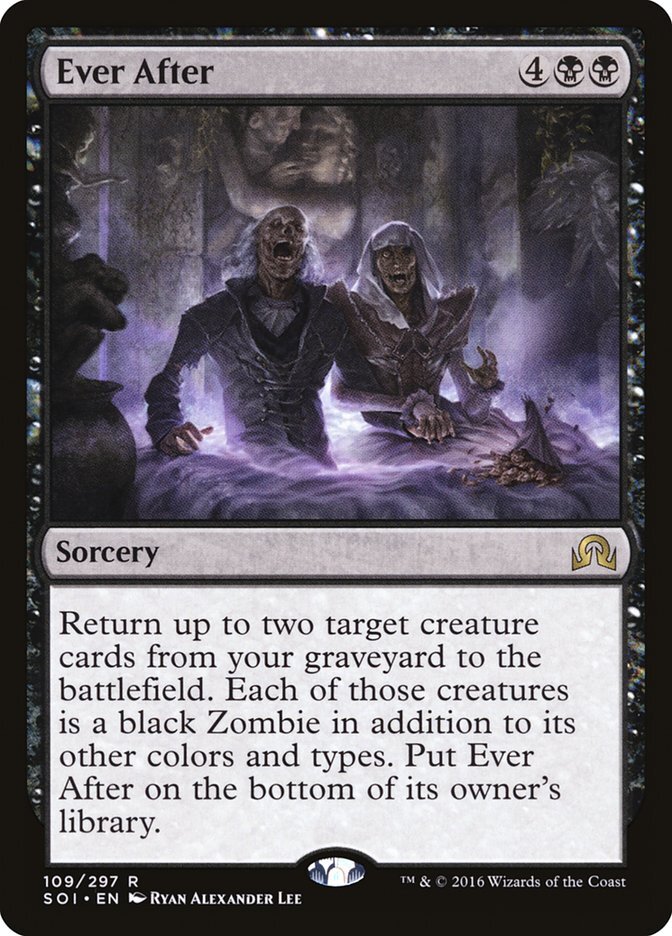 If only this had returned any number of creature cards to the battlefield as its green counterpart returned cards to your hand, it would likely be very, very broken. Still, this is a double reanimation spell for six mana that can be reused later on. Pretty good.
Grade: B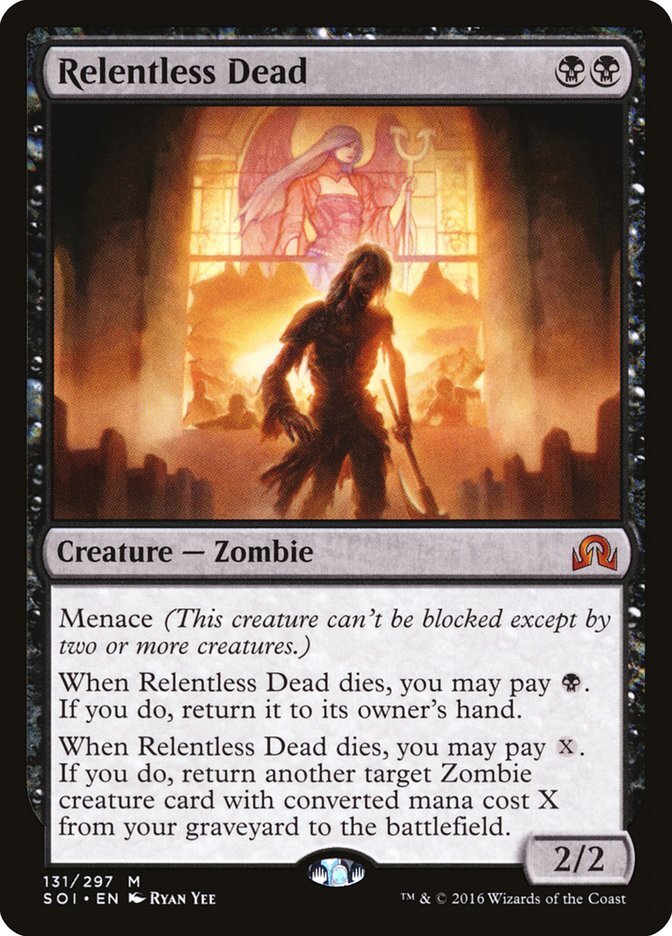 I was lucky enough to pull this as a prerelease foil. This little dude screams shenanigans. You get a 2/2 Menace for two, and then you can pay B to return it to your hand when it dies, or you can pay X and return another target Zombie card with converted mana cost X from your graveyard to the battlefield. So you could loop Gravecrawler and Sidisi, Undead Vizier, provided you have a Phyrexian Altar and an Ashnod's Altar as well.
Grade: B

A+ simply for the art, flavour text and collocation reference. It's a Diabolic Edict that also hits planeswalkers, and with Delirium active, gets both. For three mana, that's worth a little mutton, no?
Grade: A
Red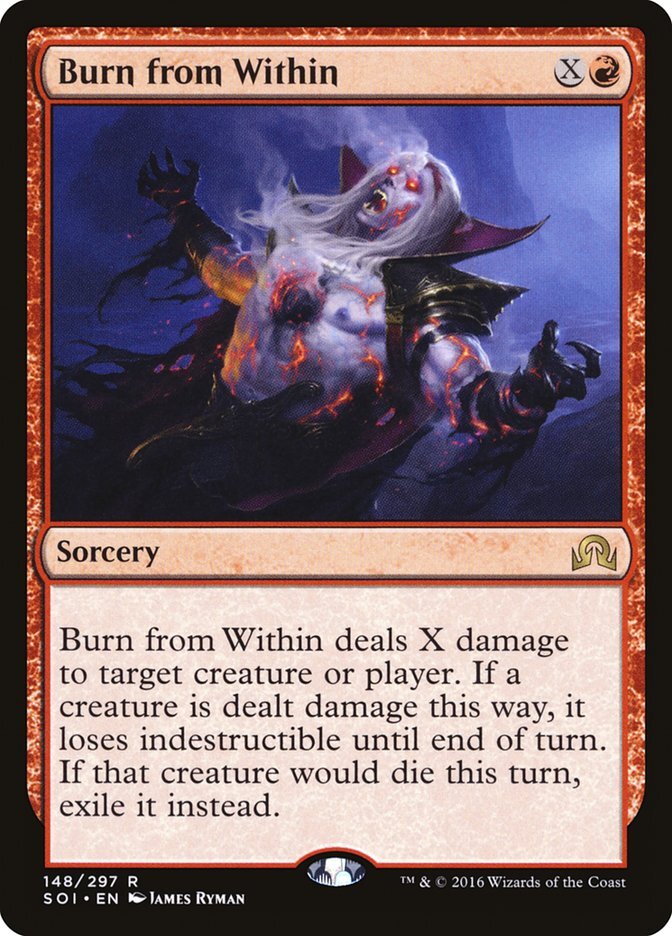 Red is underserved as usual in this set. The one nice perk of this Disintegrate variant is that it can exile an indestructible creature by blanking that keyword, finally giving the colour an out for its biggest problem.
Grade: B

Another in red's suite of card cyclers, this one requires an initial discard to draw two. Trading a land (or a Bloodghast in B/R) for two is fine gas, should see a good amount of play.
Grade: A
Green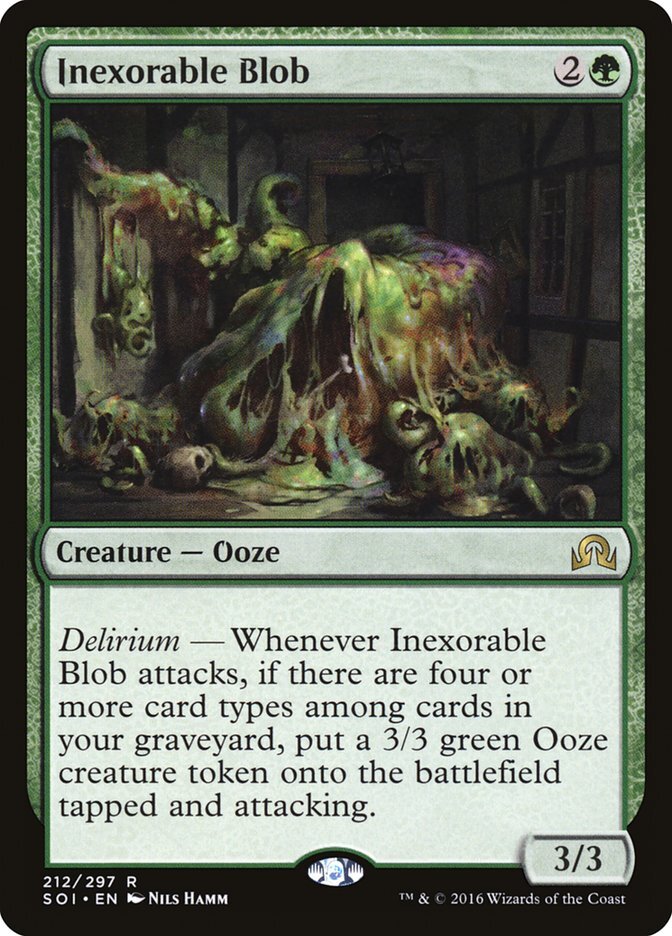 Mostly mentioning this because it's a blob, and blobs are amazing. It has a decent 3/3 body for three and invites a similar buddy tapped and attacking when you have Delirium, which is fairly nice.
Grade: B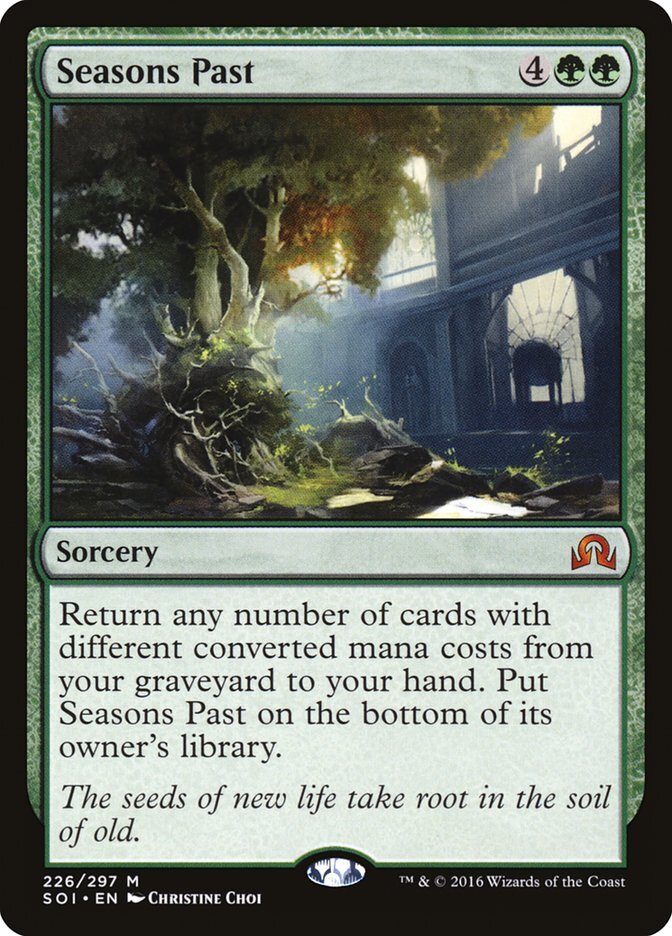 The closest comparable is probably , which costs five but exiles itself. This costs one more but tucks itself on the bottom of your library, to be used or searched for later! It needs you to return cards of differing mana costs, but that's almost a non-issue. Great value and a fair cost to recover a ton of resources.
Grade: A
[ci]Traverse the Ulvenwald[/ci]
[mtg_card]Lay of the Land sees marginal, if any play but Worldly Tutor sees tons. Filling your graveyard is ridiculously easy in EDH, so expect to get any land (instead of a basic) or any creature into your hand more often than not.
Grade: A
Multicolour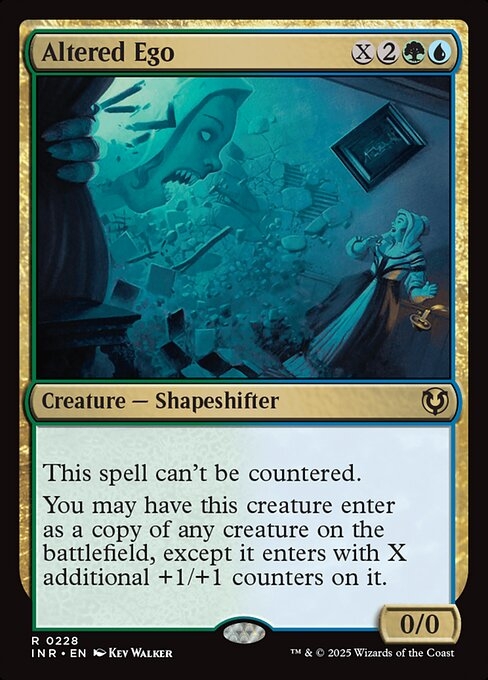 There are a lot of clones in the format, many of them quite efficient. Another four mana, two-colour clone (green/blue this time) might not be enough to crack your 100-card pile. Yes, it is uncounterable and yes, you can pay X to add a bevy of +1/+1 counters, but is this better than Phantasmal Image, Phyrexian Metamorph and their ilk?
Grade: B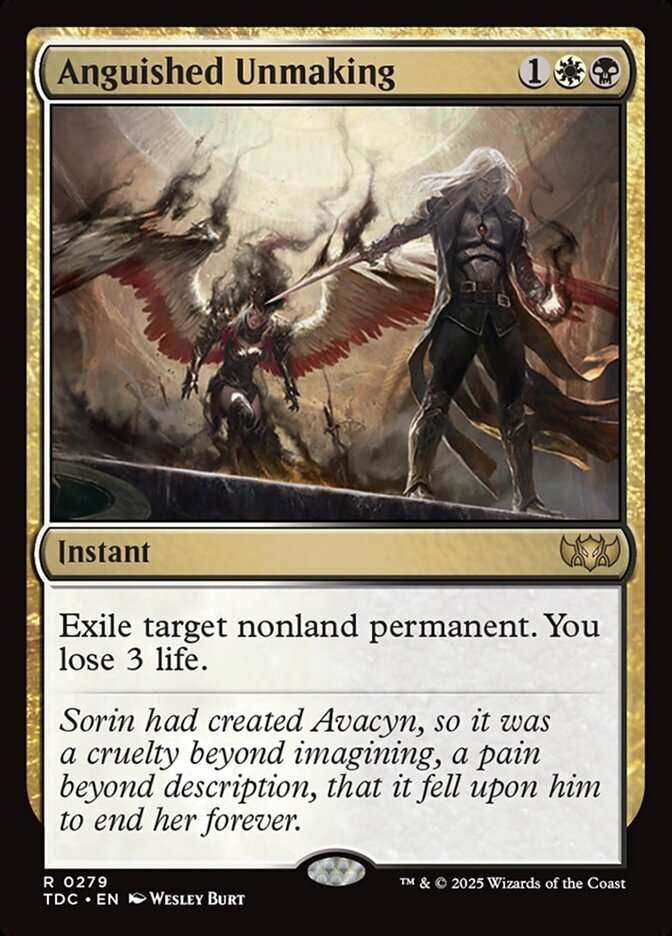 The all-star. Three mana exile of any non-land permanent, in colours (black/white) known for having a ton removal. At instant speed, no less! This will see play and I'm quite glad to have received one in my prerelease pile.
Grade: A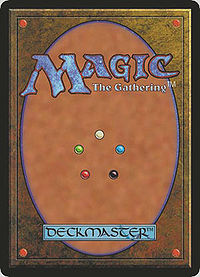 We've already discussed her in our mechanics preview, so I'll keep it short. She has good utility and probably fights with Huntmaster of the Fells for a spot in your bowl of Gruul gruel. Playing her for flavour reasons is completely legitimate, though.
Grade: B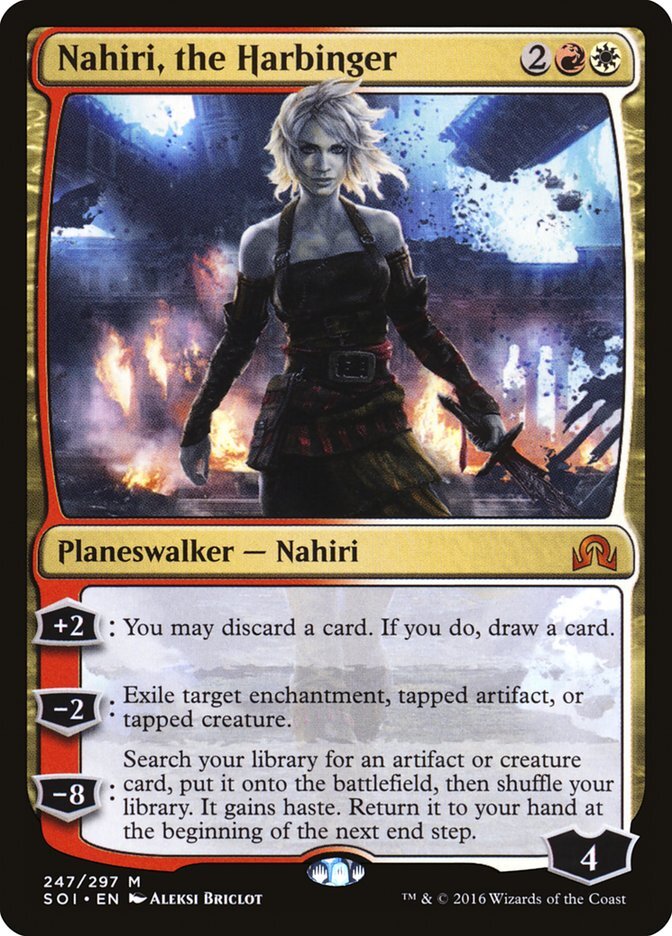 Average all around, sadly. Boros has struggled with giving us a "Wow!" planeswalker for some time, with Ajani Vengeant being one of its few stars. Nahiri offers us some card cycling, conditional creature removal and a tutor for an artifact or creature card off the ultimate. Unfortunately, other planeswalkers do all these things much better. Four loyalty for four mana is fine though.
Grade: C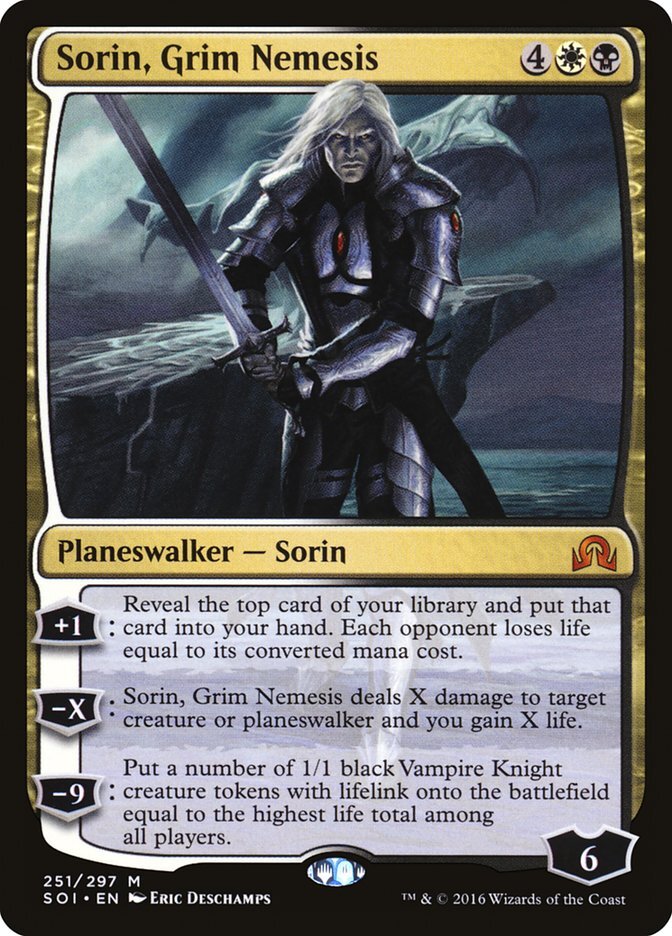 If the phrase "Evil got an upgrade!" applies to anyone, anywhere, it's here. Six loyalty for six mana in black/white, a plus that drains all your opponents and draws you a card, a defensive minus that reduces threats and an ultimate that gives you a team. Yes please, I'll bite!
Grade: A
Lands and Artifacts
The star players here are the "Hand Lands", which tap for an allied colour and enter untapped if you reveal an allied basic land type. For example, Game Trail taps for red or green and enters untapped if you reveal a mountain or forest. Foreboding Ruins does the same for black or red, Fortified Village for green or white and Port Town for blue or white, while Choked Estuary helps your blue and black builds. The oddball Drownyard Temple could serve as a weird sacrifice/discard engine and gives you a colourless mana while entering untapped.
Grade: C, simply because Commander has so many better options.
Artifacts-wise, there isn't much outside of Brain in a Jar, which is a neat variation on AEther Vial, but for spells! Sadly you can't delay using it, making it a little less attractive. A solid (B) on this one. Tamiyo's Journal seems very slow at five mana, a turn's waiting and two colourless to draw your first card, but there are slower decks out there that might want to use it.
Grade: C
That's it for this week! My Sedris deck should be done by these weekends, so pack some extra Tormod's Crypts! Until next week, may you investigate some new deck brews.