Chapter 1 – Kamigawa Neon Dynasty Top Commons for Limited and Prerelease
Table of Contents – Ultimate Guide to Kamigawa Neon Dynasty Limited and Prerelease
Chapter 1 - Top Commons for Limited and Prerelease
Chapter 2 - Top Uncommons for Limited and Prerelease
Chapter 3 - Guide to Combat Tricks and Removal Cards by Colour
Chapter 4 – Guide to Vehicles
Chapter 5 – 5 Limited Deck Archetypes
Welcome all to Chapter 1 of the Ultimate Guide to Kamigawa Neon Dynasty Limited and Prerelease. I'm going to be starting off this Ultimate Guide by talking about the most plentiful cards in a draft pack of Magic, the commons. These are cards that are often overlooked when it comes to constructed decks but are key to a successful Limited deck. Neon Dynasty is loaded with removal and good creatures at the common slot. With strong themes throughout the set like Vehicles, enchantments, artifacts, Samurai, and Ninjas, it's important to have supporting commons for those deck archetypes. Commons will make up about 33% of your deck so make sure you are picking the best ones to help in your mana curve and creature distribution.
Here are some of the best commons from Neon Dynasty from each colour.
White
Intercessor's Arrest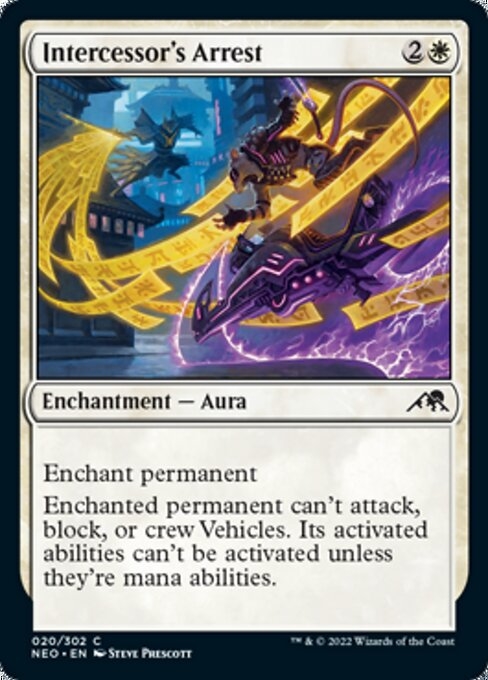 Intercessor's Arrest – This is better than the usual White stopper Aura we see in most sets. This can be used on any permanent to stop it from activating its abilities as well. This allows it to shut down Vehicles and Planeswalkers.
Light the Way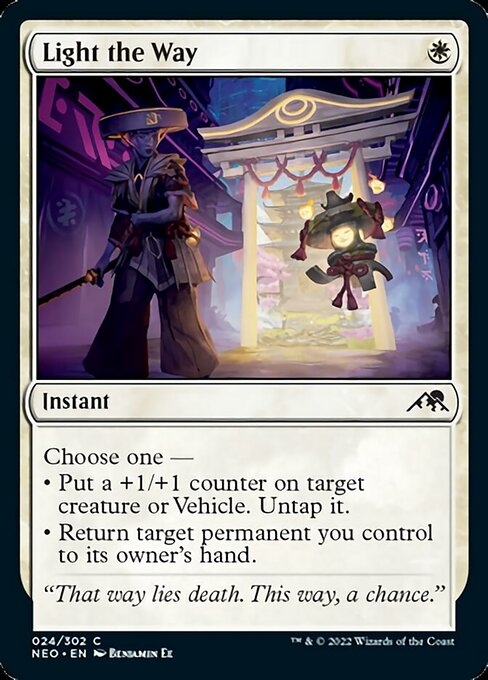 Light the Way – This combat trick can help you in three separate ways. You can use it to bounce one of your permanents to protect it or just recast it for value. You can also use it as a pump spell to help during combat. Finally, you can use it to untap a creature to use it to block during combat.
Spirited Companion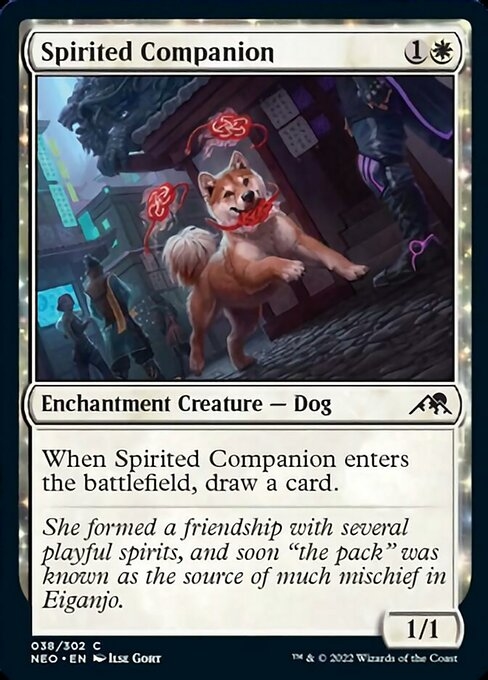 Spirited Companion – This puppy Elvish Visionary not only replaces itself by drawing you a card but will help with multiple enchantment synergies.
Befriending the Moths / Imperial Moth
Befriending the Moths // Imperial Moth – This saga will help you provide a creature some evasion to get in for some damage for two turns. After that, it transforms into a solid 2/4 flyer.
Blue
Disruption Protocol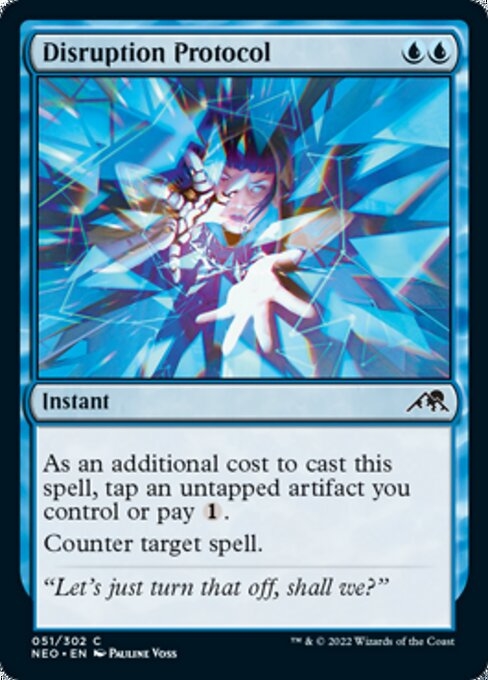 Disruption Protocol – This blanket counterspell can be cast for its usual Standard casting cost of three mana at any time, but there's a chance it can be cast for only two mana on occasion if you have an artifact to tap.
Mirrorshell Crab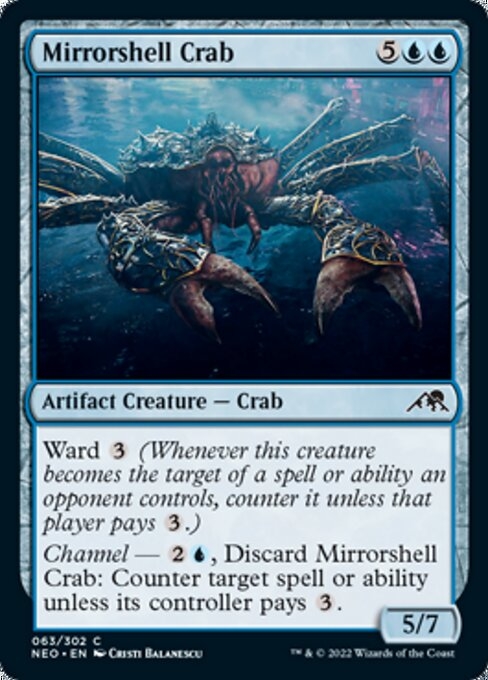 Mirrorshell Crab – This can be a tough creature to deal with later in the game but provides an early game problem for your opponent by discarding it to counter a spell or ability.
Moon-Circuit Hacker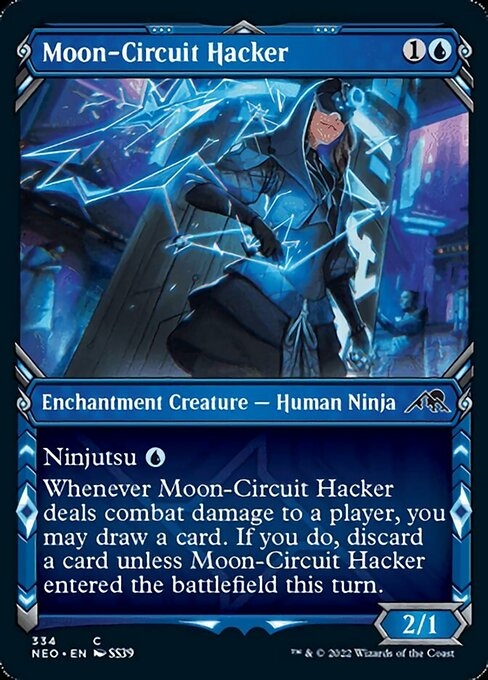 Moon-Circuit Hacker – Having a Ninjitsu cost of only one mana will mean that you will often be able to recast the creature you brought back to your hand on the same turn.
Mnemonic Sphere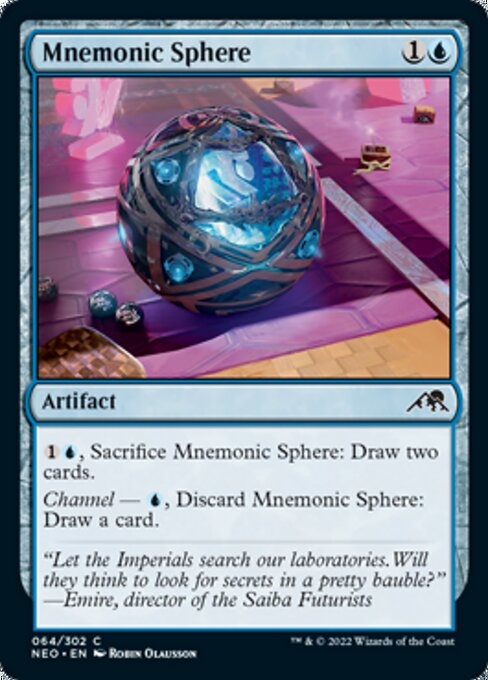 Mnemonic Sphere – Card advantage comes in many forms, and this can help you achieve any artifact synergies you might need in your deck. It can also be cycled for one mana if you need to find a card in a pinch.
Tamiyo's Compleation
Tamiyo's Compleation – This is Blue's answer to almost any permanent on the battlefield. It will not only tap it down permanently at instant speed but also make it lose any abilities that permanent has.
Black
Debt to the Kami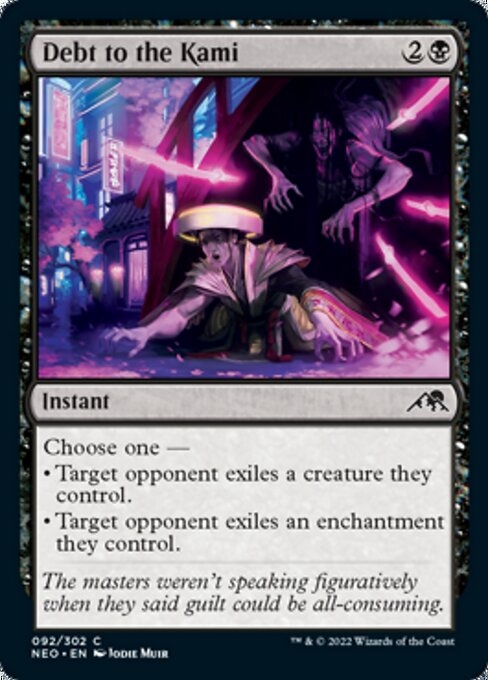 Debt to the Kami – We have seen removal spells like this before and they will always have a place in my limited deck. It usually has greater value earlier in the game or mixed with other removal spells.
Reckoner's Bargain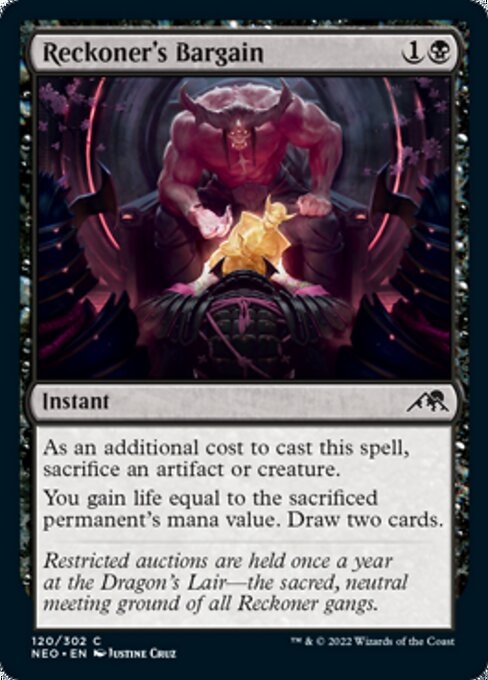 Reckoner's Bargain – This is a terrific way to diminish your opponents' removal spell by gaining some life and drawing two cards.
Twisted Embrace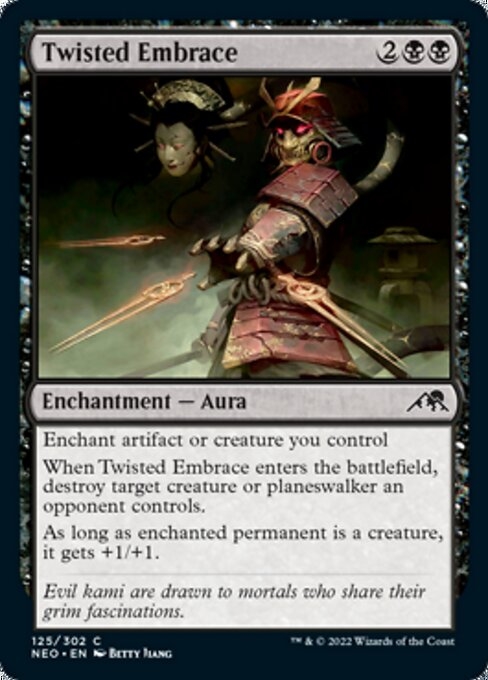 Twisted Embrace – This can both pump a creature and be a removal spell, all in one nice Aura. Just hope you have a creature to play it on though or this could be a dead spell in your hand.
Red
Ironhoof Boar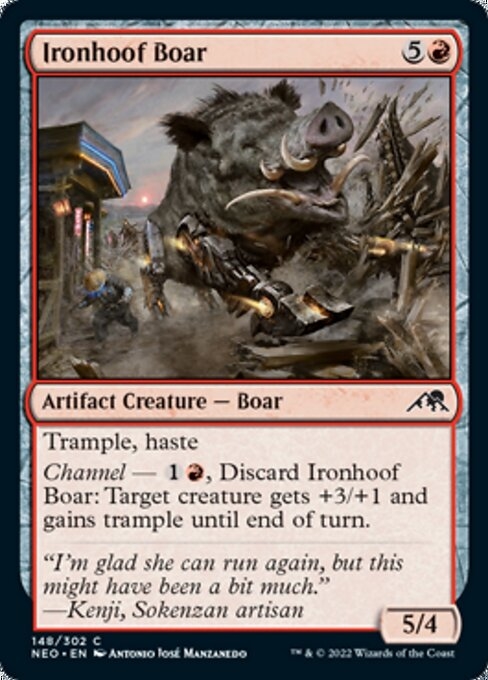 Ironhoof Boar – This is a great late-game creature for Limited but can also be used early in the game as a combat trick to push through some damage.
Kami's Flare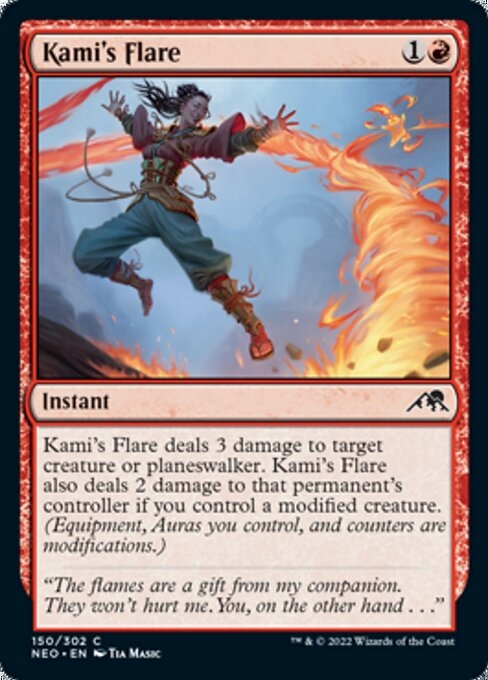 Kami's Flare – Three damage to a creature or planeswalker for only two mana is excellent value. You might also be able to damage your opponent if you control a modified creature.
Voltage Surge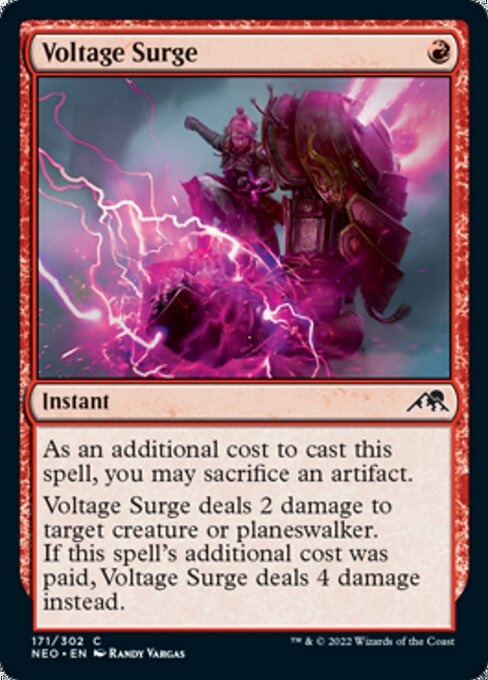 Voltage Surge – This is a great scaling instant damage spell that you can use to deal two or four damage based on what you need.
Green
Careful Cultivation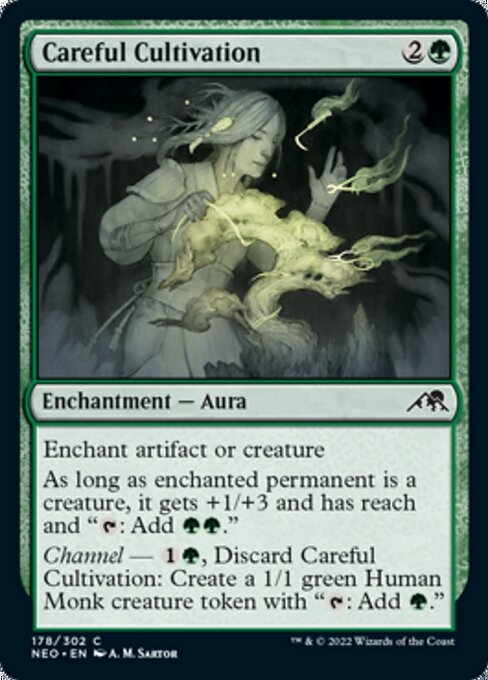 Careful Cultivation – This can be used to help pump up a creature or discarded for two mana to give you a Human Monk that can help you ramp your mana.
Fang of Shigeki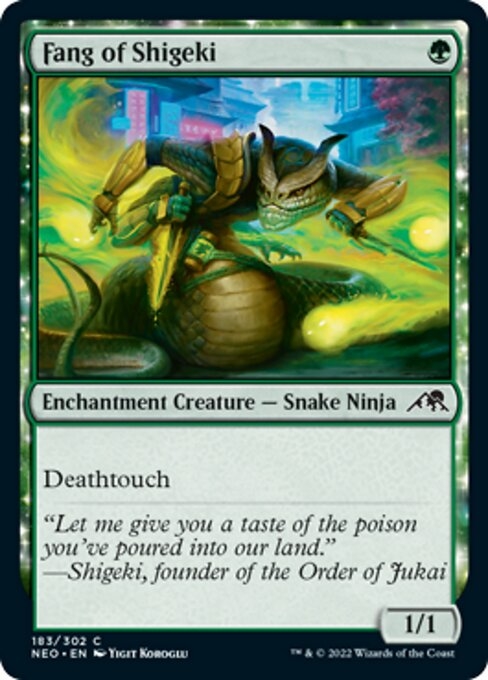 Fang of Shigeki – This Ninja can help with Ninjitsu strategies as well as enchantment synergies. It can always trade up in combat later in the game as well.
Jukai Preserver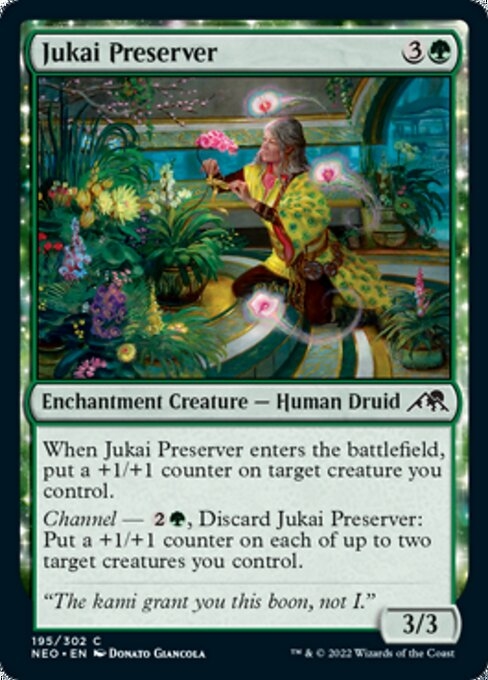 Jukai Preserver – This can be used as a combat trick, or you can cast it and get a 4/4 creature for four mana. Not too bad for a common card.
Tamiyo's Safekeeping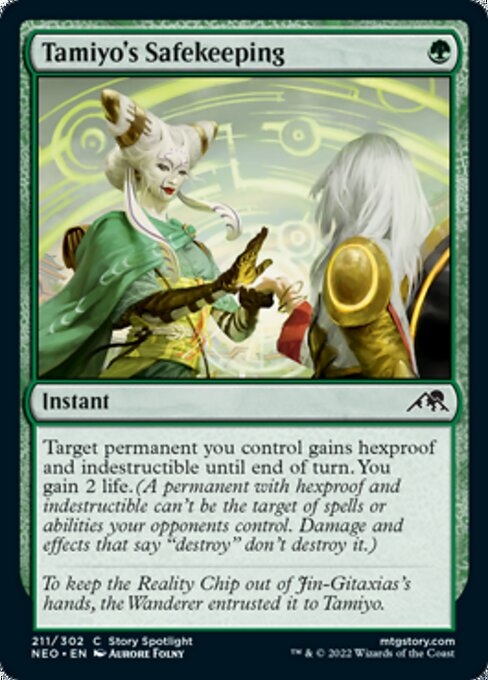 Tamiyo's Safekeeping – It's nice to have a Green counterspell that can protect any permanent you have on the battlefield, not just a creature. As a bonus, you gain two life as well.
Colourless
Automated Artificer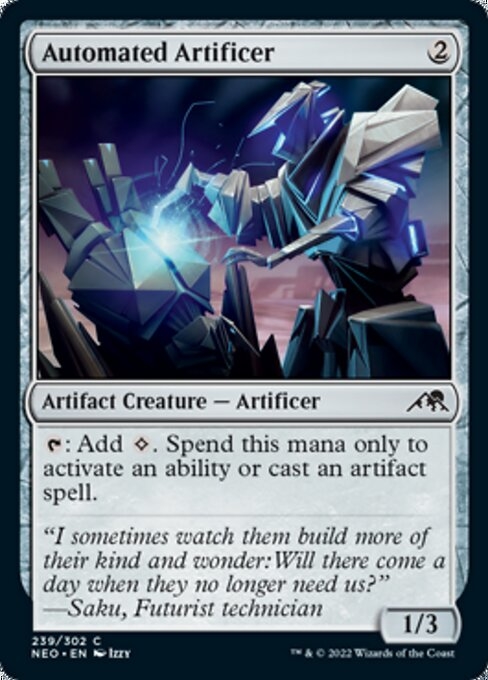 Automated Artificer – Two-mana mana rocks are good even if the mana they produce can only be used for specific things. Even the 1/3 creature for two colourless is solid for a common.
Ecologist's Terrarium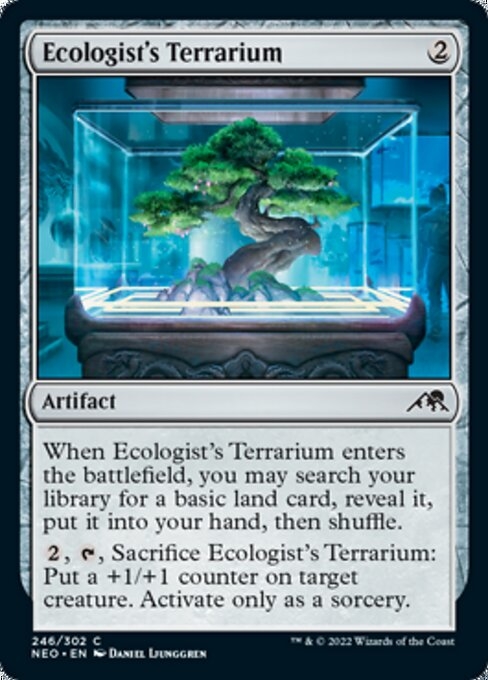 Ecologist's Terrarium – Colourless land fixing is always great in Limited. Later in the game, you can sacrifice it to turn one of your creatures into a modified creature.
Network Terminal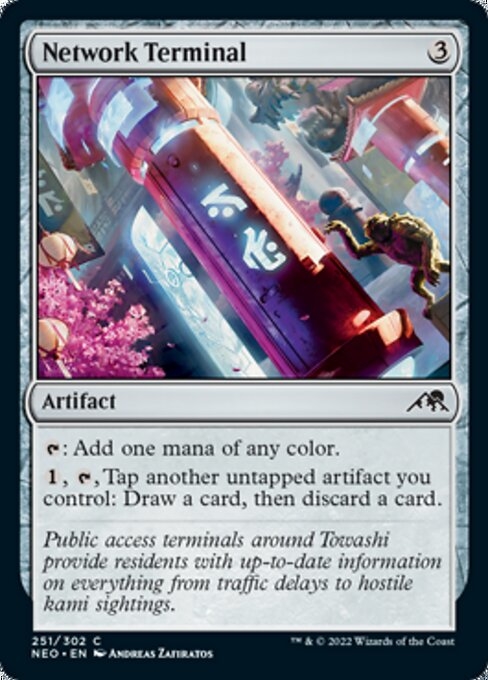 Network Terminal – This is another way to colour fix and ramp for your multicolour decks. Later in the game, you can tap your unneeded artifacts to help with your card selection.
I hope that this list of common cards can help you build upon your remaining card pool and improve your deck choices for Prerelease and Limited play. Remember that the best cards for your deck are not just the rares and mythics you open in your packs. Thanks again for reading Chapter 1 of the Ultimate Guide to Kamigawa Neon Dynasty Limited and Prerelease. Read on to the next chapter in the Guide to see the top uncommons for Limited and Prerelease. If you've missed any of the other chapters for this guide, click below to check them out.
Table of Contents – Ultimate Guide to Kamigawa Neon Dynasty Limited and Prerelease
Chapter 1 - Top Commons for Limited and Prerelease
Chapter 2 - Top Uncommons for Limited and Prerelease
Chapter 3 - Guide to Combat Tricks and Removal Cards by Colour
Chapter 4 – Guide to Vehicles
Chapter 5 – 5 Limited Deck Archetypes