Chapter 4 – Kamigawa Neon Dynasty Guide to Vehicles
Table of Contents – Ultimate Guide to Kamigawa Neon Dynasty Limited and Prerelease
Chapter 1 - Top Commons for Limited and Prerelease
Chapter 2 - Top Uncommons for Limited and Prerelease
Chapter 3 - Guide to Combat Tricks and Removal Cards by Colour
Chapter 4 – Guide to Vehicles
Chapter 5 – 5 Limited Deck Archetypes
Welcome all to the Ultimate Guide to Kamigawa Neon Dynasty Limited and Prerelease. Vehicles were first released in Kaladesh, and they are back in abundance in Neon Dynasty. Vehicles are artifacts with a power and toughness, but they don't turn into an artifact creature until you crew them by tapping creatures with power equal to their crew cost. In Neon Dynasty though, as you will see in this guide there are other ways to turn a Vehicle into an artifact creature. Vehicles usually have higher power and toughness than creatures with the same mana value due to the downside of needing to be crewed. Neon Dynasty tries to make it easier by giving you some Pilot creatures whose power becomes increased for the purpose of crewing Vehicles. Artifacts, in general, have a higher presence in the technologically advanced Neon Dynasty, which makes Vehicles ever more valuable.
To make it easier, I've broken down the Vehicle cards by colour. In each colour I'll talk about the Vehicles themselves and some of the cards that can help Vehicles be successful.
White
Vehicles
White Vehicles start off with Dragonfly Suit. Dragonfly Suit provides a cheap crew cost of only one which means you can crew it with any creature you have on the battlefield. It provides a 3/2 flying artifact creature that has evasion allowing you to get in for some damage. For the same mana value, there's Imperial Recovery Unit. It has a slightly higher crew cost of two but a much better reward for attacking with it. It can bring back a creature or Vehicle to your hand from your graveyard with mana value of two or less. White has eight such creatures that fit that description, while there are eight colourless artifacts (five creatures and three vehicles) that can be returned to your hand.
Helper
Hotshot Mechanic is one of the best creatures to crew Vehicles with and it only costs one mana to cast. If you need more creatures to crew Vehicles with, look no further than Born to Drive. It can either create two Pilots for you the crew with or be cast as an Aura, pumping up any creature or Vehicle. Another great Pilot for White is Kitsune Ace. Anytime a Vehicle attacks it can either give that Vehicle first strike, which is powerful for artifacts, or untap itself (if you used it to crew for example) so that it can block if needed.
Blue
Vehicles
Futurist Sentinel is one of the larger Vehicles in the set at 6/6 but doesn't have any further abilities to talk about. It's just a large threat that will be larger than most creatures on the battlefield during combat. Mindlink Mech is an interesting Vehicle that starts off with great stats as a 4/3 flying creature when crewed. It also becomes a copy of whatever creature crews it while maintaining its existing stats. You can crew it with a creature with Ward to protect it like Armguard Familiar. You can also crew it with a creature with a triggered ability like the Ninja Moon-Circuit Hacker. Lastly for Blue Vehicles, you have Mobilizer Mech. You get a 3/4 flying Vehicle for only two mana but it does have a crew cost of three.
Helper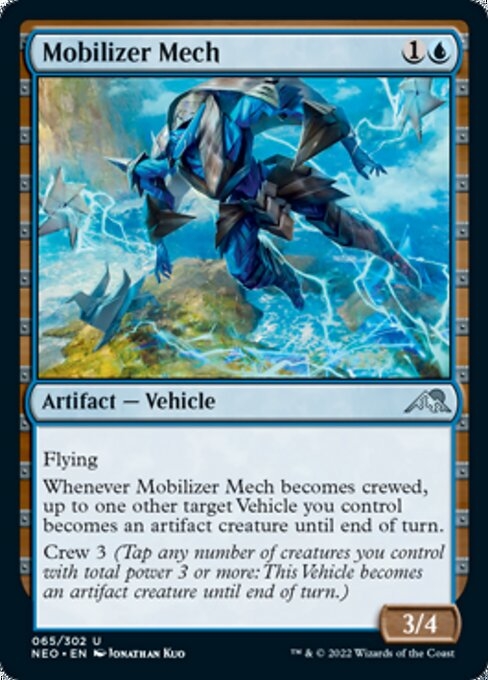 Mobilizer Mech is a Vehicle itself but ends up being one of the best Vehicle helper cards as well. Once it's crewed (note that it doesn't even need to attack) you can attack with any other Vehicle you might have on the battlefield without needing to crew it. This can help you attack with Vehicles in the set that have a higher crew cost or attack with multiple Vehicles in the same turn.
Black
Vehicles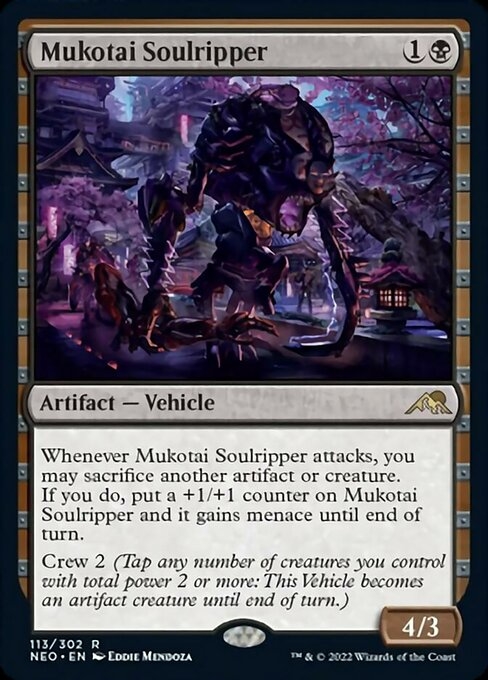 Black only has one Vehicle but it's a good one. Mukotai Soulripper is a two-mana Vehicle that has a crew of two. It starts off as a 4/3 creature but gets a +1/+1 counter and gains menace by sacrificing an artifact or creature. This will help it grow quickly, but be careful of sacrificing too many creatures and not being able to crew it for future attacks.
Helper
Black has a few Vehicle helper cards to play with. Okiba Reckoner Raid // Nezumi Road Captain once transformed into a creature will give your Vehicles menace. Okiba Salvage can be used to bring back a Vehicle from the graveyard onto the battlefield with potentially two +1/+1 counters on it. Finally, you have Reckoner Shakedown which can make your opponent discard some cards while once again giving a Vehicle two +1/+1 counters.
Multicolour, Artifacts, and Lands
Vehicles
The only multicolour Vehicle is Prodigy's Prototype. If you have it on the battlefield whenever you attack with any Vehicle it creates a 1/1 Pilot token that you can then use to crew Vehicles in future turns. Even by itself, it attacks well as a 3/4 creature and a reasonable crew cost of two. Brute Suit is a simple Vehicle with a low crew cost. It can be used to attack and block thanks to having vigilance, but you will need to crew it two separate times to both attack and block. High-Speed Hoverbike is interesting in the fact that it can be used as an instant blocker and combat trick. When you flash it in it can tap a creature and then be crewed up to block another creature. Mechtitan Core is an interesting build-around Vehicle but doesn't have the best stats as a Vehicle itself. If you can ever activate its ability to create Mechtitan you'll be in good shape.
One of the best Vehicles though is Reckoner Bankbuster. It allows you to use to draw three cards over the course of the game and then provides a Pilot that can be used to crew the Vehicle itself. If you want some removal built into your Vehicles look no further than Surgehacker Mech. The more Vehicles you have on the battlefield, the more damage it will do when its ability triggers. When you can crew it for its crew cost of four you get to attack with a 5/5 creature with menace. The final colourless Vehicle is Thundersteel Colossus. It has a cheap crew cost of two which means you will be able to attack with it the turn you cast it.
Helper
Greasefang, Okiba Boss is one of the best helper cards for Vehicles in the set. Even on the turn you cast it, it will return a Vehicle from your graveyard onto the battlefield and allow it to attack by giving it haste. Note that you still must crew that Vehicle before it can attack, but since Greasefang, Okiba Boss has four power, it shouldn't be a problem. Even after it attacks, if it survives until the end of the turn you can bring it back to your hand to cast it later in the game. If you don't have any creatures to crew your Vehicles you can still use Mech Hangar. It can also help you cast Pilot and Vehicles spells from any colour.
As you can see, Vehicles will be a force to reckon with in Neon Dynasty. The introduction of Pilots with higher power when it comes to crewing Vehicles makes crewing so much easier. I'm glad to see Vehicles brought back in a serious way and hope I can build some sweet Limited decks around them. Thanks again for reading Chapter 4 of the Ultimate Guide to Kamigawa Neon Dynasty Limited and Prerelease. Next up is Chapter 5, which checks out the best Limited Deck Archetypes for the set. If you've missed any of the other chapters for this guide, click below to check them out.
Table of Contents – Ultimate Guide to Kamigawa Neon Dynasty Limited and Prerelease
Chapter 1 - Top Commons for Limited and Prerelease
Chapter 2 - Top Uncommons for Limited and Prerelease
Chapter 3 - Guide to Combat Tricks and Removal Cards by Colour
Chapter 4 – Guide to Vehicles
Chapter 5 – 5 Limited Deck Archetypes