Musings of the Madman: Eldritch Moon Overview
Welcome back all! We're in the middle of Release Week for Eldritch Moon, and the set is dripping with apocalyptic flavour. From Emrakul laying waste to all non-Zombie permanents to Liliana begrudgingly cooperating as a Gatewatch, there's stuff for the Vorthos in everyone.
Let's take a look at the set's offerings for Commander, using the old grading method of,
Grade A: You'll see this
Grade B: Worth a look
Grade C: Up to the individual and might gain traction later on.
To begin...White! White offers us some great utility and beefy creatures to get the red zone messy while featuring great examples of the Escalate mechanic.
White

The first Escalate spell on our list allows us, for a very efficient one white and two colourless to Escalate, to have target player gain four life, to have an opponent sacrifice an attacking creature or to untap two creatures. All very reasonable options for Limited play, may be a bit narrow for Commander though
Grade: B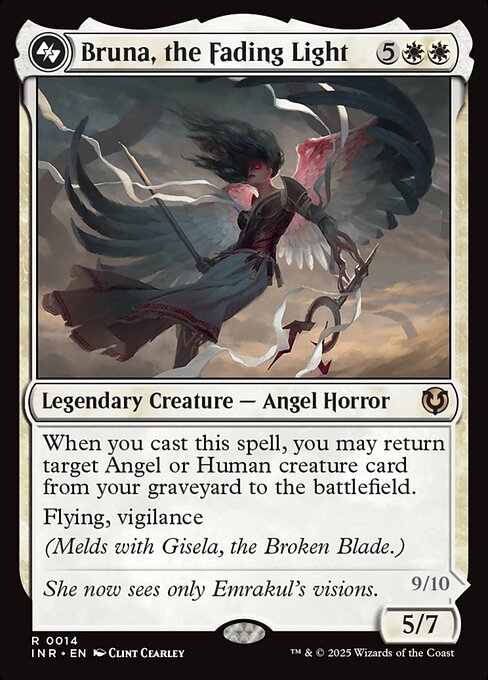 Coming it at a very beefy 5/7 flying, vigilance for seven, Bruna brings back a target Angel or Human creature from your graveyard when she enters the battlefield. There must be some loop where you just get all your Plains through blink shenanigans here somewhere...
Grade: A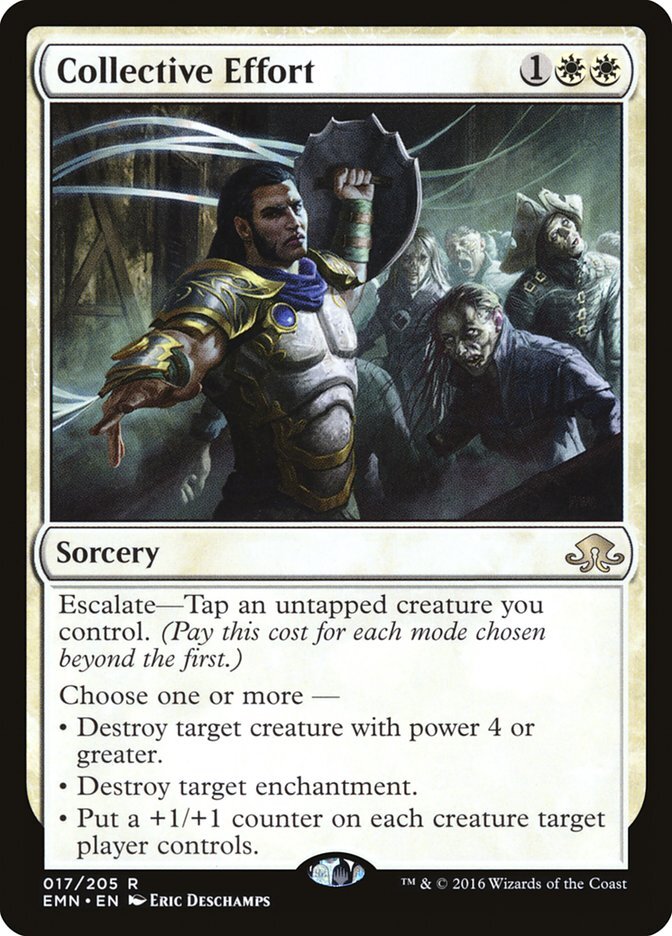 Our rare Escalate card costs three mana at sorcery speed, but offers sweet toolkit options by either destroying an enchantment, a large creature or distrubuting a ton of +1 / +1 counters on any target player's creatures, allowing you to play kingmaker in a group game. Two of the modes should always be good.
Grade: B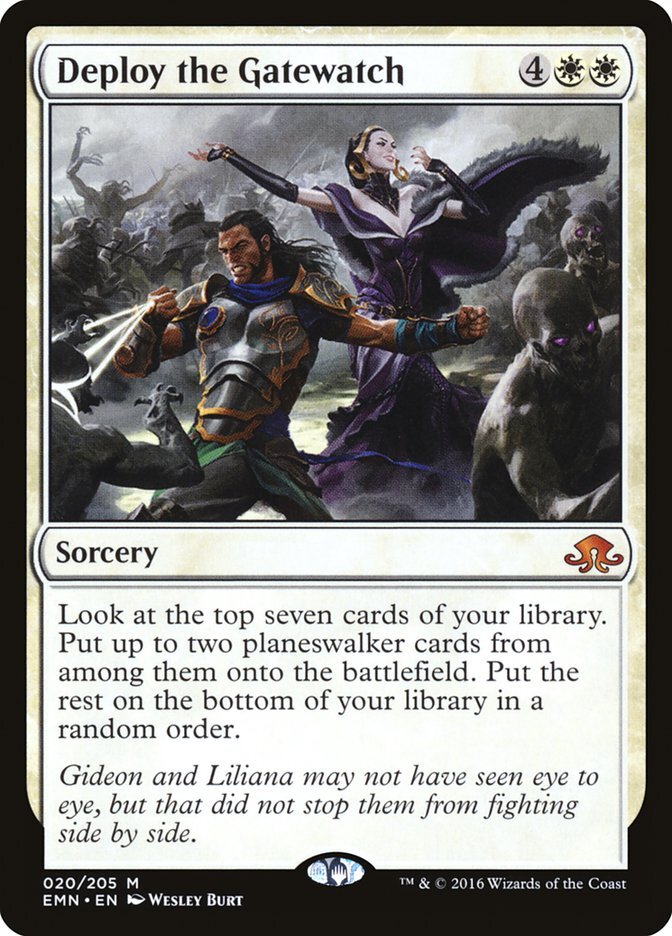 At a chunky six mana at sorcery speed, you get to dig seven down and put two planeswalkers onto the battlefield from your library. I love that white has the planeswalker search ability now, but I keep looking at this and wanting it to be more broken. I keep wanting Genesis Wave for a ton, or Omniscience for a game conclusion. This should still find some play though, and could fuel your Oaths if you enjoy playing with those.
Grade: C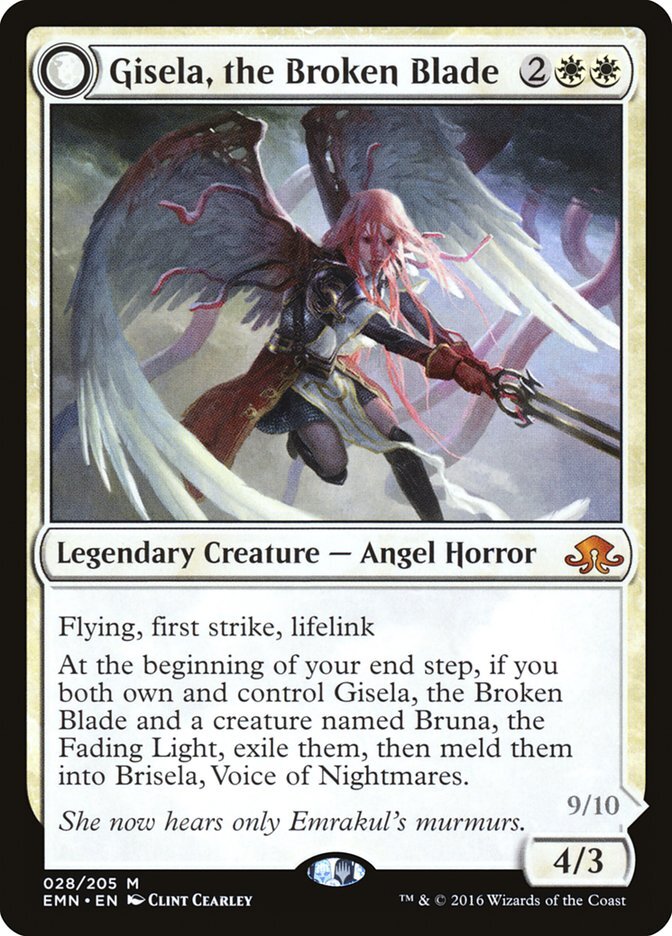 Mini-Baneslayer Angel! A super reasonable 4/3 with flying, vigilance nad lifelink, Gisela can add a ton of pressure in your aggressive decks and if you follow her with her precursor? Games will end quickly.
Grade: A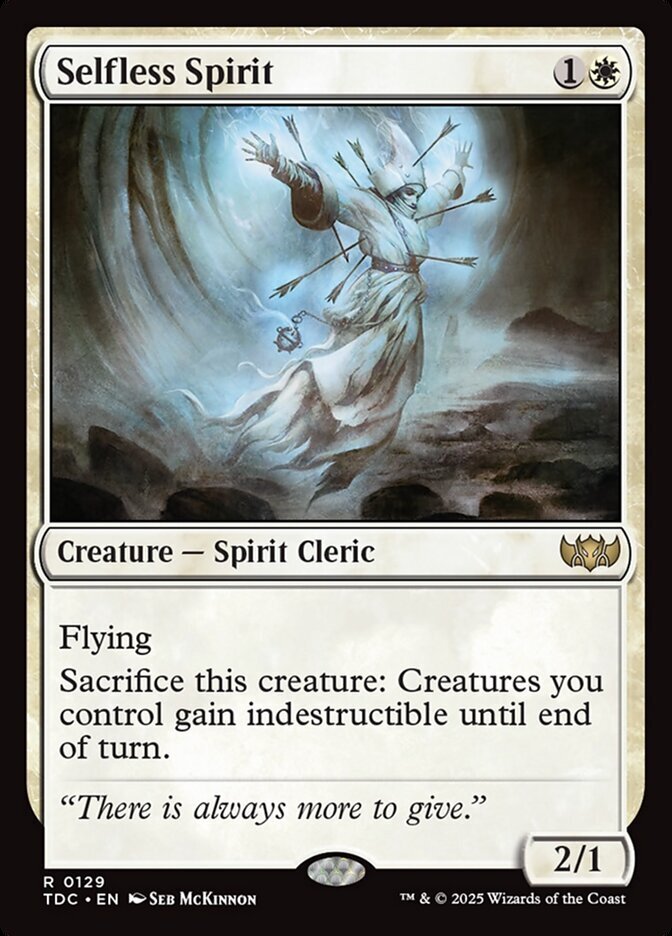 My Oyobi, Who Split the Heavens deck has a new friend! A 2/1 flier for two that can make my team survive a sweeper is more than welcome to help out. Also cheaper to play than Dauntless Escort if you had that in your deck.
Grade: B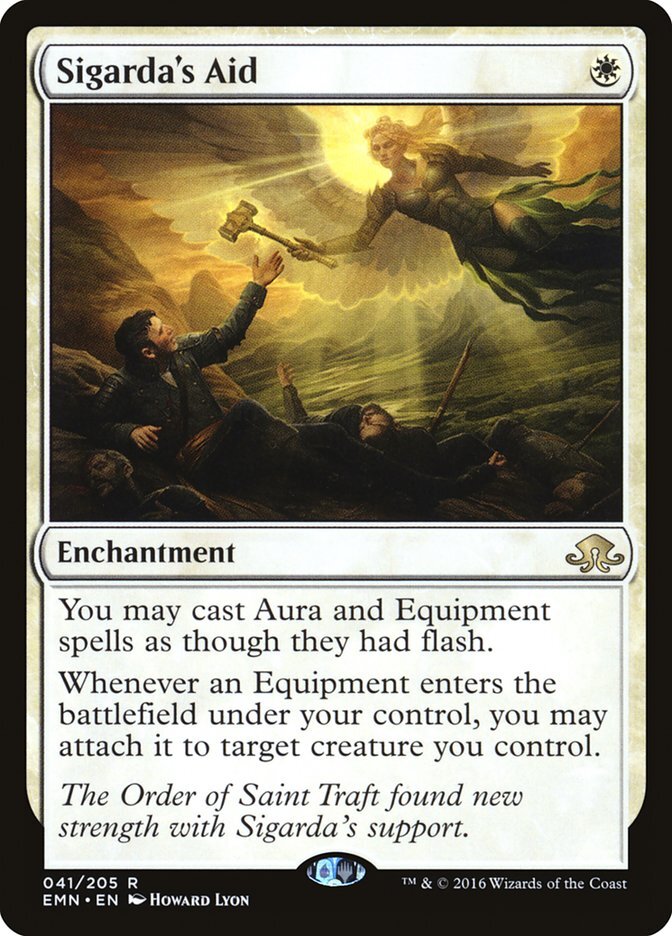 Dear lord this enchantment is efficient. For a single mana you get to play your Aura and Equipment cards as if they had flash and the equipment comes onto the battlefield equipped. Save a Nature's Claim for this one, it's going to hurt.
Grade: A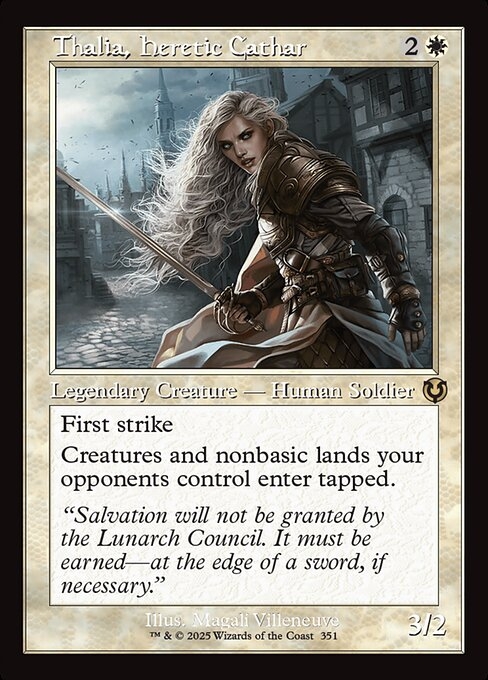 With super gorgeous new art, a beefed-up body and an ability to slow your opponent's games to a grind, Thalia is back with a vengeance! 3/2 for three with first strike is great. Having your opponnent's nonbasics and creatures enter the battlefield tapped is brutal. Remember folks, your Scalding Tarns are nonbasics too. Kill this one with fire ASAP.
Grade: A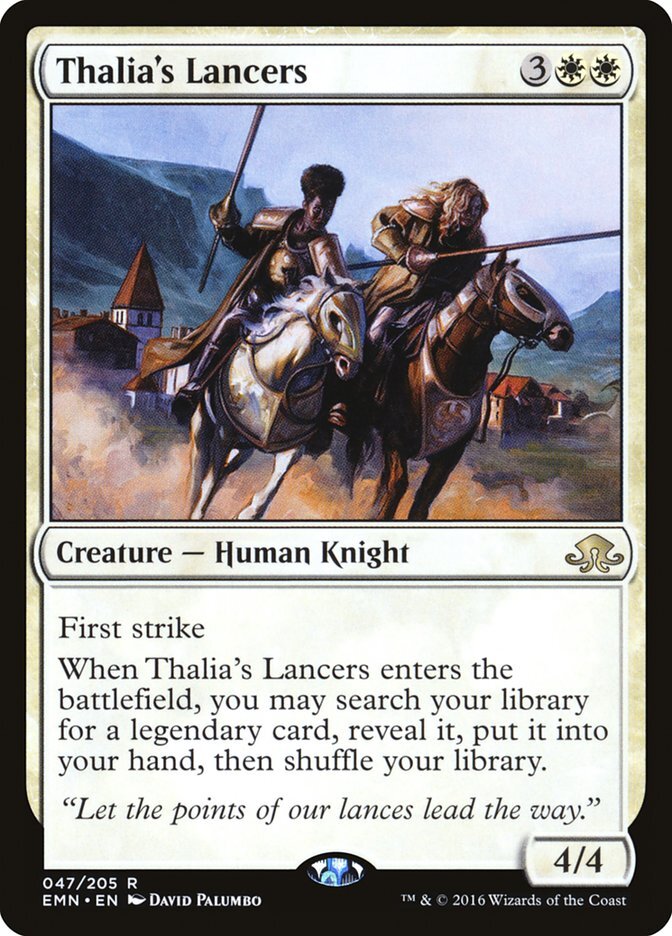 Did we mention she has friends? Large, intimidating friends? 4/4 first strike for four friends that get any legendary permanent when they enter the battlefield? That's correct, you could recur this or blink it and get your Gaea's Cradle, Umezawa's Jitte or Mindslaver. Not that we'd do that, but a world of options opens up for us here. The only limiting factor is that you can tutor for many of these items more efficiently on a one-use tutor.
Grade: B
Blue
Offerings of quirky play are aplenty in Jace's colour, including the new Emerge mechanic which will undoubtedly add a ton of value to your piles.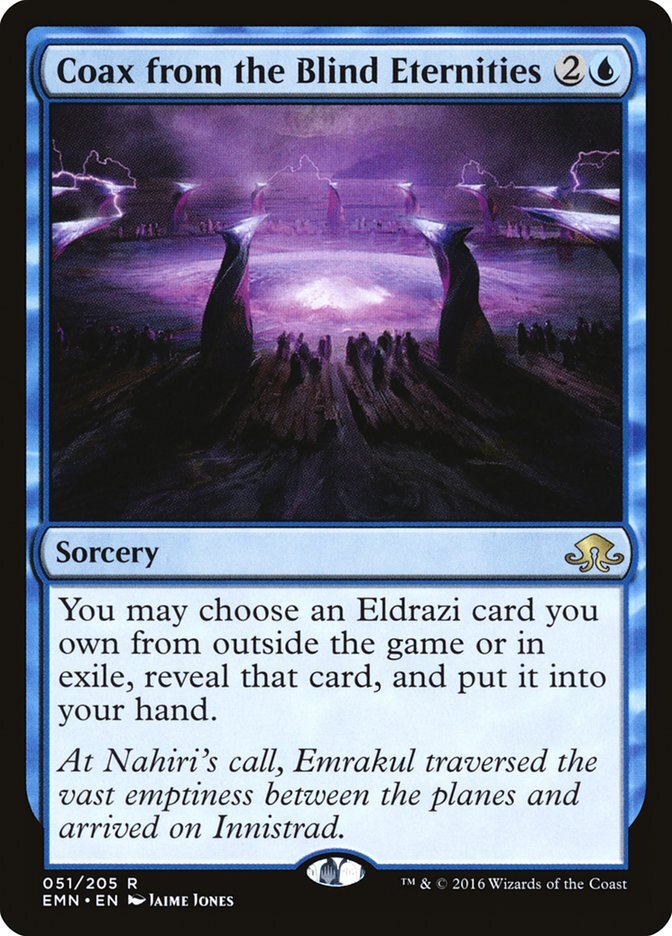 It's a Living Wish for blue, kinda? It can also get auras, spells and should see some one or two of play in toolbox decks in constructed formats. Unfortunately for us, wishes are dead on arrival in Commander; perhaps you can use it to recover an exiled titan though!
Grade: B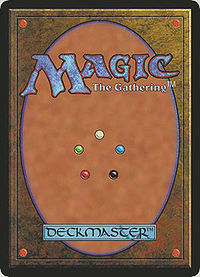 Blue's biggest weakness had always been mana ramp, so it's about time Wizards started giving them a push in that direction...this handy 1/1 for two adds one colourless to your pool for instant and sorcery spells. Which is unfortunate, since blue has nearly none of these in its arsenal! At the beginning of your next upkeep, if you have three or more instants of sorceries in your graveyard, it transforms into a very reasonable 3/4 Voracious Reader with Prowess that reduces your instants and sorceries by one colourless. Kill it with fire, at Farenheit 451.
Grade: A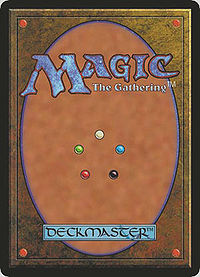 Our poor researcher, who started out as a Delver of Secrets, is now a prisoner to his madness it appears. A 5/4 flier for five that brings along a 1/1 Wizard friend is fairly good value. If you control three or more wizards, however (and since you'll be playing at Wizard's Tower, this should be a non-issue!) it transforms into the Final Iteration, a 6/5 flying creature that grants Wizard creatures you control +2/+1 and flying as well as sprinkling your board with additional 1/1 Wizards when you cast instant and sorcery spells. Wow. Want one for my Rayne, Academy Chancellor deck yesterday.
Grade: A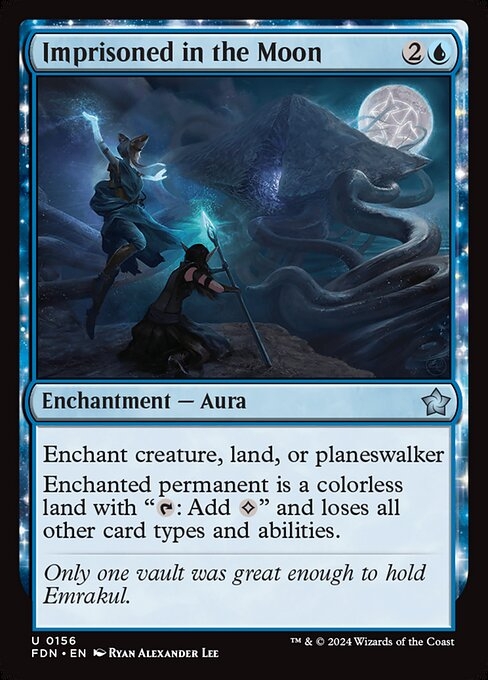 Blue really was missing Song of the Dryads, and now it has it. A weakened version for sure but at the same converted mana cost, it's only able to cloak a creature, land or planeswalker. Is this better than blue's multitude of bounce or board manipulation? We'll see.
Grade: B

The kind of card EDH games are built for. At seven mana in enchantment form, being able to play your opponent's cards harkens us back to Shared Fate and other fun interactions. This gets considerably worse if your opponents have cards like Sylvan Library or Sensei's Divining Top on the field, wherein you are removing a land from their deck. Your opponent also needs to play a spell to trigger this, but if they aren't one of you should be winning, right?
Grade: B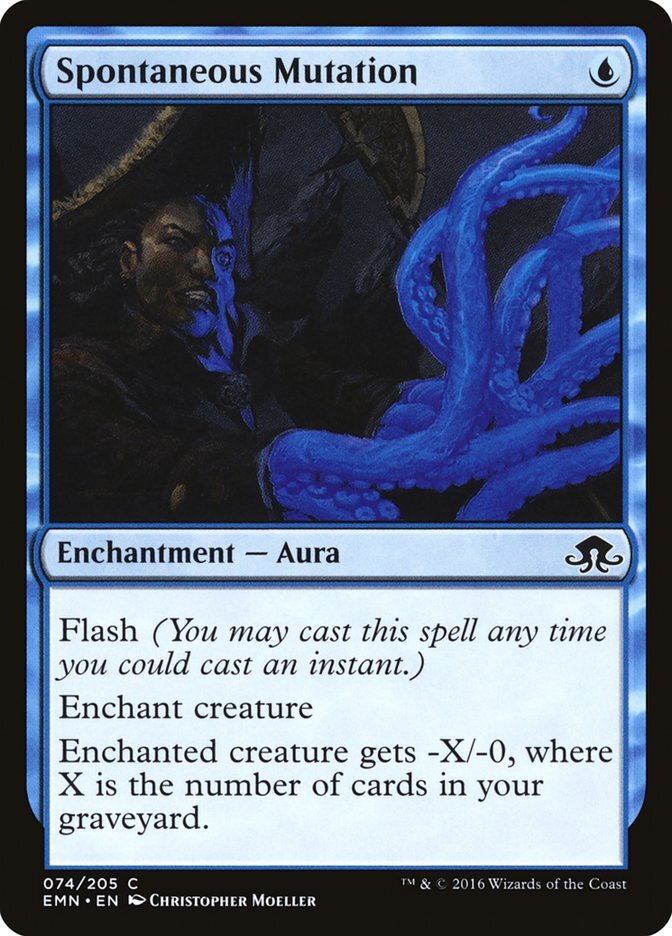 Benjamin Milette said it best: "It's a blue Swords to Plowshares."
Indeed it is, as most creatures on the field will have five or less power and a creature without power is never going to affect your life total. It costs one, it has flash, it's as good as it gets without stripping away abilities.
Grade: A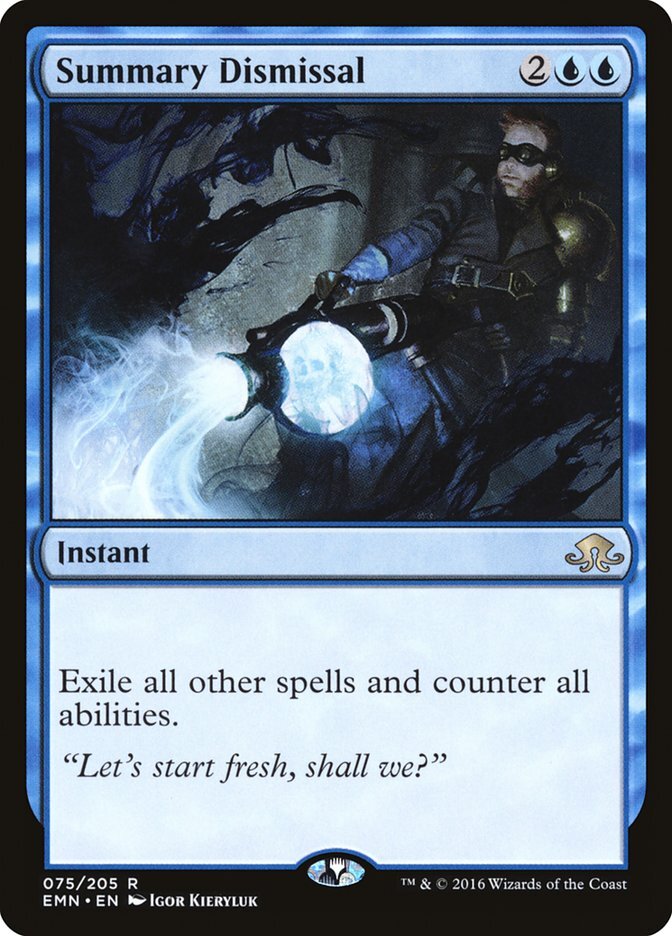 A mini-Time Stop? A new Mindbreak Trap? A wider Stifle? It seems so narrow yet so amazing. At four mana you should be able to selectively remove anything you don't like from the stack. With a little luck, this will end the game for you.
Grade: B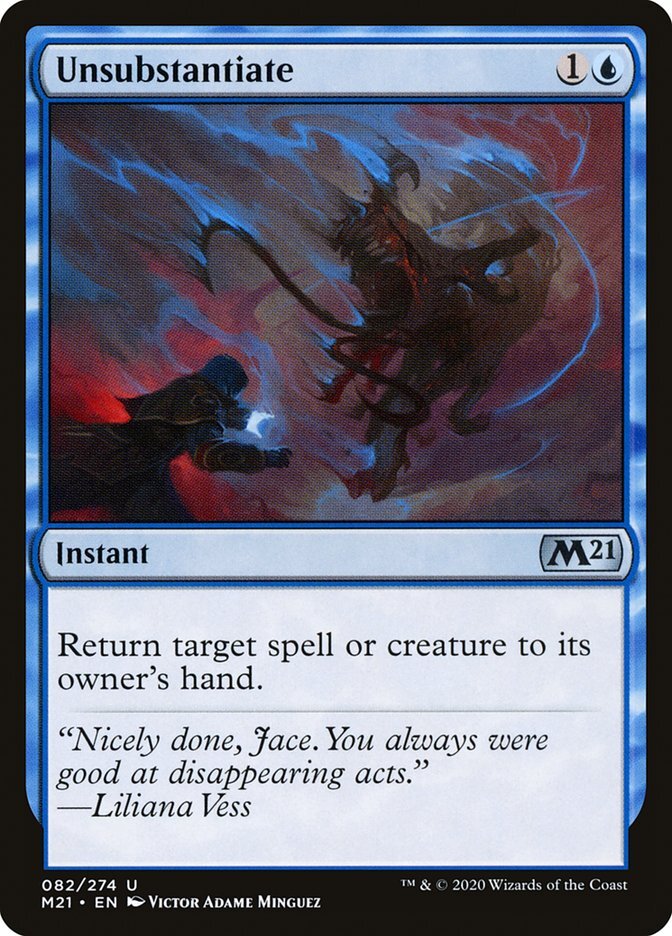 It's a mini-Venser, Shaper Savant but that might not be enough to have it see Commander play, where the power level is immense. At the very worst it can stall an opponent for a turn while you set up your shenanigans.
Grade: C
Black
Black offers fine utility, a zombie sub-theme and a return of a favourite planeswalker and her oath. Let's dig in!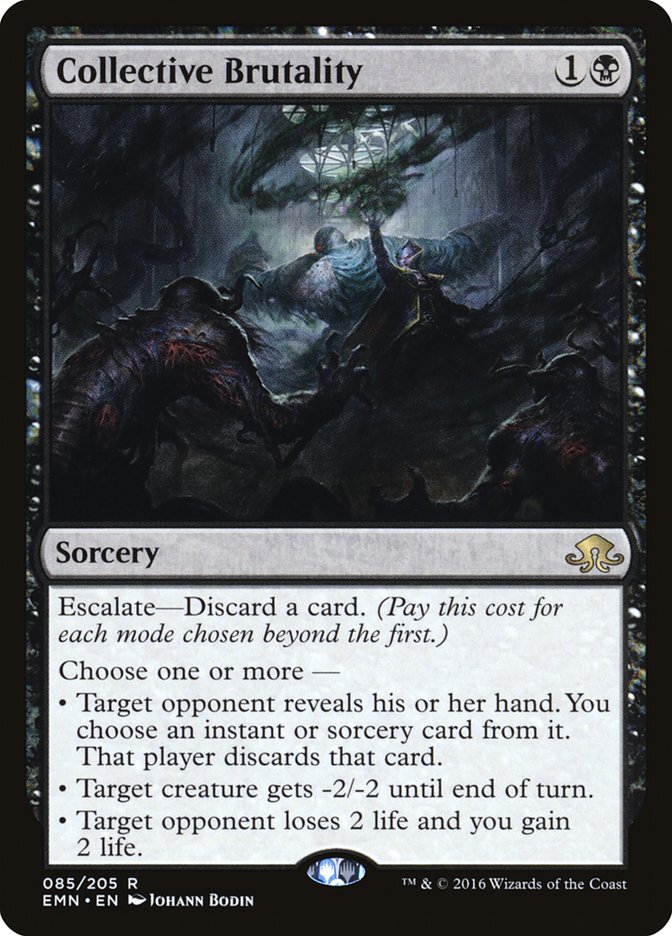 A great example of design dovetailing into functionality, the Escalate cost is discard, which enables Madness in that block. The options are more than fine, for two mana you can look at their hand and have them discard an instant or sorcery, shrink a creature -2/-2 or drain an opponent for two life.
Grade: A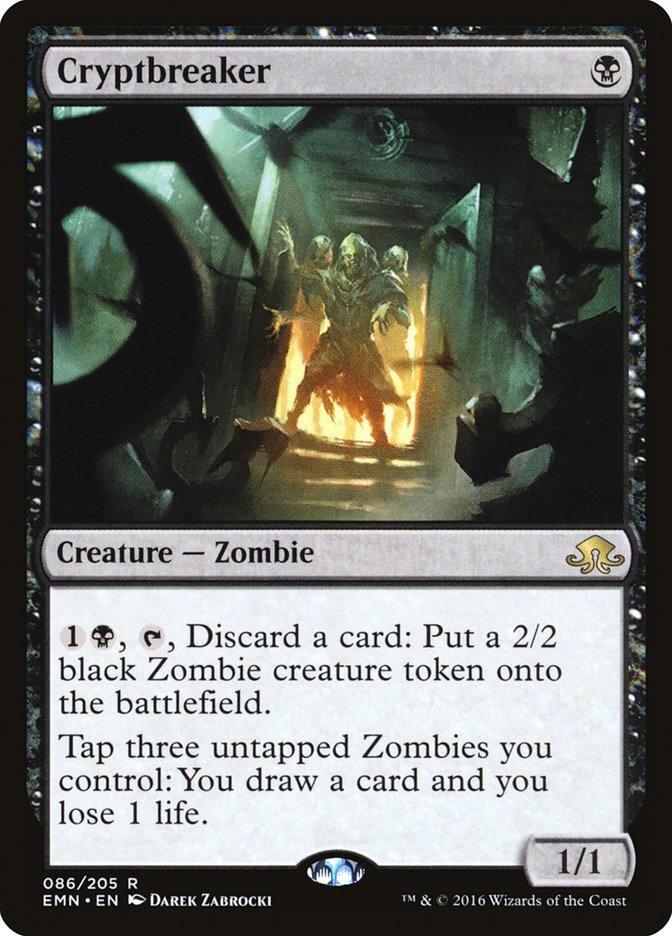 A 1/1 for one black mana isn't great, but this one quickly amasses a bunch of friends (2/2 zombies by paying 1B, tapping and discarding) and you can subsequently tap three untapped zombies to draw a card and lose one life. Great for those Zombie theme decks out there for sure.
Grade: B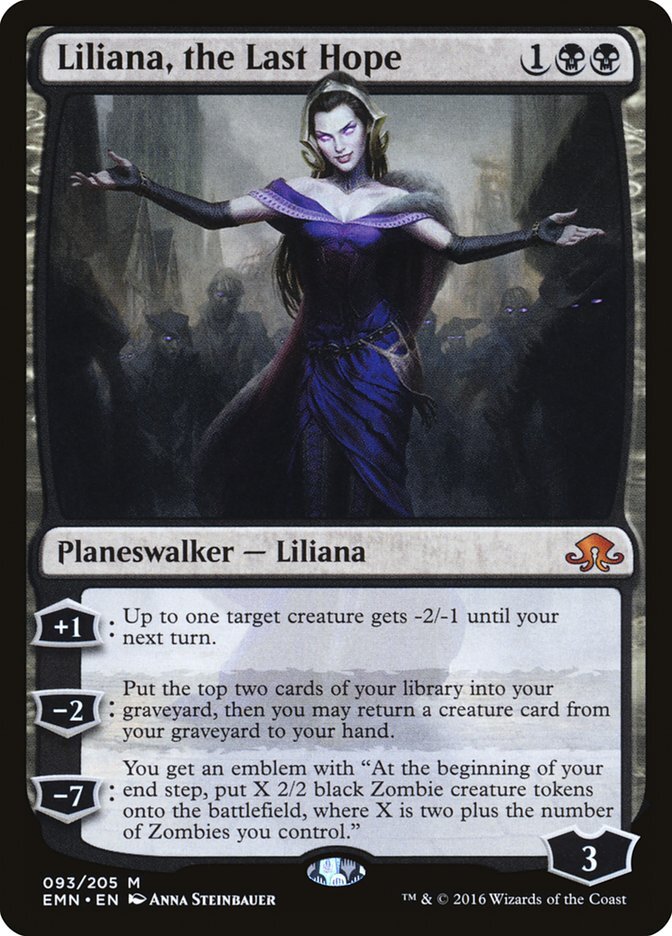 She's back and she's (temporarily? treacherously?) decided to join the Gatewatch. Her abilities seem quite well suited to a Duel Commander or other one-on-one iteration of EDH. Three mana for three loyalty, with +1 to give target creature -2/-1 until end of turn, -2 to mill yourself for two with the option of returning a creature to your hand from your graveyard and the ultimate? An emblem that gives you a growing number of 2/2 zombies where X is two plus the number of zombies you control. You get these at end of turn, by the way.
Grade: A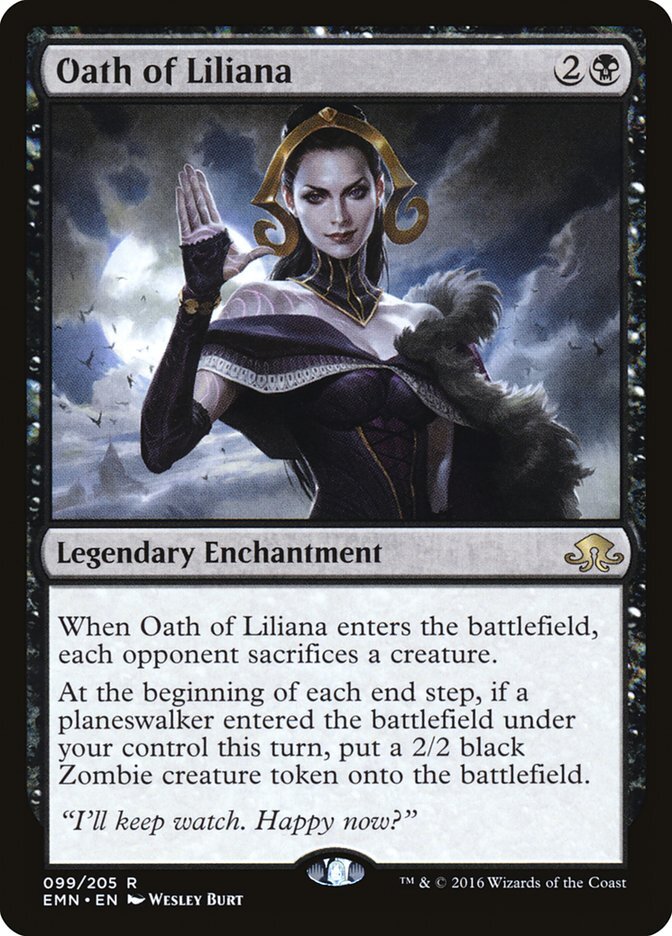 Long awaited, the three mana enchantment acts as a Fleshbag Marauder on your opponents only and grants you a 2/2 Zombie at the beginning of each end step on a turn where you played a planeswalker. More resilience to protect her planeswalker form, not bad.
Grade: B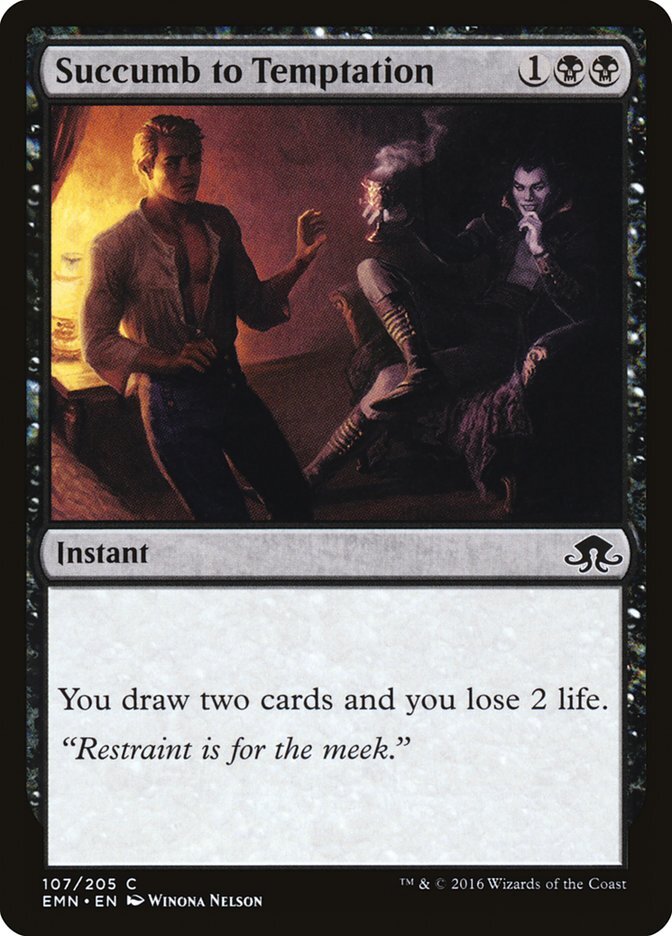 It's Sign in Blood with a few changes. You can no longer target someone and it costs one more converted mana. The benefits? It only affects you and is an instant. Should see some play in various EDH piles.
Grade: B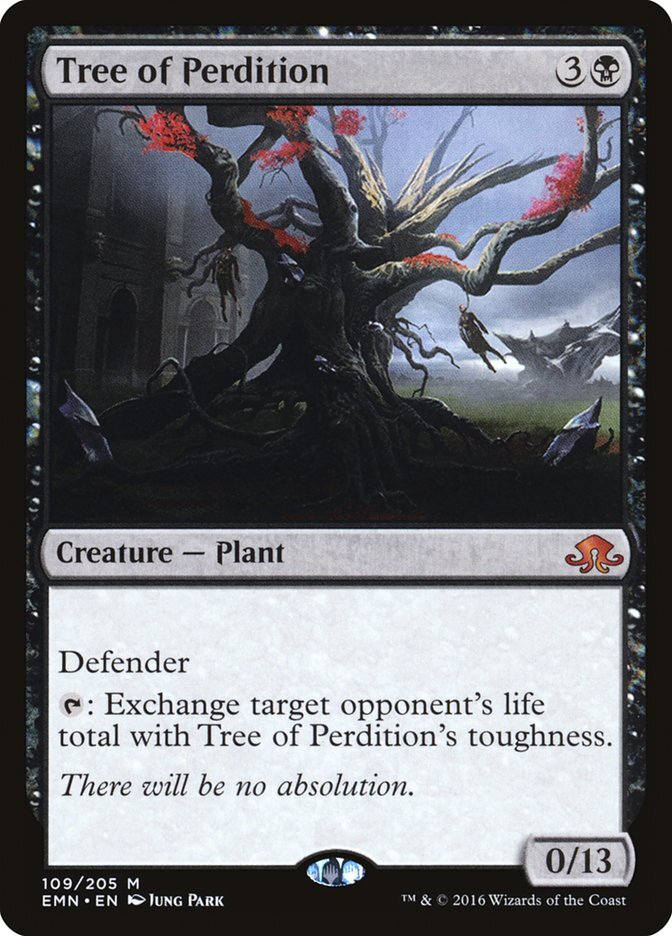 The "nightmare" version of Tree of Redemption, this 0/13 Defender for four can switch its toughness with an opponent's life total. In Commander, that means a 27 point life loss, but that might not be enough for non-casual play. I'm sure there are myriad ways to reduce its toughness though, for a pseudo-kill.
Grade: C
Red
Red feels like a toolbox. Some interesting sorceries, a nice creature or two and some nice looks all around.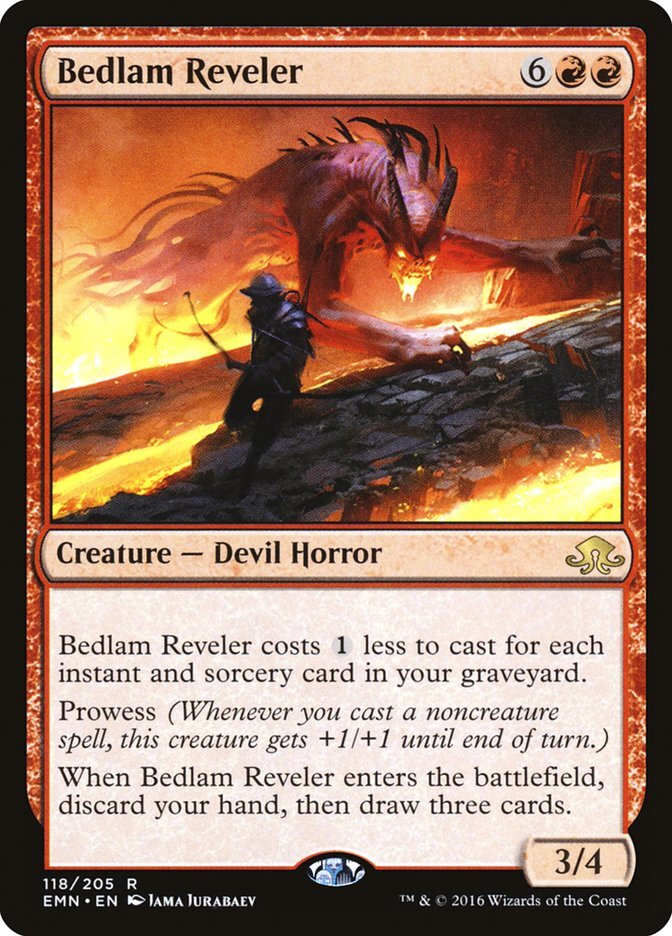 Already seeing play in our playgroup's Ashling the Pilgrim deck, the eight converted mana shaves itself by one for every instant or sorcery in your graveyard. The 3/4, Prowess-enabled body discards your hand to draw three too. Great card!
Grade: A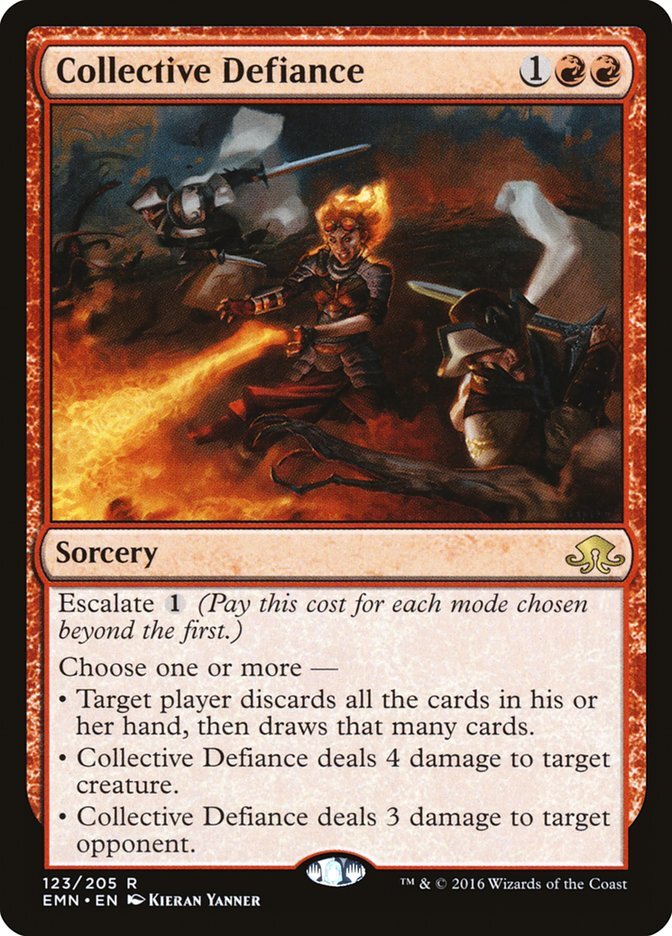 Red's must-play Escalate offering. For three at sorcery speed, target player discards their hand and replace that many, deal three to target opponent or four to target creature. The Escalate cost is a mere one generic mana. Wow.
Grade: A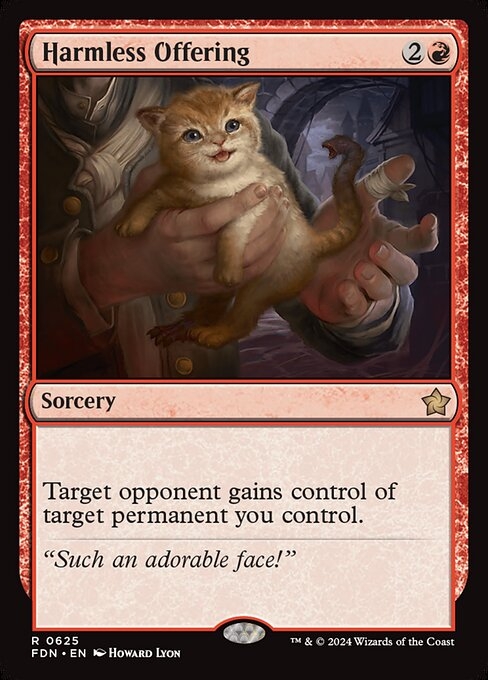 Ooooh, a kitty! Never look at the tail end of this Donate variant though...
Grade: B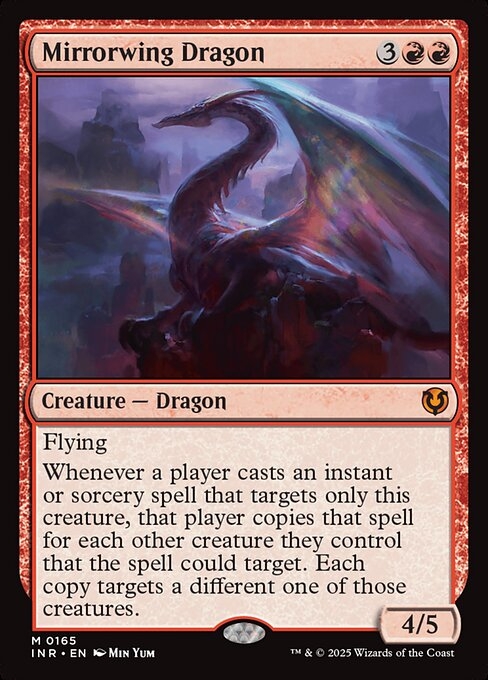 A healthy 4/5 body with flying for five wreaking havoc with everyone's plans. Who is going to Path to Exile their board to pseudo-ramp? How about a quick Chain of Vapor to save your team? Is pseudo-shroud enough to give it a second look? Let's find out!
Grade: C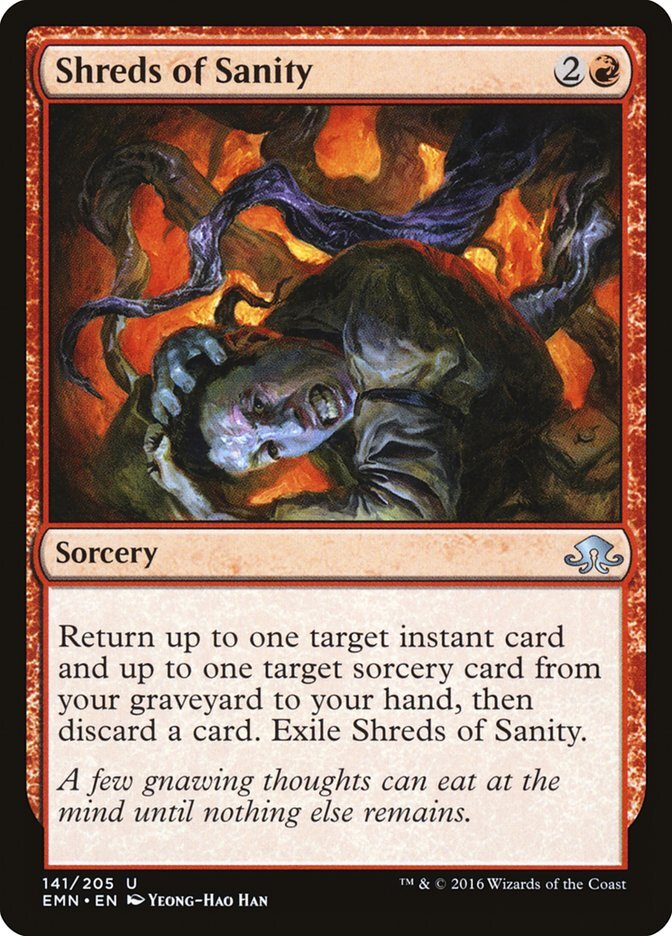 This looks terribly underrated, playing into red's recent graveyard manipulation suite. A narrow Regrowth that lets you recast your Wheel of Fortune or Swords to Plowshares or Demonic Tutor or... Yes, you need to discard a card, but was that Genesis otherwise busy?
Grade: A
Green
Green offers us a great suite of nifty creatures, a creature fetcher and a long-awaited legendary creature!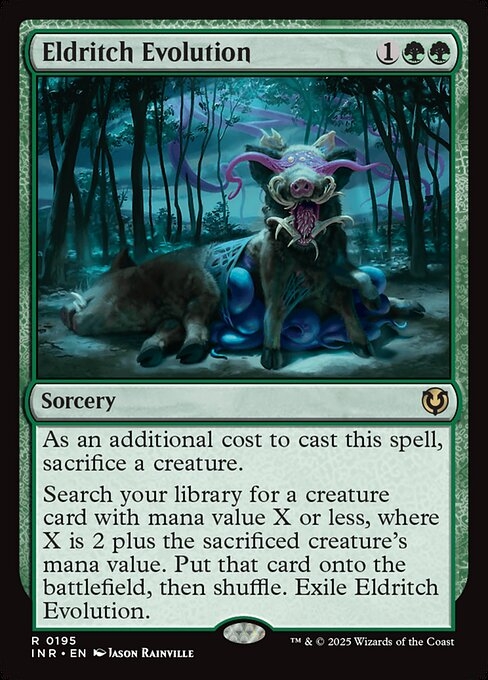 A much more limited Natural Order that costs three, Eldritch Evolution will fetch a creature of any colour at the cost of its own convereted mana cost being less than 2 plus its own cost. For example, sacrificing a Solemn Simulacrum can net you any creature that costs six or less. Eldritch Evolution gets exiled as well, to avoid any recursion shenanigans.
Grade: B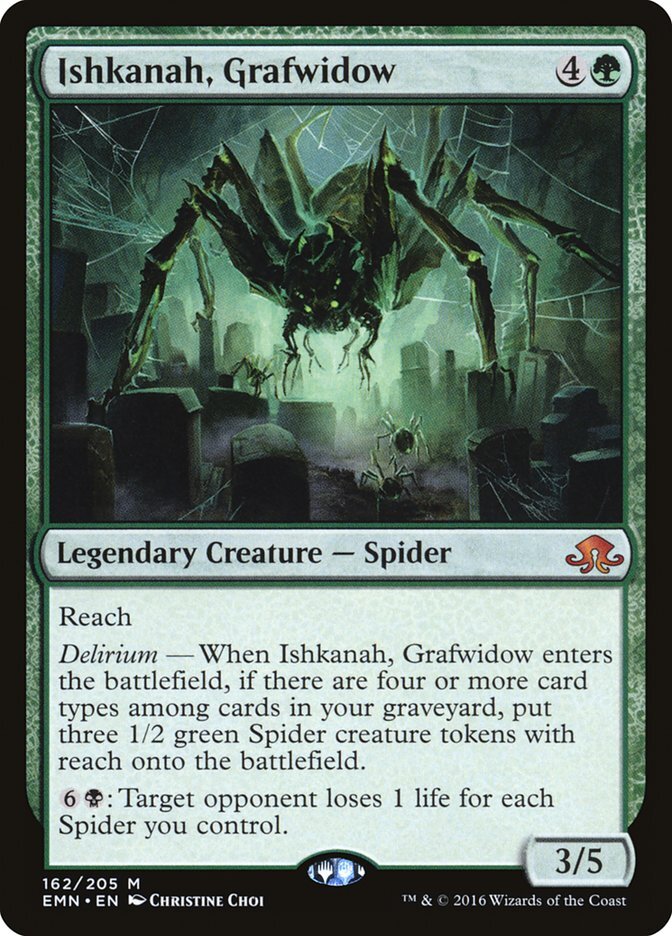 A legendary spider at last! A 3/5 body with Reach is about expected for spiders in the five mana range. Ishkanah will bring three 1/2 friends with reach if you have Delirium as well. Its activated ability, clocking in at one black and six colourless, has target opponent lose one life for each spider you control, granting you some inevitability. The only downside? She isn't red as well, which would have allowed you some more spider options.
Grade: A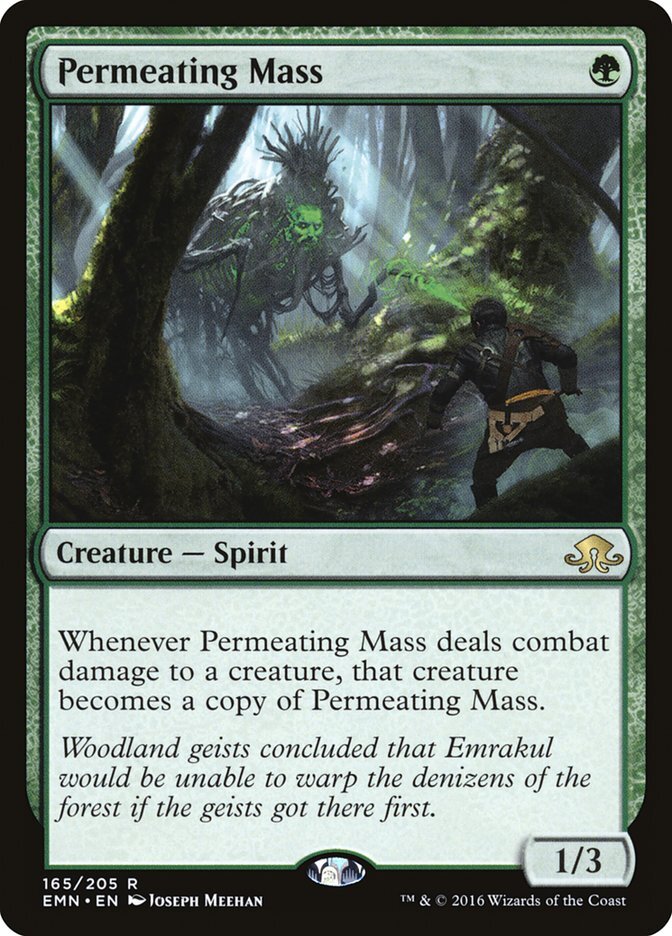 The Johnny/Jenny card of the set grants us a 1/3 Spirit for one green mana. Not too crazy, but here's where the fun begins! It transforms anything coming into contact with it into a copy of itself. It's been confirmed that if you have a Progenitor Mimic of a Permeating Mass, then the new copies also become Progenitor Mimics and mass chaos ensues! Expecting to see this in a few tables, as it can deal with virtually anything in the red zone.
Grade: B

Planar Birth saw very niche play as it brought back only basics and all players' as well. This is already seeing play, bringing back fetch lands, Strip Mines, and all sorts of useful lands. And only your lands too. Generously costed at four mana, this will be a stable in many a green deck in the near future.
Grade: A
Multicoloured
Gold cards bring us two legendaries, one extremely potent spell juggler and a sweet planeswalker as well. Fun!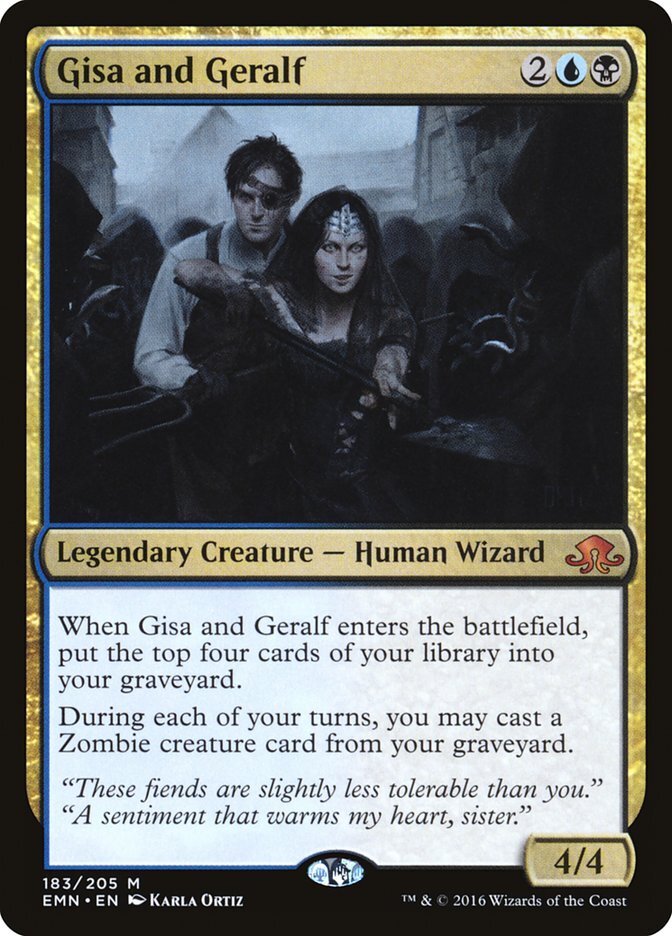 We met them through the Commander products and now they've decided to work together for the common Zombie good. Very well costed at black, blue and two generic for a 4/4 body, they mill you for four when entering the battlefield, then allow you to replay a Zombie card from your graveyard every turn. With a sacrifice outlet and a few other creatures in play, you could end up bringing back a Fleshbag Marauder forever, or returning Skullclamp fodder, or...great design here.
Grade: A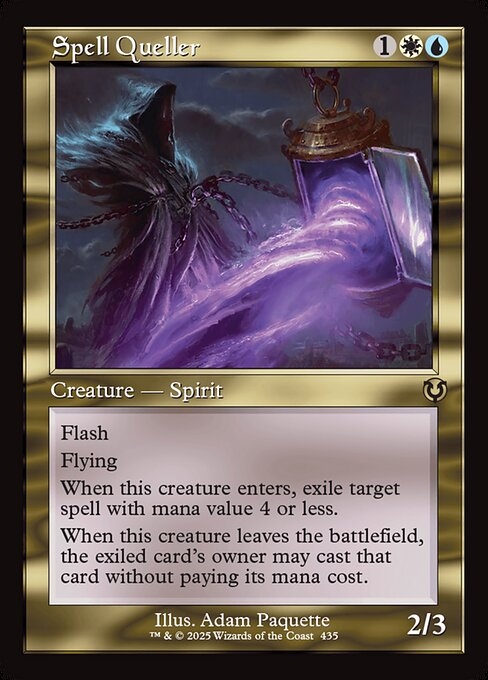 Already being touted for tournament play, Spell Queller is a control player's dream. Forget the playable 2/3 flying body for three with flash. The card's ability to exile any spell with converted mana cost four or less from the stack will be backbreaking. Also, note this from Gatherer:
If Spell Queller leaves the battlefield before its enters-the-battlefield triggered ability resolves, its leaves-the-battlefield triggered ability triggers, resolves, and does nothing. Then its first triggered ability resolves and exiles the spell forever.
Good thing there isn't another creature you can soulbind to to create a soft-lock...
Grade: A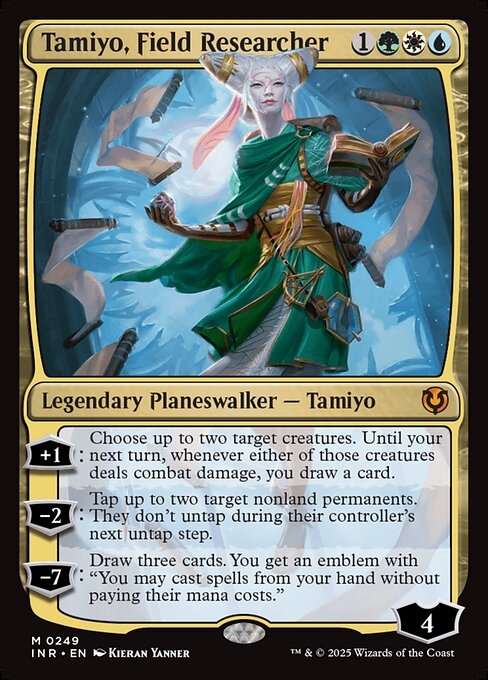 The first Bant planeswalker is chock full of utility. Let's start with her reasonable four loyalty for four mana, which puts it out of range of instant burn. Her +1 lets you draw cards when two targeted creatures deal combat damage, her -1 locks down two nonland permanents (adding functionality to the initial ability!) and her -7 ultimate? You draw three then become a living Omniscience. Flavourful and powerful, Tamiyo looks fine!
Grade: A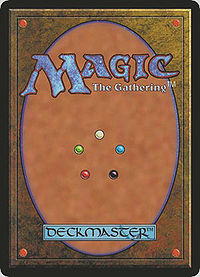 We've wanted a werewolf legend and we got one. Sadly, Ulrich is a little underwhelming. A 4/4 for five is pretty average, and his enters-the-battlefield giving target creature +4/+4 until end of turn is pretty average as well. When he transforms into a 6/6 Werewolf he'll fight another creature, which is nice utility. Ruric Thar, the Unbowed will end up doing much more for you in these colours, though.
Grade: C
Colourless, Artifacts and Lands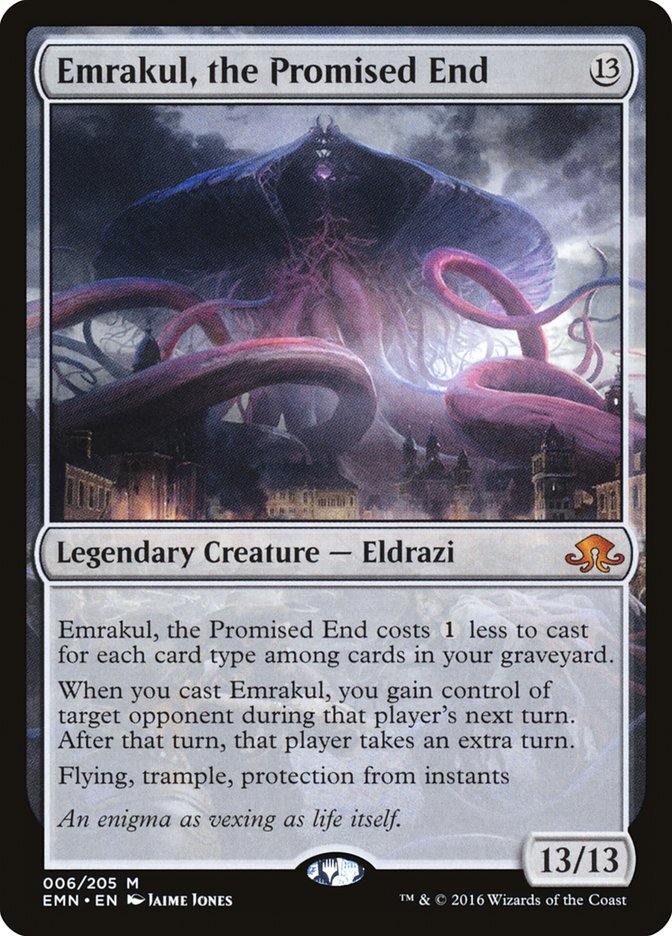 Keeping some of its former properties (flying, trample, protection from instants), Emrakul is now a 13/13 that Mindslavers an opponent for a turn, after which they gain an additional turn. Not quite as pushed as the original's Annihilator 6, this will likely see some constructed play while not being as pushed for Commander play.
Grade: B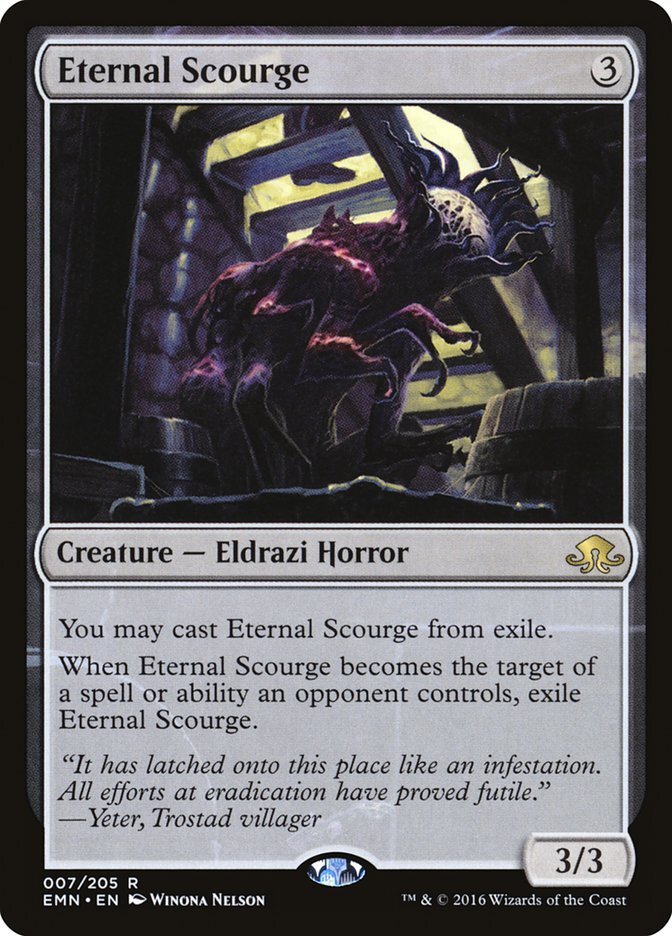 A 3/3 for 3 that you can replay from exile, the Scourge is already a staple of Food Chain combo decks, and should stay there for some time. It also returns to exile if it's the target of an opponent's spell or ability.
Grade: A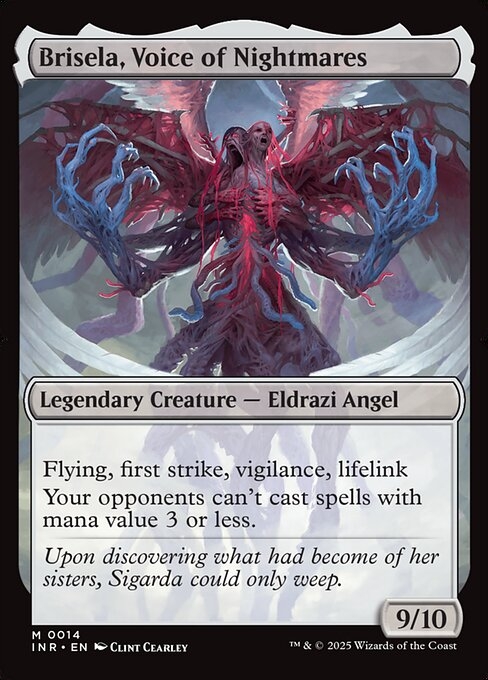 The final, melded form of Gisela and Bruna weighs in at a hefty 9/10 flying, first strike, vigilance, lifelink that also prevents your opponents from casting spells converted mana cost 3 or less. I don't expect to see this at many tables because of the fragility of the double iteration, but she sure packs a punch!
Grade: C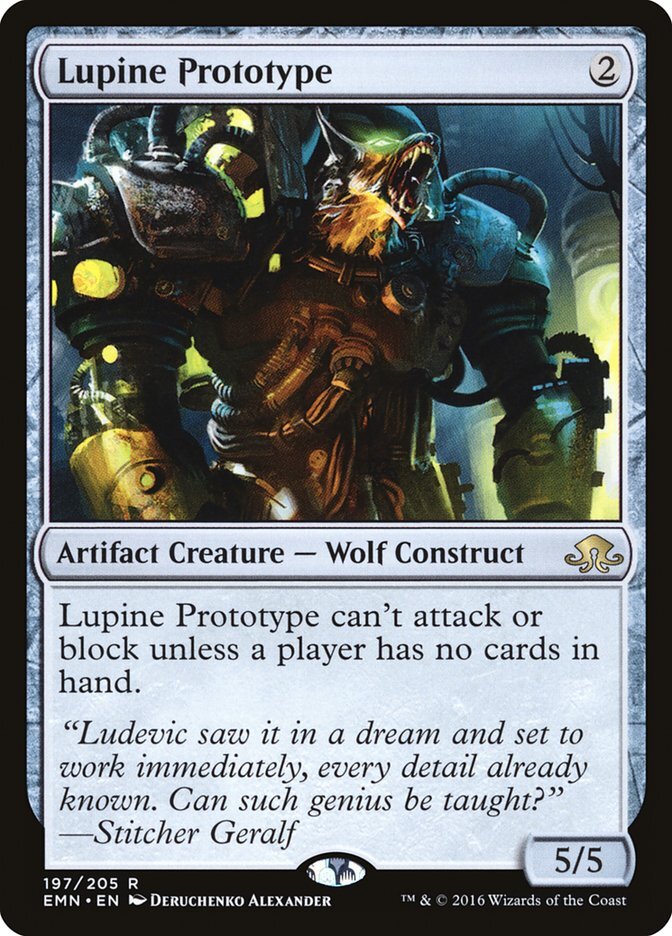 A 5/5 for 2 with a small, manageable drawback of having any player be hellbent to attack or block. Players burn through cards like crazy in Commander, so I expect this to see play in some aggressive builds in the near future.
Grade: B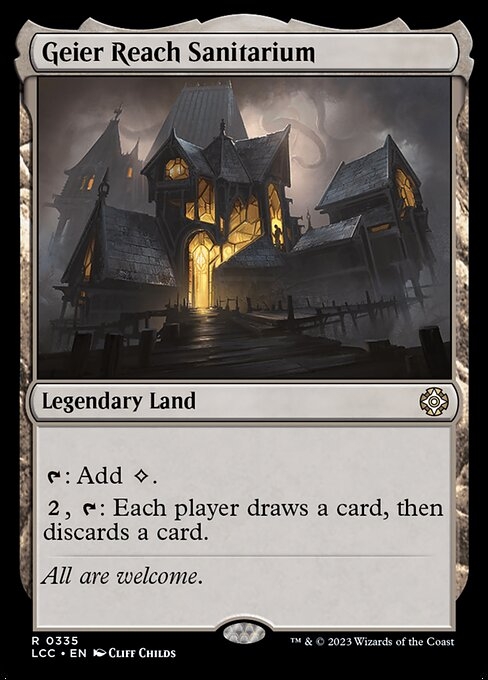 A fine land! Taps for a colourless and simulates Mikokoro, Center of the Sea with the additional rider of each player discarding a card, which will cause tons of interesting gameplay. Already seeing play in a ton of decks and I expect many graveyard shenanigans to follow.
Grade: A

It's part Library of Leng and also provides a colourless mana boost. Sadly, there might be too many utility land slots at the moment to fit this into your deck.
Grade: C
That's it for this week everyone! I hope you had great prereleases and release events and let's get some Commander games going! Until next week, may your Eldrtich Moons never be blue.