Chapter 2 – Top Uncommons for Strixhaven Limited and Prerelease
Table of Contents – Ultimate Guide to Strixhaven Limited and Prerelease
Chapter 1 - Top Commons for Limited and Prerelease
Chapter 2 - Top Uncommons for Limited and Prerelease
Chapter 3 - Guide to Combat Tricks and Removal Cards by Colour
Chapter 4 - Guide to Learn and Lessons
Welcome all to chapter two of The Ultimate Guide to Strixhaven Limited and Prerelease. I will be continuing Prerelease week with some guides to help you play the most important power cards for a Limited deck, the uncommons. With two-colour colleges comes a ton of multicolour cards, which usually means a raised power level. What it also does is limit the number of decks that you can play these multicolour cards in. That's why I'm going to make sure to not only talk about those college-themed uncommon powerhouses but also some of the monocoloured ones you'll be able to use in a few different Limited decks.
Here are some of the best uncommons for Prerelease and Limited play from Strixhaven.
Clever Luminancer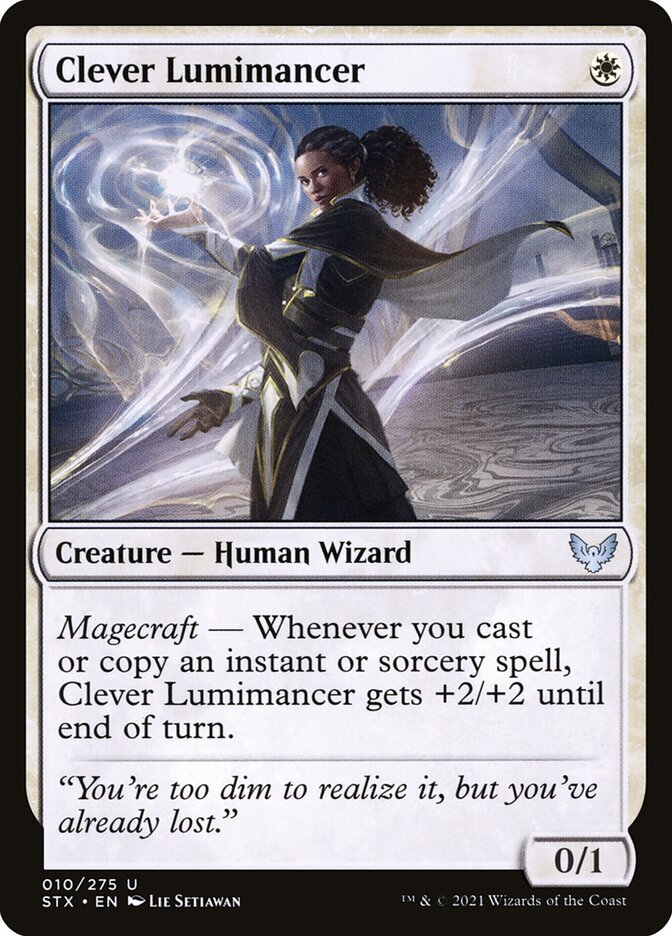 Clever Luminancer – It's time to put your deck into Aggro mode. Using cheap spells including a Learn/Lesson combination of spells can help you get in for two-four damage each turn. Not bad for a one-drop.
Professor of Symbology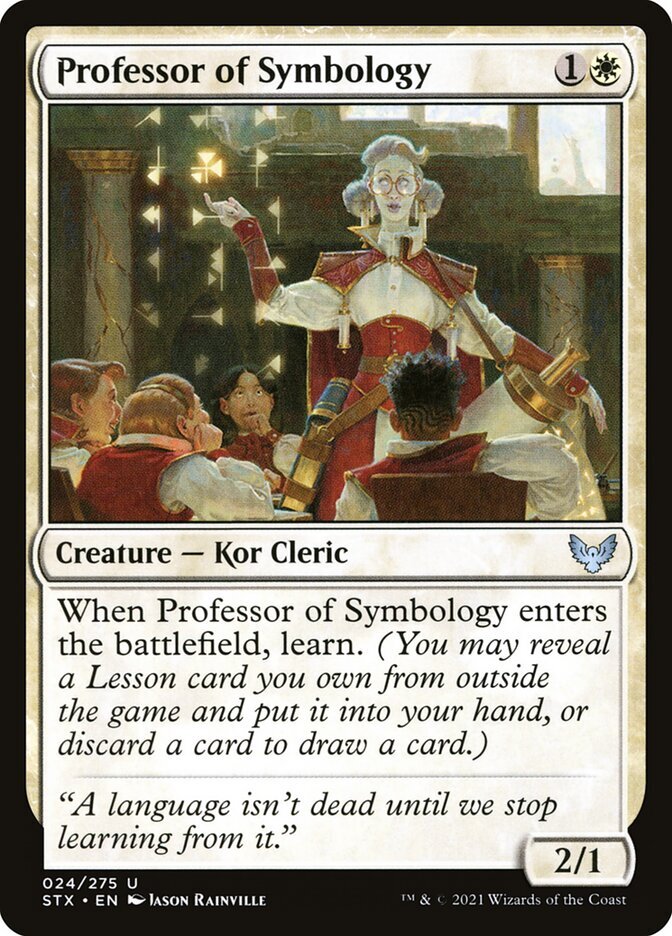 Professor of Symbology – There's nothing better than a two-drop 2/1 creature that replaces itself with card draw. This is one step better if you have the Lessons to go with it.
Thunderous Orator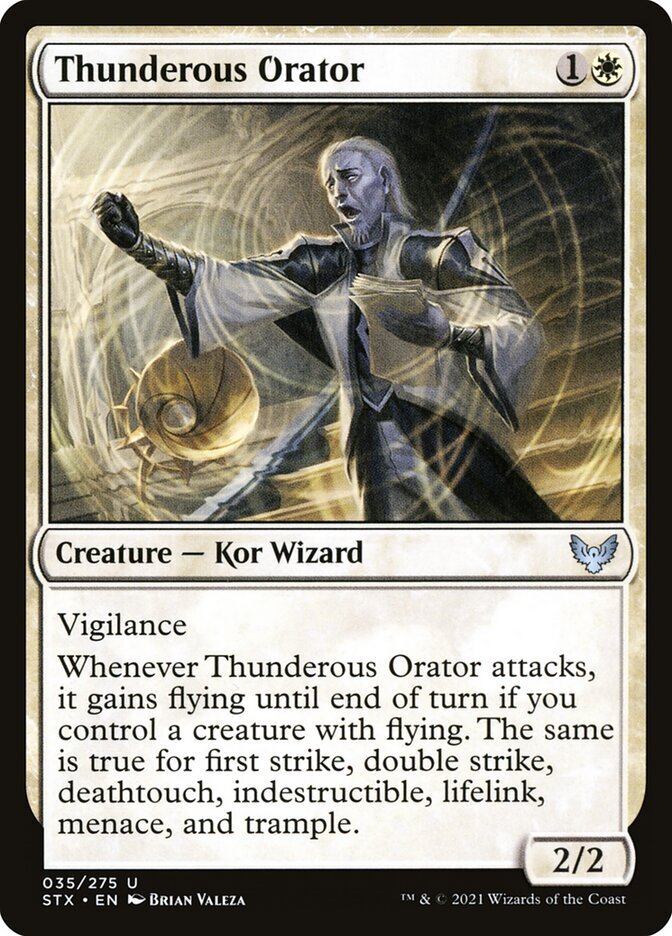 Thunderous Orator – I would normally play a 2/2 vigilance for two-mana creature from any set in Limited. The potential upside of this card is its ability to gain so many different keywords based on your other creatures adds enough value to the card to make it a must play.
Divide by Zero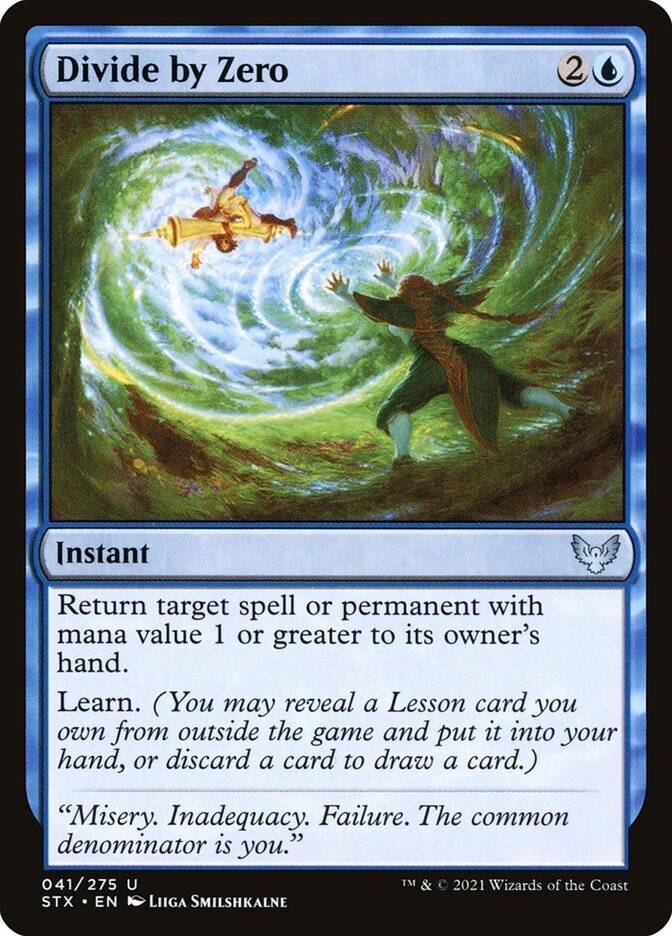 Divide By Zero – This Remand-like card can also be applied to permanents. Instead of drawing a card, you get to Learn for a Lesson of your choosing.
Flunk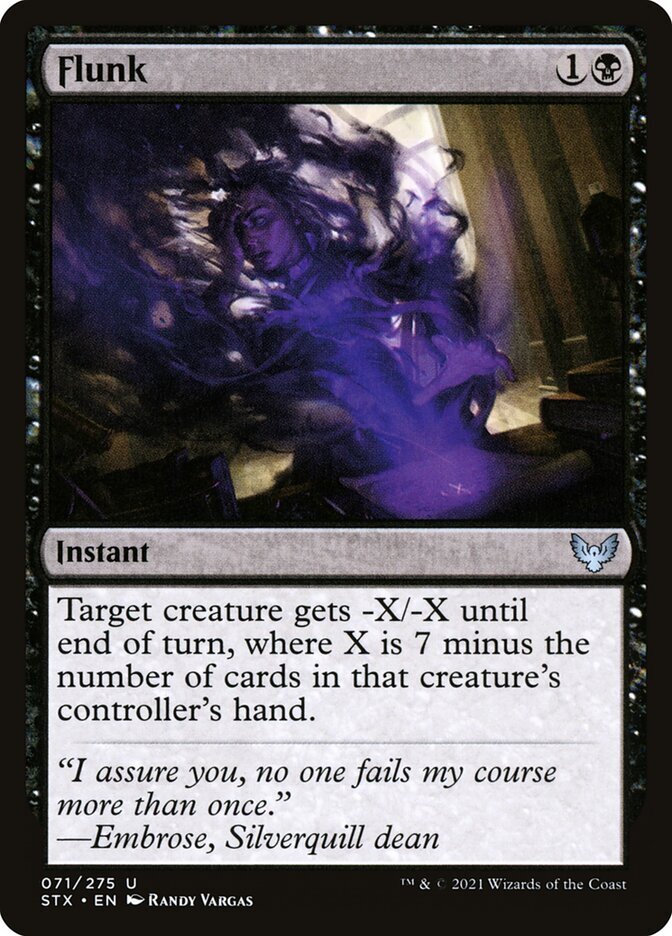 Flunk – In most situations your opponent will have four cards or less in their hand, making this at worst a -3/-3 removal card for only two mana at instant speed.
Umbral Juke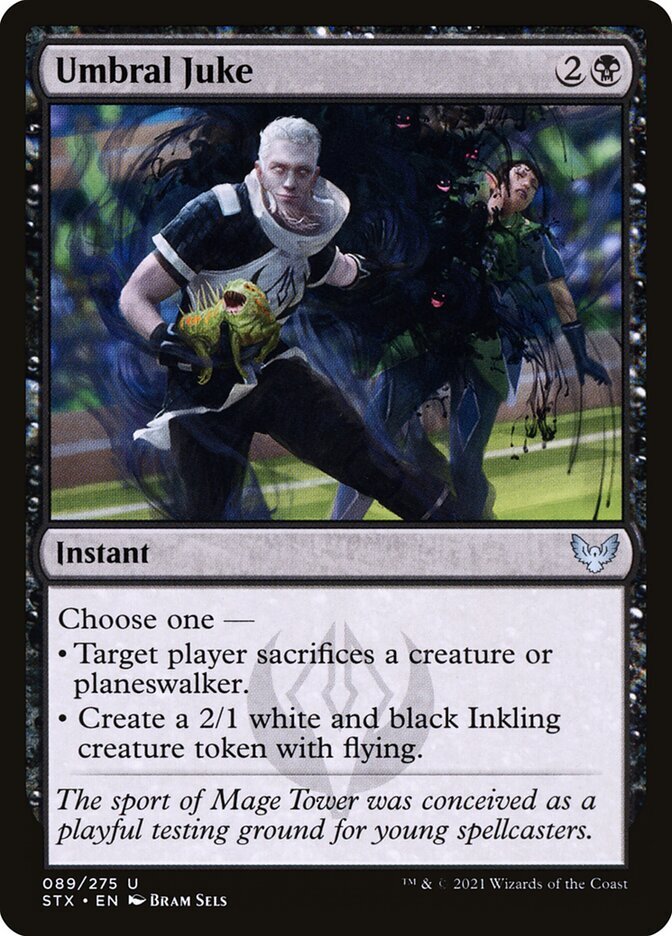 Umbral Juke – Often the "make your opponent sacrifice" cards can backfire if they have too much of a presence on the battlefield. You have a backup plan with Umbral Juke with the option of making a 2/1 flying Inkling instead.
Grinning Ignus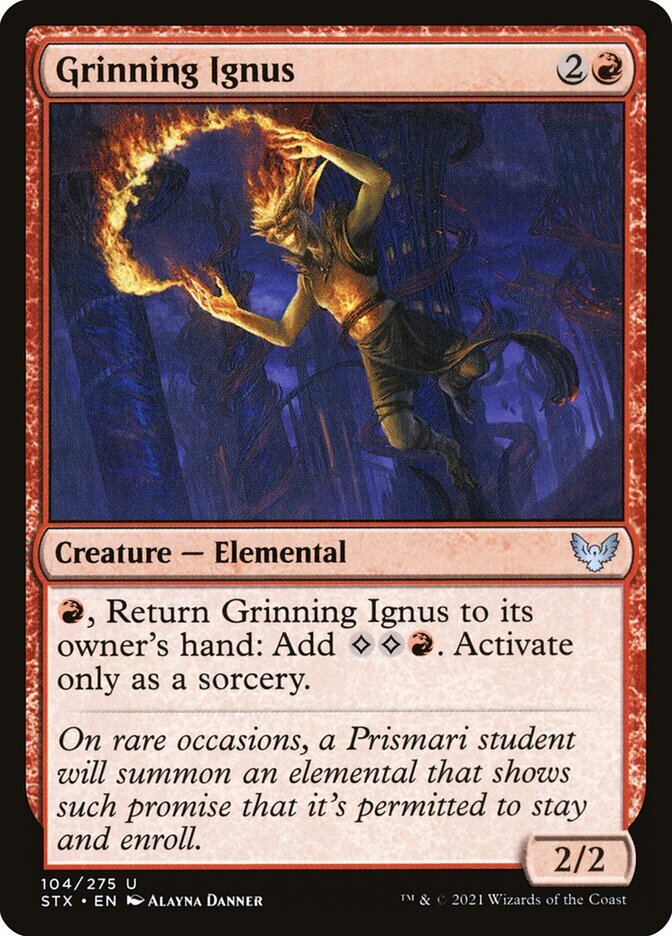 Grinning Ignus – An interesting creature ability to help you ramp up to some of Red's high casting cost spells in this set.
Storm-Kiln Artist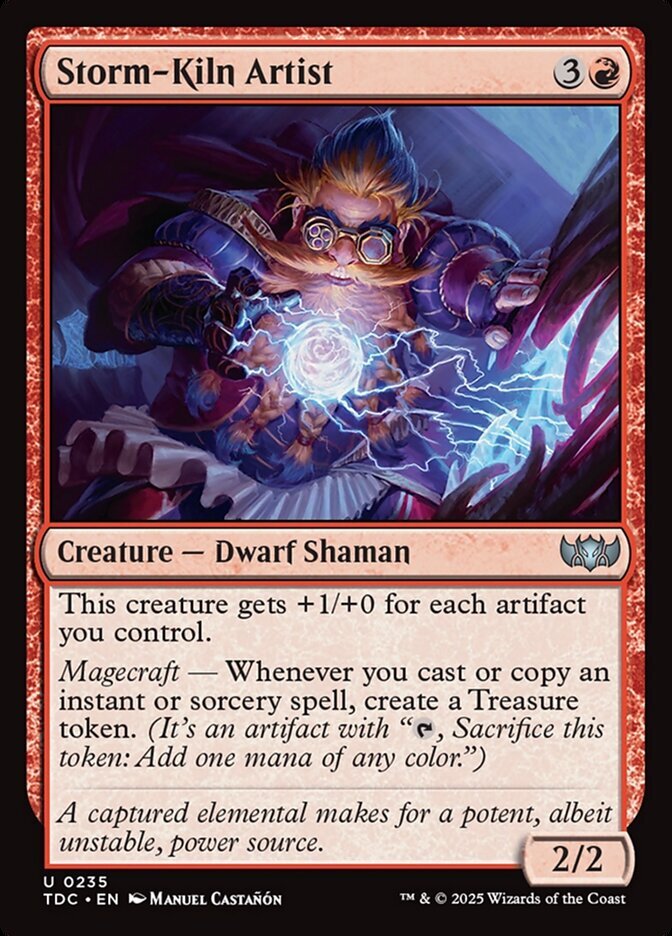 Storm-Kiln Artist – This Dwarf will help you both ramp and attack for lots of damage.
Containment Breach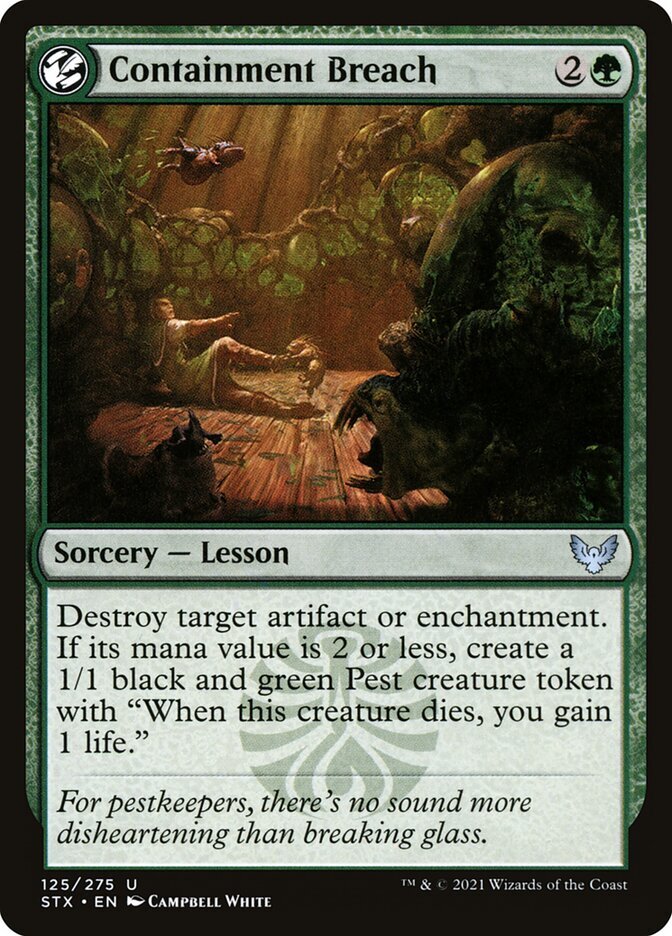 Containment Breach – One of the best Lessons to search for. You always need the odd artifact or enchantment removal. It has the bonus upside of sometimes creating a Pest as well.
Emergent Sequence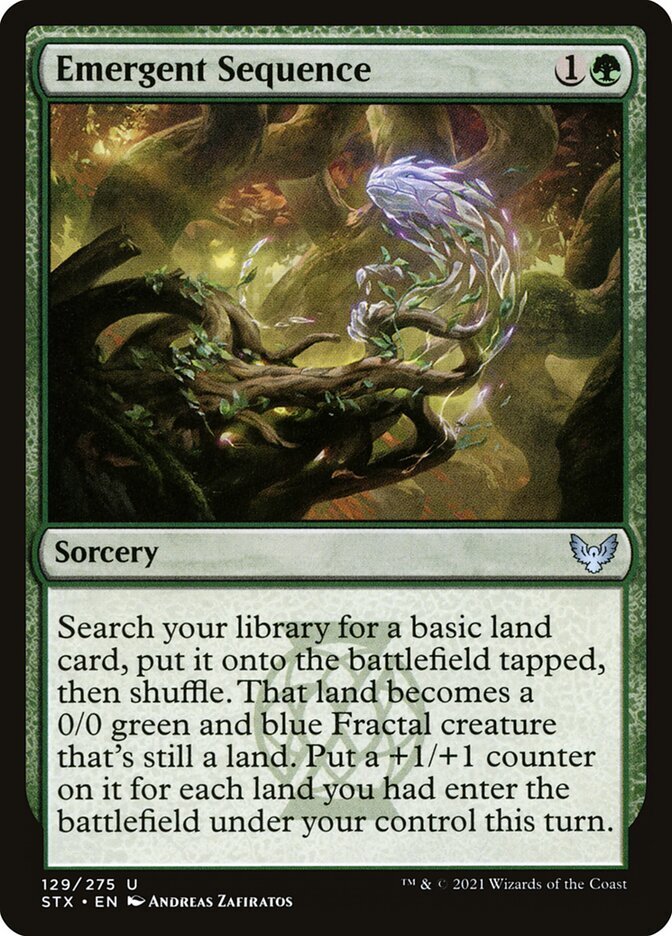 Emergent Sequence – This is a two-mana ramp spell that can also get you a creature to use if needed later in the game.
Closing Statement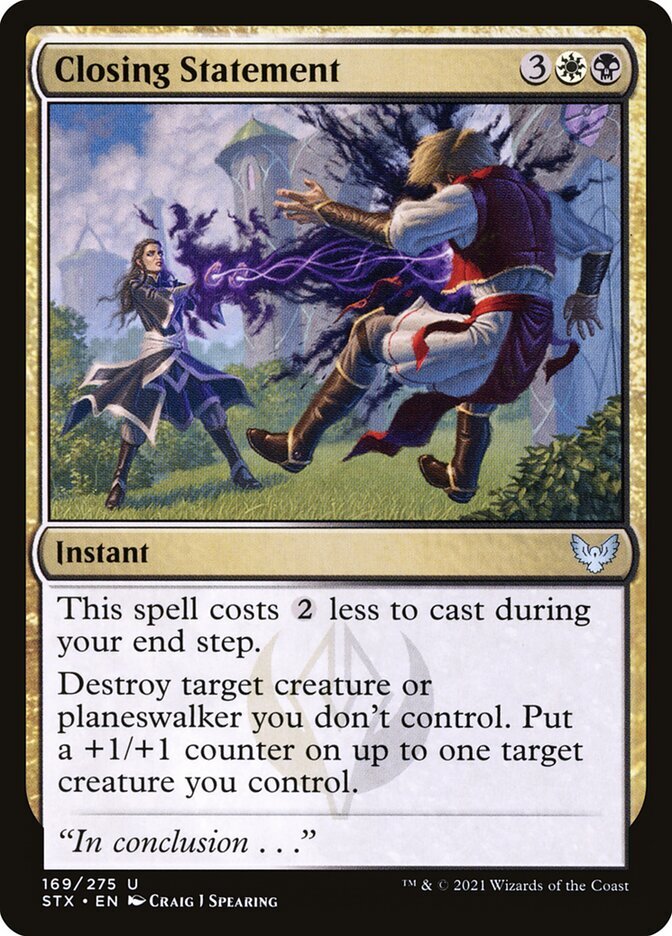 Closing Statement – Great combo removal-pump spell for potentially only three mana. Solid spell that can help you do a few two-for-ones if you need to.
Creative Outburst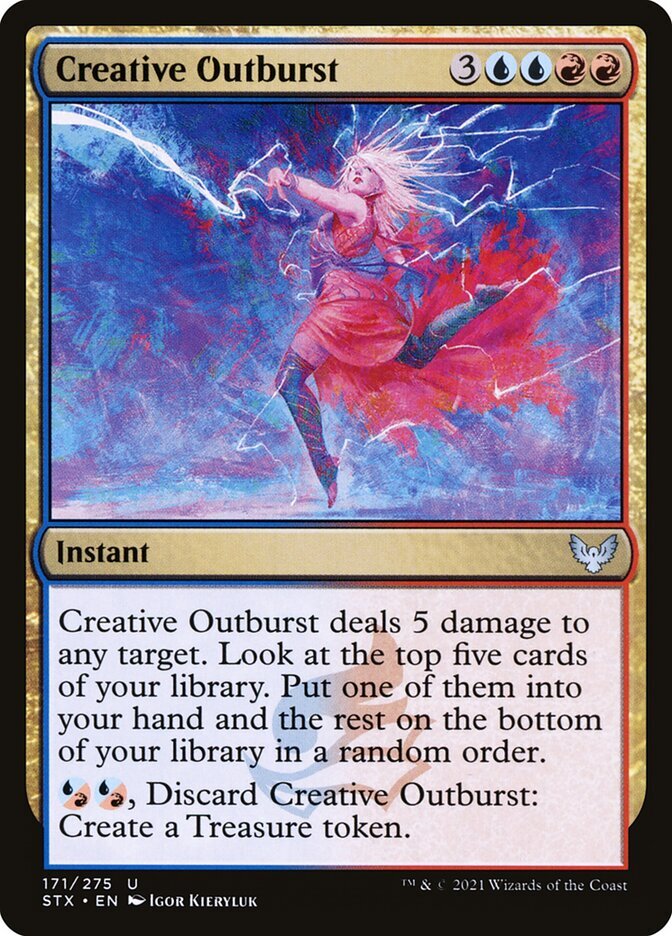 Creative Outburst – This can act as both a great finisher late in the game or as a mana ramp.
Daemogoth Woe-Eater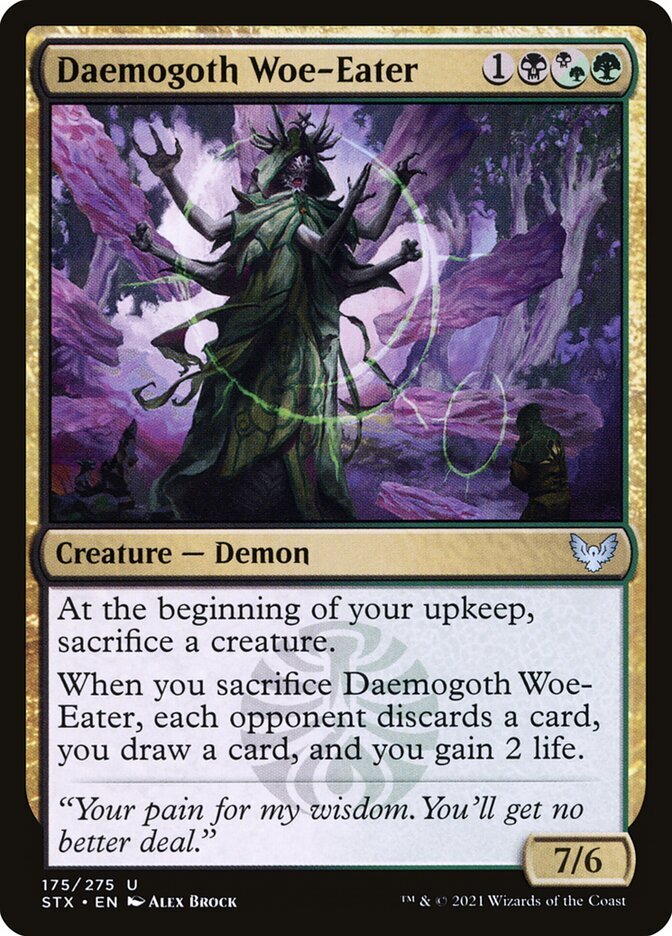 Daemogoth Woe-Eater – This large 7/6 creature for four mana wants you to have some Pests around to sacrifice. If you do end up sacrificing itself to its ability, you get to replace it, make your opponent discard and gain two life.
Decisive Denial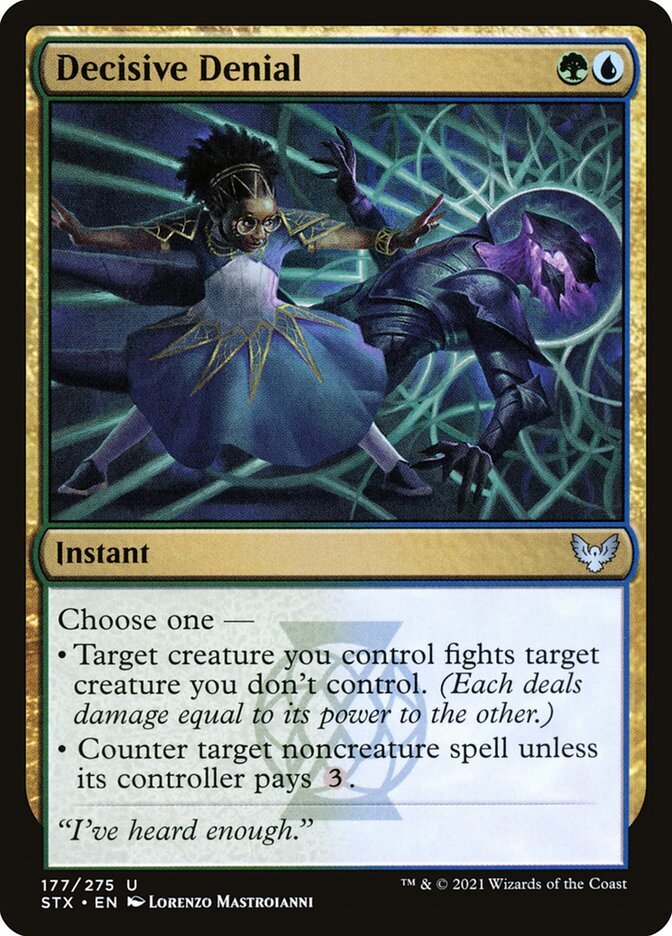 Decisive Denial – This combination counterspell/fight card is one of the best in the set, especially at instant speed. It allows you to have a versatile spell that can be used against any deck.
Fracture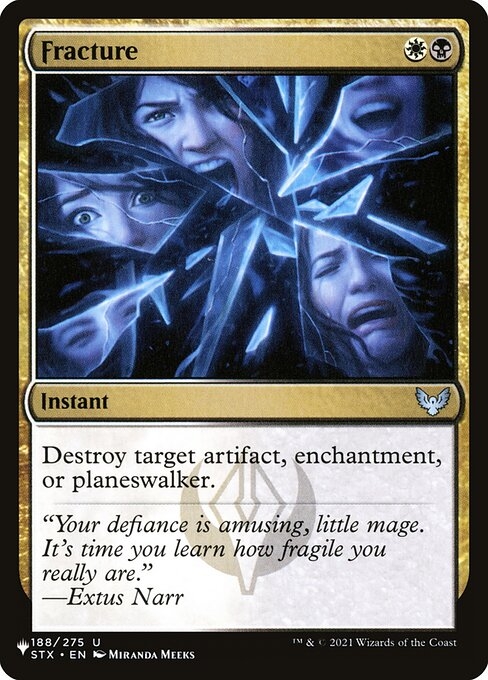 Fracture – This is a strong utility removal spell that hits almost every noncreature on the battlefield. It's only two mana and at instant speed which allows you to use your mana wisely.
Killian, Ink Duelist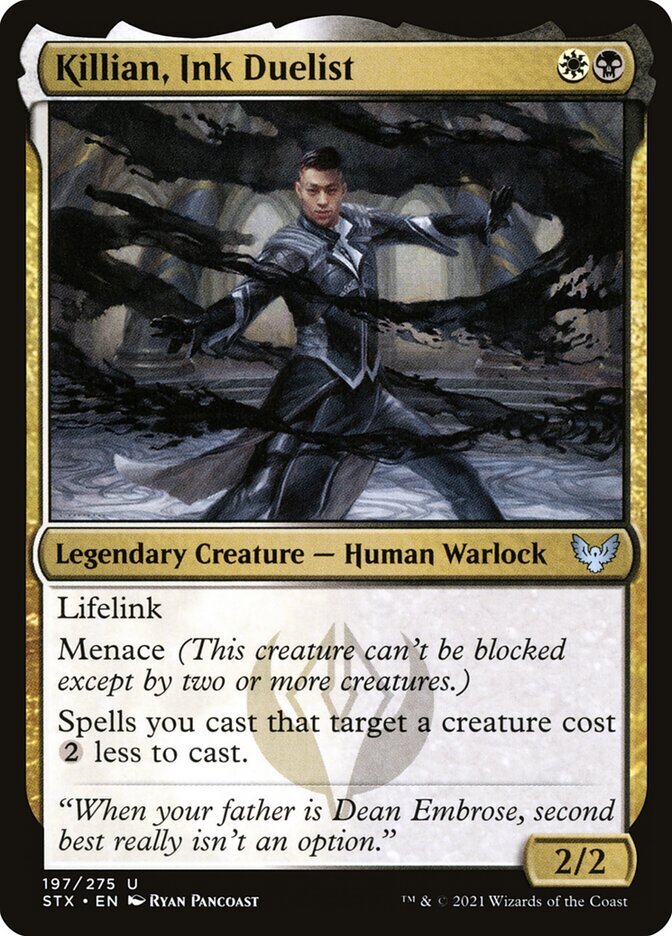 Killian, Ink Duelist – This is an amazing two-drop creature. It has evasion in the form of menace, with lifelink as an added bonus. All your removal spells and combat tricks cost two less to cast which will make it easier to use your mana efficiently.
Mortality Spear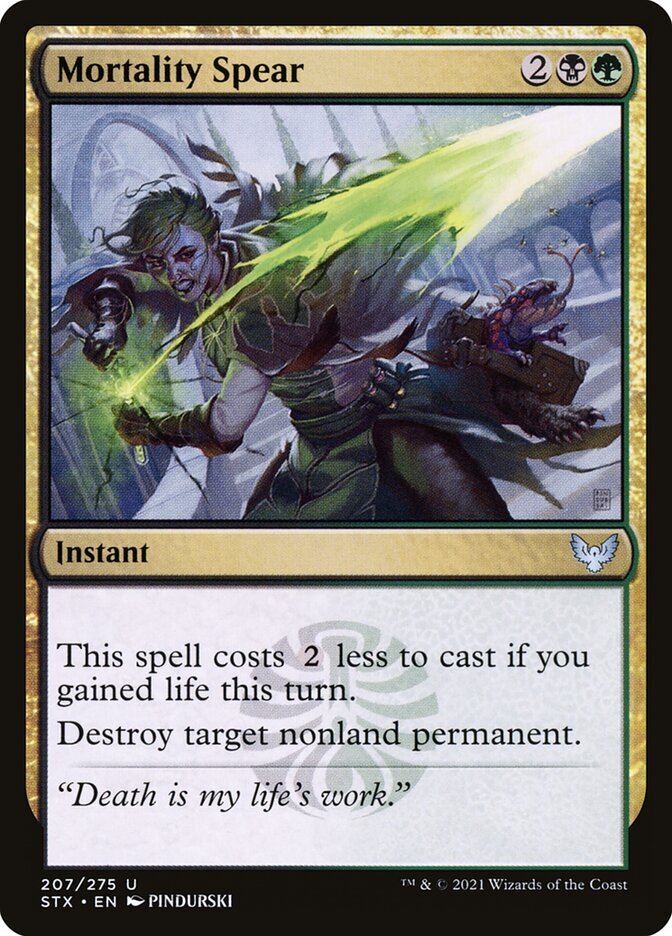 Mortality Spear – Having a removal spell that can instantly remove any nonland permanent is strong. Being able to maybe cast it for two mana is even better.
Quandrix Apprentince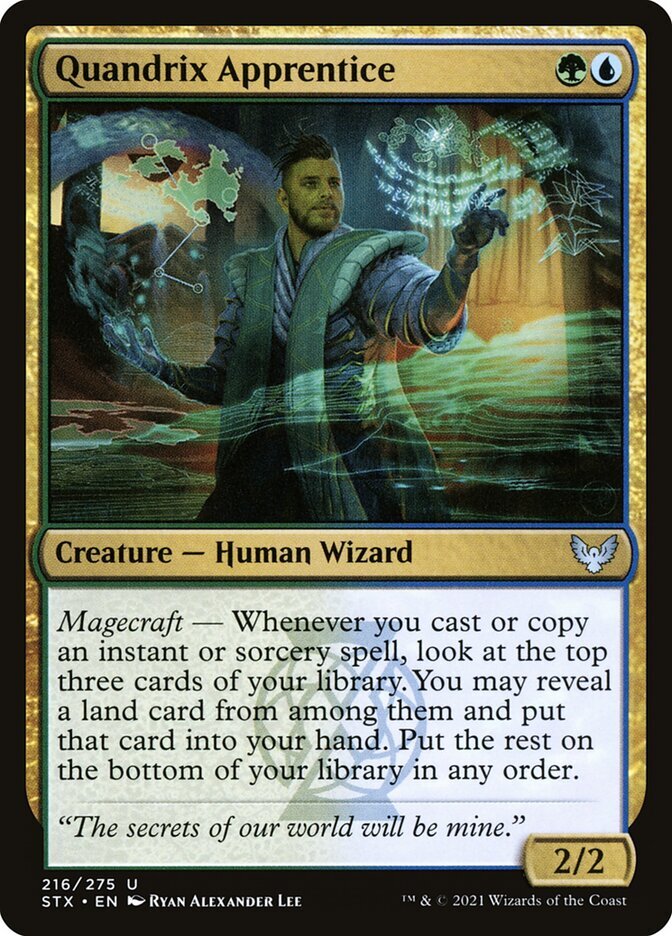 Quandrix Apprentice – The best of the Apprentice cycle in my opinion. It can help you continue to hit your land drops every turn as you're casting spells.
Rip Apart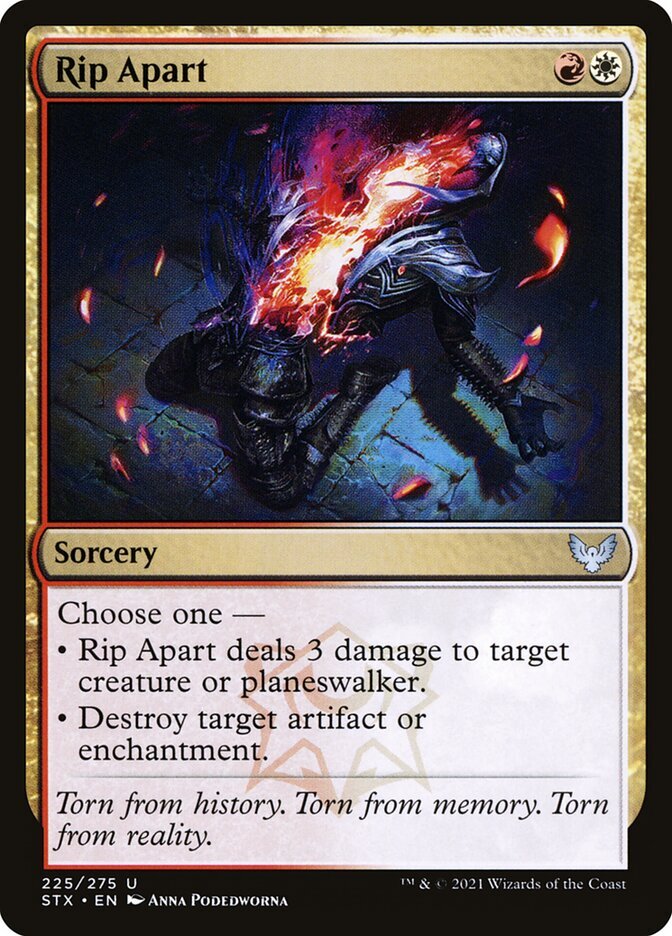 Rip Apart – One of the most versatile removal cards in the set. It hits creatures, planeswalkers, artifacts, and enchantments.
You are now set up with guides for the best commons and uncommons for your Strixhaven Limited and Prerelease play. Remember that these uncommons will make up most of the power in your deck, so choose wisely. Thanks again for reading chapter two of The Ultimate Guide to Strixhaven Limited and Prerelease. Click the link below for chapter three and the Strixhaven Guide to Combat Tricks and Removal Cards by Colour.
Table of Contents – Ultimate Guide to Strixhaven Limited and Prerelease
Chapter 1 - Top Commons for Limited and Prerelease
Chapter 2 - Top Uncommons for Limited and Prerelease
Chapter 3 - Guide to Combat Tricks and Removal Cards by Colour
Chapter 4 - Guide to Learn and Lessons